Who Is Michael Anello? Mariah Carey Accused of Sexual Harassment By Former Security Guard
Mariah Carey is the latest celebrity to be accused of sexual harassment in the wake of the Harvey Weinstein scandal that rocked Hollywood in October.
The singer is accused of behaving in a sexual way toward her former personal security, Michael Anello. TMZ reports that Anello is also accusing Carey of denigrating him by calling him a skinhead, a Nazi and a white supremacist.
Anello, whose LinkedIn profile page describes him as CEO of Los Angeles-based Anello Security & Consulting, is threatening to sue the pop star for unpaid bills in excess of $220,000 for work undertaken between June 2015 and May 2017, according to the report.
TMZ claims it has obtained a copy of a draft lawsuit prepared by Anello's lawyer which alleges sexual and verbal harassment, including calling him a skinhead among other slurs.
On one occasion during a trip to Cabo San Lucas, it's claimed Carey requested Anello's help with moving some luggage in her room. When he arrived, the "We Belong Together" songstress was wearing a sheer negligee, the lawsuit alleges. Anello tried to excuse himself but Carey insisted that he move the luggage. At this point, he left the room.
The lawsuit has not yet been filed it should be noted. Representatives for Carey told TMZ they had agreed to pay some invoices and were in talks with Anello's security firm.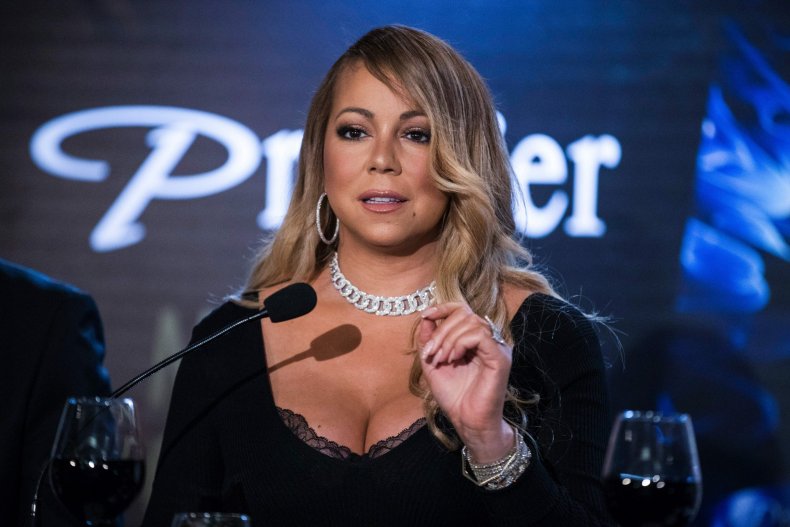 Carey's reps "have no information on the sexual harassment claim," TMZ said.
The entertainment industry has been flooded by a stream of allegations of sexual misconduct in the last four weeks, after numerous accusations against Hollywood producer Harvey Weinstein were reported by The New York Times and The New Yorker.
Since then, filmmakers James Toback and Brett Ratner—who directed numerous of Carey's music videos—and actor Kevin Spacey have all been accused of misconduct.
On Tuesday, former Gossip Girl actor Ed Westwick denied rape allegations made on Facebook by another actor, Kristina Cohen.