The world's eyes will turn to the U.K. on Saturday May 19, as the British Royal Family welcomes its newest member. The Norman-era Windsor Castle will be the venue for a royal union of Britain and the U.S., as Prince Harry weds actor Meghan Markle.
There will be plenty American guests, but Kensington Palace has now revealed that one U.S. attendee will have a very important role. The sermon of the wedding ceremony will be delivered by The Most Reverend Michael Bruce Curry, the presiding bishop of the American Episcopal Church. Episcopalianism is an American branch of the worldwide Anglican community, to which the Royal Family belong.
Originally from Chicago, 65-year-old Curry is one of the most senior religious leaders in the U.S. He will join two British ministers in officiating the service. The ceremony will be conducted by the Dean of Windsor, the Right Reverend David Conner, while Archbishop of Canterbury Justin Welby will oversee the marriage vows.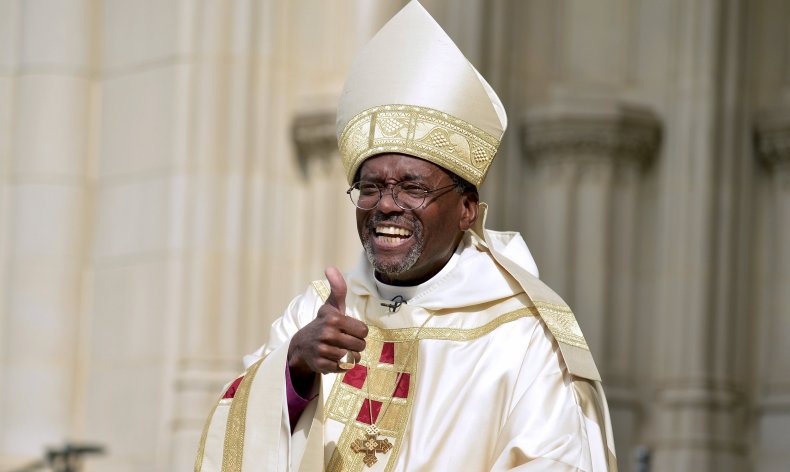 Kensington Palace—the London royal residence of several members of the Royal Family, including Prince Harry—confirmed on Twitter that the royal couple had invited Curry to deliver the sermon, though they are yet to meet the preacher in person.
"The love that has brought and will bind Prince Harry and Ms Meghan Markle together has its source and origin in God, and is the key to life and happiness," Curry said.
Welby wrote on Twitter: "I'm thrilled that Prince Harry and Meghan Markle have asked Bishop Michael Curry to preach at their wedding." The archbishop called Curry a "brilliant pastor, stunning preacher and someone with a great gift for sharing the good news of Jesus Christ."
Curry was born in Chicago in 1953. In his 2015 autobiography, Songs My Grandma Sang, Curry said that his family is descended from slaves and sharecroppers in North Carolina and Alabama.
Curry spent time at school in Buffalo, New York, before heading to Hobart College in Geneva, New York in 1975. From there he went on to gain his Master of Divinity degree from the Yale Divinity School in 1978.
He was ordained a deacon in Buffalo and as a priest in North Carolina in 1978. He went on to serve in Ohio and Maryland, and was involved in fund-raising efforts for youth groups, childcare services and inner city neighborhoods. He also inspired a $2.5-million restoration of the St. James's church in Baltimore after a fire. Curry was elected as bishop of North Carolina in 2015.
Curry has two daughters, Rachel and Elizabeth, with his wife Sharon.