Who Is Michael Porter Jr? Madison Prewett Spotted With NBA Player One Year After 'Bachelor'
Madison Prewett may have a new boyfriend, and there are photos to prove it. The former Bachelor star was spotted out having dinner with NBA player Michael Porter Jr. on Thursday night, according to Reality Steve.
As far as we know, Prewett has been single since she broke up with Peter Weber last year after a wildly awkward Bachelor finale, during which, Weber's mother revealed she'd never accepted Prewitt. It was a matter of days before the pair publicly split.
A fan apparently saw Prewett and Porter holding hands in the parking lot of a Columbia, Missouri, restaurant. A photo of the pair sitting at the restaurant was posted by spoiler blogger Reality Steve on Twitter on Friday.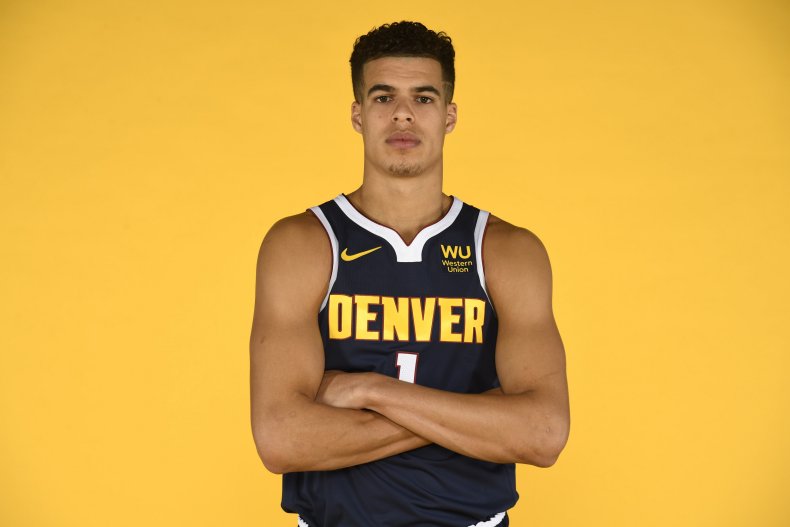 Prewett hasn't publicly commented on her potential relationship with Porter, but he's famous in his own right, apart from any connection to her. Porter is a power forward for the Denver Nuggets, though he was born and raised in Columbia, the same town where he was spotted with Prewett.
Porter is new to the league. He was drafted in 2018 and is only 22 years old. His career may just be starting, but his name is already well known. The Nuggets recently made a deep playoff run, before eventually losing to the Los Angeles Lakers in the Western Conference Finals. Off the court, Porter has also played into a series of controversies during his short time in the spotlight so far.
Some of the hubbub around Porter has to do with his comments about coaching and his general basketball career, but he's also drawn some heat for remarks he made about COVID-19. During a Snapchat Q&A back in July, he peddled a conspiracy theory that the pandemic has to do with a plot to control the global population.
"Personally, I think that the coronavirus is being used obviously for a bigger agenda," he said. "It's being used for population control in just terms of being able to control the masses of people."
He went further, talking about the way the world's routines have shifted as the virus has spread. "Because of this virus, the whole world is being controlled. You're required to wear masks, and who knows what'll happen when this vaccine comes out. You might have to have the vaccine in order to travel. That'd be crazy."
In addition, Porter claimed that he's never gotten a vaccine for anything. "I've never been vaccinated in my life," he said. "I've never had any shots or anything like that."
Whether Porter is actually an anti-vaxxer is unclear. He was on the University of Missouri's basketball team, and in order to attend the college, all students must be vaccinated, according to the university website.
It seems the pair may bond over their faith. Prewett was open about her virginity on The Bachelor, and how her Christian religion shapes her life. Porter has also revealed his relationship with God comes first, even before his career. Prewett is also part of a basketball family—her dad is Chad Prewett, director of operations at Alabama's Auburn University—and she plays herself.