Who Might Be Concerned About John Durham's Special Counsel Appointment to Investigate Russia Probe Origins
John Durham's investigation into the origins of the FBI's probe of Russian ties to the Trump campaign in 2016 will continue under the incoming Biden administration thanks to an order from Attorney General William Barr naming Durham a special counsel.
In a letter Tuesday notifying lawmakers of Durham's appointment, Barr said that he originally intended for Durham to complete his report this summer but that it had been delayed by the coronavirus pandemic. He named Durham special counsel in October "to provide him and his team with the assurance that they could complete their work, without regard to the outcome of the election."
Barr's order gave few details about the ongoing probe, stating that it focuses on potential crimes by federal officials or others who might have violated the law "in connection with the intelligence, counter-intelligence, or law enforcement activities directed at the 2016 presidential campaigns" as well as the FBI's Crossfire Hurricane operation and the investigation of former Special Counsel Robert Mueller.
In an interview with the Associated Press, Barr said Durham's investigation has "narrowed considerably" since it started in 2019 and now "really is focused on the activities of the Crossfire Hurricane investigation within the FBI."
President Donald Trump has expressed hope that the Durham investigation will vindicate his attacks on Mueller's two-year probe into Russian election interference, which he repeatedly has deemed a "witch hunt."
Durham's investigation so far has produced one criminal charge against former FBI lawyer Kevin Clinesmith. A low-level agent, Clinesmith pleaded guilty to altering an email that was used in seeking surveillance of a former Trump campaign adviser.
But more could be on the way, according to Director of National Intelligence John Ratcliffe.
"I think there will be more indictments," Ratcliffe told Fox Business in October. "Based on the intelligence I have access to, I certainly believe there should be."
Here's who might be under scrutiny in Durham's ongoing review.
James Comey
Comey served as FBI director during the 2016 election and transition. He approved the launch of the bureau's investigation into Russian interference in the 2016 election and ties between Russia and members of Trump's campaign, which was dubbed "Crossfire Hurricane."
Comey has been criticized for inaccuracies and omissions in warrant applications the FBI used to monitor members of the Trump team, including former campaign adviser Carter Page. A 2019 report by the Justice Department's inspector general found that FISA surveillance placed on Page—a key part of Crossfire Hurricane—was based on FBI applications that omitted information that tended to exonerate Page.
Comey told CBS' Face the Nation earlier this year that he "can't imagine" he is a target of the probe and that he hadn't had any contact with Durham.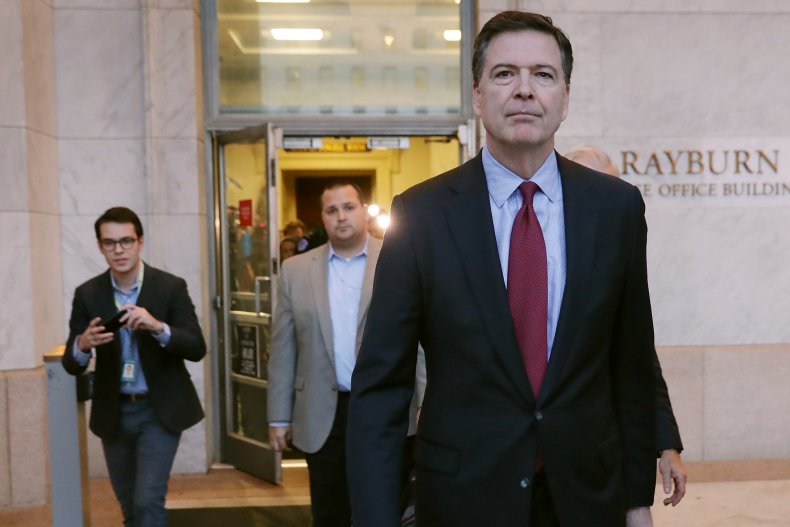 Andrew McCabe
McCabe served as deputy director of the FBI during the 2016 election and briefly led the bureau after Comey was fired in the spring of 2017. McCabe opened counterintelligence and obstruction of justice investigations into Trump after Comey's exit out of fear that he soon could be fired.
McCabe was fired in March 2018 over an FBI watchdog report that found he leaked information to reporters and misled investigators about his actions. McCabe said he was targeted over the Russia probe and was wrongly terminated.
Last year, right-wing commentator Mark Levin alleged that McCabe was offered a plea deal by Durham and turned it down. McCabe's counsel responded to Levin's claim by telling the Washington Examiner that the assertion was "100% false."
Lisa Page
Page served as an FBI lawyer in its office of general counsel. Page resigned from the FBI in 2018 after 2016 text exchanges with fellow FBI agent Peter Strzok criticizing Trump came to light.
According to the Justice Department's inspector general report on Crossfire Hurricane, Page "served as a liaison between the investigative team and McCabe, and that she also regularly participated in team meetings and in investigative decision making."
Bill Priestap
Priestap, the FBI's former head of counterintelligence, had a supervisory role over the Russia investigation.
This summer, Republican Senator Lindsey Graham said he was told by current FBI Director Christopher Wray that Priestap gave misleading information to the Senate Intelligence Committee in 2018 about the reliability of Christopher Steele's dossier. Graham said he was going to refer Priestap and other information he received on the matter to Durham.
Peter Strzok
The New York Times reported last year that Durham's investigation "appeared focused at one point on Mr. Strzok." Strzok, the former deputy of the FBI counterintelligence division, opened the Russia inquiry in July 2016 after receiving information from the Australian government that the Russians offered damaging information on Hillary Clinton to a Trump campaign adviser.
Strzok was fired from the FBI in 2018 after the text messages disparaging Trump he exchanged with FBI lawyer Page came to light. In one exchange, Strzok described Trump as "awful" and "an idiot."
The text messages fueled suspicions of partisan bias playing a large role in the Russia probe. Strzok has defended the FBI's work, and the DOJ inspector general found no evidence of political bias when the bureau launched an inquiry into the 2016 Trump campaign despite "serious performance failures."