'Who Is Mike Richards?': Twitter Upset By Report 'Jeopardy!' Producer Could Be Permanent Host
Jeopardy! executive producer, Mike Richards has reportedly been fingered as the probable next in line to become the iconic quiz show's permanent host, and fans aren't happy about it.
When Variety broke the story on Wednesday that Richards was in "advanced negotiations" with Sony Pictures Television to take over after the inimitable Alex Trebek's 36-year run at the helm of the show, fans began responding on social media with a mix of bemusement and bewilderment.
Aisha Tyler, for instance, well-known for her roles in Ghost Whisperer, Friends, Talk Soup, and even an episode of Celebrity Jeopardy! retweeted a link to the article with the comment, "A: Will never watch @Jeopardy again. Q: Who is, everyone?"
Richards has hosted a couple of reality shows in his career, including High School Reunion and Beauty and the Geek. But he's put thousands of hours into producing quiz shows and game shows. In addition to working on Jeopardy!, Richards has been key behind the scenes of The Price is Right, the celebrity edition of Who Wants to Be a Millionaire and the revival of Let's Make a Deal.
But after Trebek passed away at the age of 80 last year, Sony signed on a series of guest hosts in what many fans—and many guest hosts themselves—viewed as a sort of series of tryouts for who might fit best for the future heir to the Jeopardy! throne.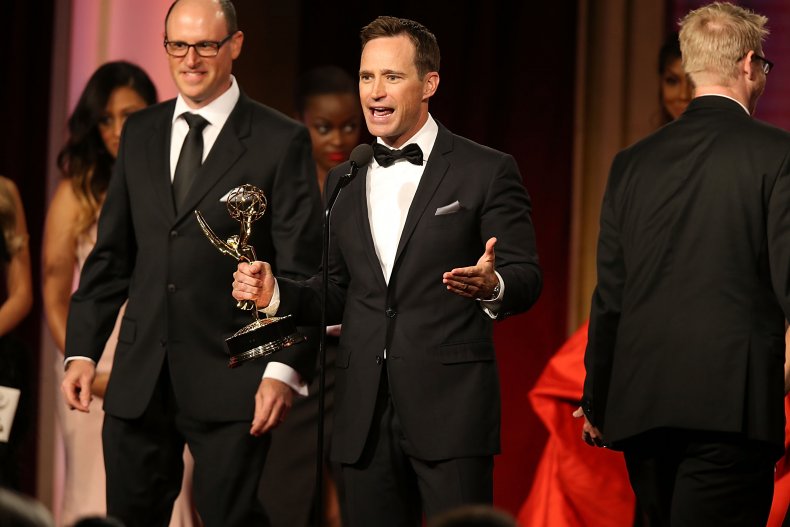 Many guest hosts have publicly said they're gunning for the job of permanent host. Among them are fan-favorites LeVar Burton, who back in September tweeted: "not gonna lie, I feel like I've been preparing my whole life to occupy the @Jeopardy host podium when Alex retires."
Other popular celebrities who have said they'd love the permanent job are Mayim Bialik, George Stephanopoulos and Aaron Rodgers.
Fans loved Jeopardy! champ Ken Jennings as a host, as well as Anderson Cooper, Buzzy Cohen, Katie Couric and several others. So, some Twitter users are wondering why TV execs might have chosen someone with so little name recognition.
Other fans are wondering if the hiring process could be tainted by nepotism since Richards is already the executive producer on the show.
Twitter user @Clockoutwars wrote a series of tweets about the issue, first writing, "Jeopardy really had us believing LeVar Burton or Mayim Bialik had a chance. Here comes Mike Richards." With the famous meme-ready image of the Joker looking himself in the mirror.
Then they followed it up with another zinger: "But what you don't know is that Jeopardy executive producer Mike Richards read his own resume, gave himself a callback and interviewed himself for the job." Then they paired it with the famous meme of Spider-Man pointing to Spider-Man.
A spokesperson for Jeopardy! declined to comment on Richards as the potential choice, but said discussions with potential hosts are still ongoing.
Updated 08/04/2021, 11:57 p.m. ET: This story has been updated to include a statement from a Jeopardy! spokesperson.