Who is Millie Bobby Brown's Boyfriend Jake Bongiovi?
Millie Bobby Brown, known for her role as Eleven in Stranger Things, has shared an image with her new boyfriend.
Fans have been driven wild by the image, excited to see their favorite star in love.
The lucky man is Jake Bongiovi, who has featured in a new image of the couple released on Brown's Instagram account.
In the picture, the pair are hugging on what Newsweek has identified as the London Eye, the popular tourist attraction in the British capital, and on his own social media, Bongiovi has shared similar images of the pair.
Newsweek breaks down everything we know so far about Jake Bongiovi.
Who Is Jake Bongiovi?
Jake Bongiovi is a 19-year-old currently studying at Syracuse University in New York. On his Instagram account, he lists himself as an actor, though currently does not have any credits except an appearance as himself on PeopleTV in 2019.
He comes from famous stock, as he is the son of rockstar and actor Jon Bon Jovi. Bon Jovi and his wife Dorothea have four children together.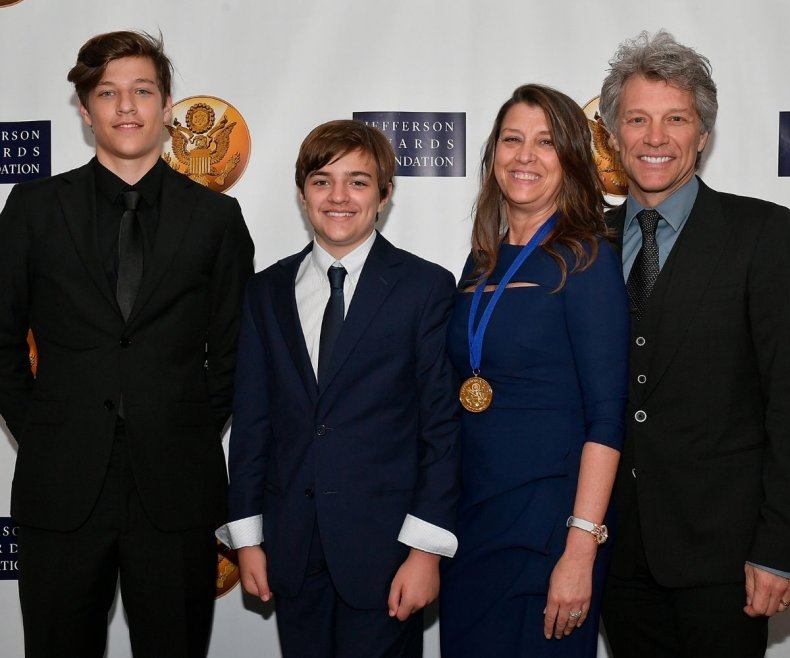 Bongiovi's siblings are Stephanie, born in 1993; Jesse, born in 1995; and young brother Romeo, born in 2004.
According to an interview with his father in People, Bongiovi spent his lockdown with his parents and three siblings.
Bon Jovi said: "I said, 'We've got to get out of town. We've got to get all the kids back.'
"We spent more time in that house than we have in over a decade."
At the time, Bongiovi was studying at boarding school.
It is unclear when Brown and Bongiovi started their relationship, however the first images of them were seen back in June of this year.
Bongiovi posted an image of the pair in a car, with the caption: "BFF," which likely sent some mixed messages to fans.
After that, in July of this year, Brown posted an image of her and Bongiovi cuddling up, with the caption: "Happy Weekend" on her Instagram stories.
He shared a similar image, after which the next photo of the pair came on his Instagram account in October.
That image was taken from a CCTV screen, with the pair pulling fun faces into the camera. After this, the couple seemed to be in sync when they each shared an image of their time together.
Bongiovi's picture saw them sitting at a cafe staring into the camera, with the caption: "We're starting a band send name ideas"
Hers, as previously mentioned, shows them hugging and kissing on the London Eye. The location is not mentioned in the post, but Newsweek has identified several London landmarks in the photo. As the post was on November 1, the couple are presumably still in the U.K.
Previous to this, according to CapitalFM, Brown was linked to her Enola Holmes co-star Joseph Robinson and TIkTok star Jacob Sartorius.