Who is Miya Marcano? Missing Florida College Student Never Showed Up for Flight
Florida police are searching for a 19-year-old Valencia College student after she never showed up for a flight, according to the Orange County Sheriff's Office.
Miya Marcano was supposed to travel from Orlando to Fort Lauderdale on Friday night to visit family but she missed the flight and hasn't been heard from since, Marcano's loved ones told Orlando news station WESH. She was last seen at an apartment complex near the University of Central Florida.
"All we ask you is help us bring Miya home," Marcano's grandmother Joysue Thompson told the news station. "Bring her home safe, just drop her off and let us know where she is and we'll pick her up—just bring her home."
The young woman was seen at the Arden Villas Apartments, where she lived and worked, around 5 p.m. on September 24. Her father, Marlon Marcano, told WESH he spoke to his daughter on Friday afternoon but did not hear from her when she got off work and she never boarded the plane for a trip to visit family.
Over the weekend, Orange County deputies searched in and around the complex but did not locate Marcona. Police said that she does not own a car.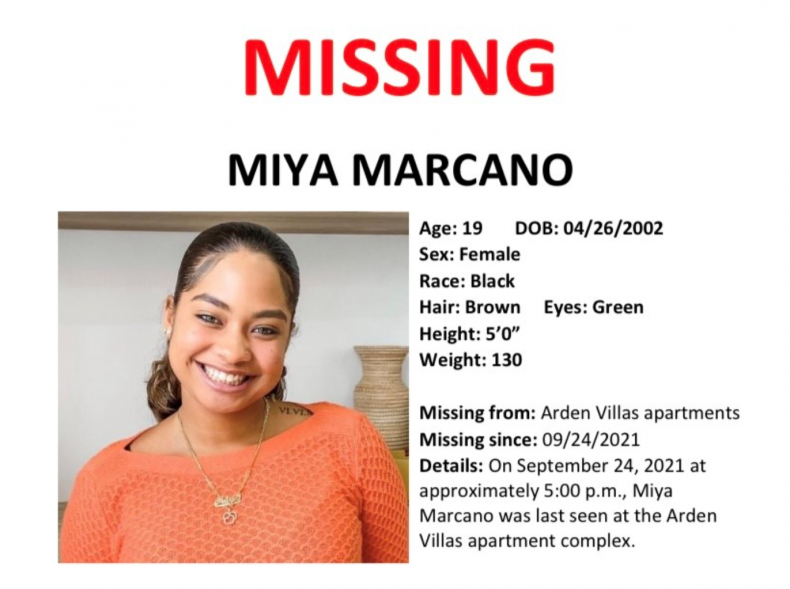 On Monday, the Orange County Sheriff's Office postponed a 1 p.m. news conference upon learning that a person of interest in Marcano's disappearance was found dead by Seminole County police. Armando Manuel Caballero, 27, appeared to have died by suicide.
Orange County Sheriff John Mina said that Cabellero worked in maintenance at Arden Villas Apartments and was romantically interested in Marcano. She did not reciprocate his feelings.
Cabellero allegedly told police that he had last seen her at 3 p.m., but Mina said they later learned Cabellero allegedly used a master key around 4:30 p.m. to enter Marcano's apartment without permission. The sheriff's office told Newsweek that a warrant for his arrest was issued on burglary charges.
Mina added that suspicious items were found in both Marcano's apartment and the apartment where Cabellero's body was found but they did not provide further details. They also located Cabellero's vehicle at the scene and will process it for evidence. Police are asking drivers who may have seen the car, a silver Ford Fusion with Florida tag PZU J17, to call investigators.
Police are still treating Marcano's case as a missing person with both law enforcement and her family hoping they find her alive.
Arden Villas Apartments residents told Florida media that police and a sheriff's helicopter searched the wooded area behind the complex throughout the weekend but no details from the effort have been released.
Although Marcano is not a student at UCF, the apartment complex is about a mile from campus, and school officials asked students to keep an eye out for the young woman or to come forward with information that may help with the investigation.
Marcano's family previously told WESH they felt frustrated that not many details have been released in the three days that Marcano has been missing but they hope to have more information from police soon.
"Keep Miya in your prayers. Don't give up on Miya. I believe Miya is alive and we're going to find her," her aunt Simone told reporters on Monday. "We have more family coming. We have friends coming. We have strangers who are driving from all over Florida. We are leaving here with Miya alive."
She added that she hopes spreading the word about her niece will help bring her home.
Mina said that his department has 30 detectives on the case all dedicated to finding Marcano.
Marcano is described as 5-feet-tall, 130 pounds, and has brown hair and green eyes. Anyone with information about Marcano's whereabouts is encouraged to call the Orange County Sheriff's Office at 407-836-4357.
"No bit of information is too small or insignificant," Mina said.
Updated 09/27/2021, 4:31 p.m. ET: This article has been updated with new information provided by the Orange County Sheriff's Office.