Who Is Monica Witt? Former U.S. Air Force Officer Allegedly Had 'Ideological' Turn, Spied for Iran's Revolutionary Guard
The Justice Department has indicted a former Air Force intelligence officer for allegedly helping Iran spy on American intelligence officers, according to court documents. Monica Witt, who worked in the U.S. Air Force from 1997 until 2008, was last spotted in Asia, in 2013.
U.S. officials believe she defected to Iran after turning against the U.S. for ideological reasons. Witt allegedly goes by the pseudonyms Fatemah Zahra and Narges Witt and has converted to Islam. She had top-level security clearance while working for the U.S. government and was trained in Farsi by the Defense Language Institute in Monterey, California.
"From in or around May 1999 to in or around November 2003, WITT deployed to several overseas locations in order to conduct classified missions collecting signals intelligence, or SIGINT, involving adversaries of the United States," the indictment reads.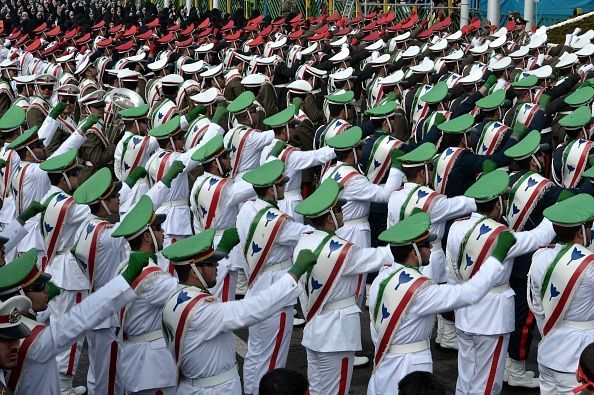 After finishing her career with the Air Force, Witt worked as a government contractor for two years. According to the FBI, she may have worked in Afghanistan and Tajikistan as an English teacher.
The Justice Department alleges that between January 2012 and May 2015, Witt worked with individuals, including members of Iran's Revolutionary Guard, "to knowingly and unlawfully communicate, deliver, and transmit to a foreign government, specifically Iran, and to that foreign government's representatives, officers, and agents, directly and indirectly, documents and information relating to the national defense of the United States, with the intent and reason to believe that the same would be used to the injury of the United States and to the advantage of Iran," according to the court documents.
The indictment also alleges that Witt revealed the identity of several undercover U.S. agents.
Investigators allege that Witt was recruited by affiliates of the Guard while attending conferences organized by New Horizon Organization, which allegedly collects intelligence on conference attendees.
Four Iranian co-defendants were also indicted, under the Espionage Act and the Computer Fraud and Abuse Act.
Hackers and cyberspies linked to Iran's government are known to be among the best in the world, on par with those from countries like Russia and China. In March, the Trump administration indicted members of an Iranian hacking group responsible for "one of the largest state-sponsored hacking campaigns" the Justice Department has ever prosecuted.
Cybersecurity experts note that the number of Iranian cyberattacks targeting the U.S. dropped after the U.S. signed the Iran nuclear deal in 2015. But President Donald Trump pulled the U.S. out of the deal in 2018, and researchers say this increases the incentive for Iranian hackers to target the U.S.
Who Is Monica Witt? Former U.S. Air Force Officer Allegedly Had 'Ideological' Turn, Spied for Iran's Revolutionary Guard | World