The WHO Must Drop Its Pro-Beijing 'Goodwill Ambassador' | Opinion
As the World Health Organization (WHO) meets virtually this week for its annual assembly, its chief Tedros Adhanom Ghebreyesus should explain why the agency's elite group of "goodwill ambassadors" includes a Chinese government news presenter who has broadcast forced confessions and is now exploiting his WHO title to whitewash China's handling of the coronavirus pandemic.
Born and raised in the U.K., James Chau has worked since 2004 in Beijing as a news presenter and host for the English-language channel of the Chinese Communist Party's state-controlled CCTV.
Chau was appointed to the WHO in February 2016 by its previous head Dr. Margaret Chan, a Chinese national with close ties to Beijing. Appointments only last two years, which means Tedros has twice renewed Chau's term.
In interviews, Chau never explains why a Cambridge graduate would sell out to a totalitarian regime, allowing it to influence global audiences through his British-accented English and deep voice. Asked by the Financial Times, Chau is evasive.
What we do know is that his work is pure propaganda. According to CCTV's website, Chau's accomplishments include anchoring "major stories," such as the annual sessions of the National People's Congress, which are carefully choreographed pageants of pretend democracy.
Chau now hosts "The China Current," an online program initiated by the China-United States Exchange Foundation, a registered foreign agent that seeks to sway coverage of China. According to Foreign Policy magazine, Chau's sponsor is "bankrolled by a high-ranking Chinese government official with close ties to a sprawling Chinese Communist Party apparatus that handles influence operations abroad, known as the 'united front.'"
That Chau is a paid mouthpiece for one of the world's most repressive regimes—which has locked up one million Muslim Uighurs in "re-education" camps—is enough to disqualify him from representing a U.N. agency whose constitution speaks of the "fundamental rights of every human being."
But it's worse.
Chau doesn't just read government-sanctioned news on innocuous stories. As reported by The New York Times, Chau broadcast the forced confession of Peter Humphrey, a British private investigator who was arrested in 2013 on charges of illegally obtaining and selling Chinese citizens' data. Humphrey was drugged, chained to a chair, locked in a cage and forced to read a confession.
So it shouldn't be surprising that Chau, armed with his U.N. badge of legitimacy, has been mobilized from the start of the pandemic to spin for Beijing on Twitter, Weibo, YouTube and the broader web, abusing his WHO title to whitewash China's record and legitimize the regime and its officials.
Glorified by the U.N. (which just posted another of Chau's messages), the so-called journalist's voluminous statements on Beijing's response to the pandemic omit any mention of how the Chinese Communist Party purged the public sphere of dissent, censored news reports, harassed citizen journalists, shut down news sites and summoned Dr. Li Wenliang to a middle-of-the-night interrogation for sounding the alarm in Wuhan.
On Twitter, Chau excuses China's repressive measures, saying "you do what you have to do," adding, "not everything is 'draconian.'"
In a February 6 op-ed in The Hindu, entitled "A time for solidarity, not stigma," Chau rushed to defend Beijing. Yes, the WHO had just declared COVID-19 a global health emergency but, "that said," this was "not a vote of no confidence in China's capacity to control the spread."
Media comparisons with SARS, cautioned Chau, were exaggerating "the scale and severity of the Wuhan outbreak." He warned that videos being shared about chaotic scenes at Wuhan hospitals were "unverified," and thus "we can't assume that these videos are related to the Wuhan outbreak." Chau said nothing on how China began to censor keywords related to the coronavirus outbreak on December 31, 2019, a day after Dr. Li Wenliang and other doctors tried to warn the public.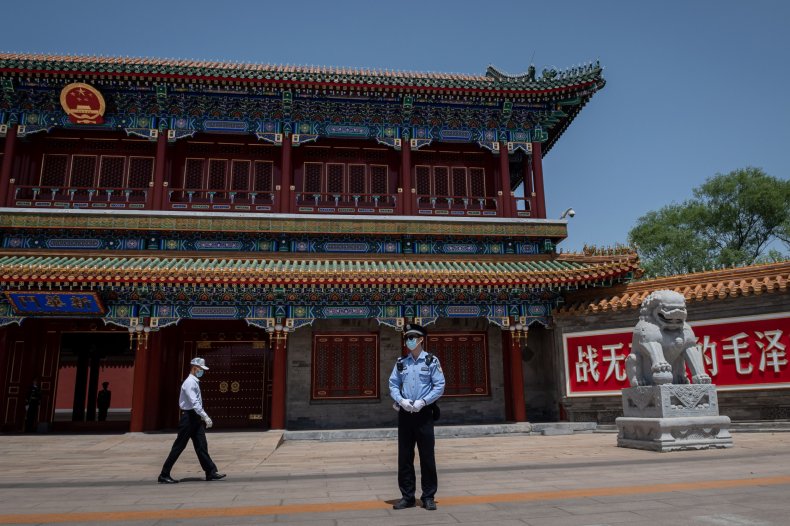 In his online YouTube program and podcast, Chau emphasizes how Tedros has an "investment of trust in China" and "confidence in its leadership."
Using propagandistic videos with uplifting music, Chau recites the latest WHO directives, along with platitudes about "openness and togetherness." Yet his Wuhan timeline ignores any reference to those arrested and made to disappear for sounding the alarm.
When he interviews China's former Vice Foreign Minister He Yafei, Chau pivots attention away from China, asking "Where have we gone wrong as a world?" In turn, the former Chinese diplomat calls on the world to "spend more time on global health governance." Chau allows those statements to stand, not mentioning that China had reportedly pressured the WHO to hold off on declaring a health emergency.
Chau is also a regular on CGTN, a global affiliate of CCTV. In a show attacking critical articles from The New York Times, the Chinese network brought on Chau—introduced as a U.N. goodwill ambassador—to speak of the need to "trust" leaders. In another show, Chau was invited to provide "the World Health Organization perspective"; he decried America's "institutional, systemic, structural racism."
The WHO and its chief Tedros are rightly under pressure after they repeatedly lavished praise on Chinese President Xi Jinping's regime for its "seriousness," "transparency" and "leadership" in handling the pandemic.
To begin to restore its credibility, the WHO must now remove James Chau as its goodwill ambassador.
Hillel C. Neuer, an international lawyer, is executive director of United Nations Watch, an independent human rights monitoring organization in Geneva, Switzerland.
The views expressed in this article are the writer's own.