Who Is Mysterio? 'Spider-Man: Far From Home' Villian Wows the Crowd
The first teaser trailer for Spider-Man: Far From Home was released on Tuesday morning, giving fans their first look at the wall crawler on vacation. We also get our first real glimpse at Jake Gyllenhaal as Mysterio, the illusion-weaving villain that Spidey has been battling for decades. This is the first time we've seen dome-head on the silver screen, replacing the traditional Spidey villains like Green Goblin and Venom that we've seen over and over. You might not know much about Mysterio, so allow us to share a little info about one of the most underrated members of Spider-Man's rogues gallery.
Who is Mysterio?
The Mysterio first appeared in The Amazing Spider-Man #13, trying to trick the world into valuing him over Spider-Man. Bursting into J. Jonah Jameson's office, the green and purple-suited figure declares he will be the one to end the wall-crawlers life with his mysterious "powers." The pair meet on top of the Brooklyn Bridge and Mysterio whoops Spidey's behind, turning him into NY's hero. (He even got a parade!)
We learn later, after a fight between the pair, that Mysterio (real name Quentin Beck) is powerless and merely used his special effect knowledge to trick the world into thinking he was strong. Beck wanted to become an actor, but nobody took him seriously, leading him to a life of crime. Spidey eventually exposes Mysterio in the most classic way possible: recording his villain monologue and sharing it with The Daily Bugle. This version of Mysterio would stick around for a few years, eventually joining the Sinister Six alongside classic villains like the Vulture and Dr. Octopus.
Mysterio's backstory is similar to what we've seen in the first Far From Home trailer. Mysterio shows up just as giant water and sand monsters start to wreak havoc. They resembe Hydro-Man and Sand Man respectively, but the last time we tried to shove three Spider-Man villains into one movie we got Spider-Man 3, and we all remember how poorly that turned out.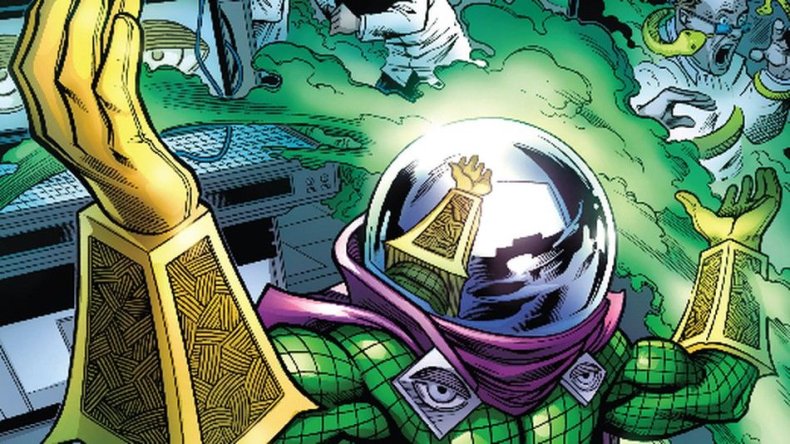 A few other villians have donned the Mysterio fishbowl helmet over the years, like Beck's cellmate Daniel Berkhart and a teleporting mutant called Francis Klum. Still, Beck has been the main Mysterio for decade, continuing his grand villainous gambits, like faking Aunt May's death and attempting to rob Parker Industries.
What are Mysterio's Powers?
The original Mysterio technically doesn't have any superpowers. Beck used his early 70s' special effects knowledge to trick people into thinking he could teleport, dissolve Spidey's webs and just be an overall badass. He continued to adapt his technology as the years went on, tricking millions of New Yorkers into believing he was remarkably powerful. Like the Shocker and the Vulture, Mysterio is not much of a threat without his suit and gadgets. It's one of the reasons Beck has spent a good chunk of his comic life locked away in prison, unable to bother anyone outside of gen pop. Still, he's a formidable foe and a strategic tactician whose desire for fame leads him to failure and ruin.
Spider-Man: Far From Home comes to theaters on July 5, 2019.