Who Is Natalia Veselnitskaya and What Are Her Ties to the Kremlin? Russian Lawyer's Changing Story
New information about Russian lawyer Natalia Veselnitskaya, who infamously promised damaging information about Hillary Clinton to Trump campaign officials in a June 2016 Trump Tower meeting, casts greater doubt on who she has claimed to be and her ties to the Kremlin.
Related: Russian lawyer at Trump Tower meeting attended president's inauguration events
Veselnitskaya has denied claims that she is an operative for the Russian government and said she is merely a private attorney, but emails newly released by The New York Times as well as an NBC News interview with her to be aired Friday indicate her links to the Russian government run far deeper than she initially disclosed.
Trump Tower Meeting
Veselnitskaya insisted that she did not meet with Trump campaign members Donald Trump Jr., Jared Kushner and Paul Manafort as a Kremlin representative, but in a private capacity.
"I operate independently of any governmental bodies," Veselnitskaya wrote in statement to the Senate Judiciary Committee in November 2017. "I have no relationship with Mr. Chaika, his representatives and his institutions other than those related to my professional functions as a lawyer."
However, that statement was undermined last fall when her memo for the Trump Tower meeting closely matched—with some paragraphs verbatim—a confidential document circulated by Russia's Prosecutor General Yuri Chaika.
What Veselnitskaya Said After the Meeting
The most eye-catching development is that Veselnitskaya, in the NBC News interview, backtracks on her previous denials.
"I am a lawyer, and I am an informant," she said, according to the Times. "Since 2013, I have been actively communicating with the office of the Russian prosecutor general."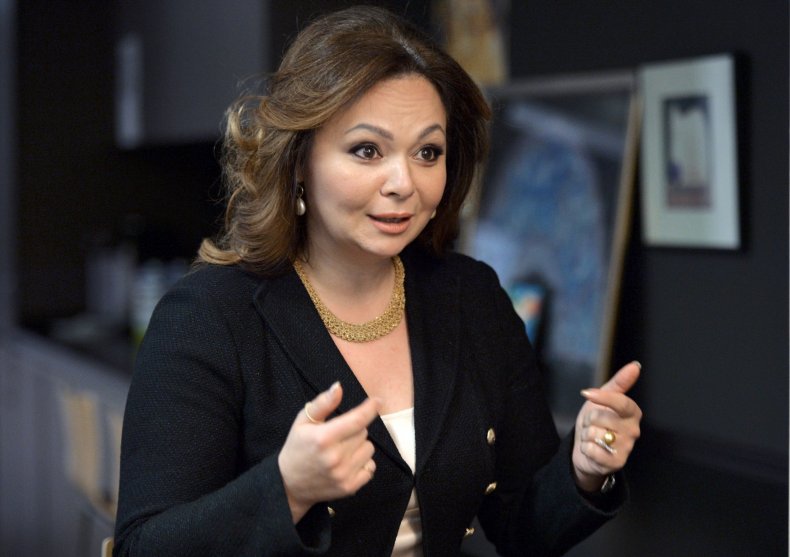 Emails Shed More Light on Veselnitskaya's Kremlin Ties
Veselnitskaya has a much closer relationship with Chaika and his office than she originally acknowledged, according to emails released Friday and obtained by the organization Dossier, which was founded by a leading opponent of Russian President Vladimir Putin.
The emails show that Sergei Bochkaryov, a senior prosecutor in Chaika's office, worked with Veselnitskaya to come up with a response to a U.S. Justice Department request for assistance with a civil fraud case launched against the Russian real estate firm Prevezon Holdings Ltd. One of at least emails obtained showed Veselnitskaya addressing Bochkaryov in a familial manner in August 2014.
"Dear Sergei Aleksandrovich!" she wrote. "I am sending you the edits in the draft response, as per instructions. I am ready to answer any questions that arise, at any time convenient for you."
When NBC News presented Veselnitskaya with copies of the emails, she admitted, "Many things included here are from my documents, my personal documents."
The revelations raise questions around whether she was representing the Kremlin at the Trump Tower meeting that has become a focal point of special counsel Robert Mueller's probe into Russian interference in the 2016 presidential election.