Who is Nathan Zegura? Cleveland Browns Sideline Reporter Suspended for Yelling at Official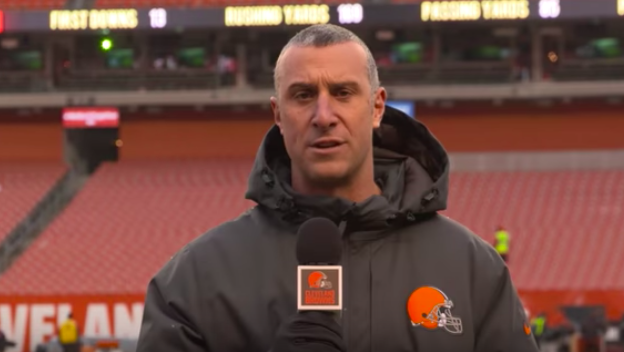 It isn't going well for the Cleveland Browns so far in 2018. They've tied one game they should have won against Pittsburgh and lost a close one in New Orleans after their field goal kicker missed two extra points and two field goals. Now, the team's sideline radio reporter Nathan Zegura has been suspended for eight games for yelling at an NFL official during the Saints game on Sunday.
This isn't the first time the Cleveland Browns have had to reprimand sideline reporter Nathan Zegura, according to a report from cleveland.com. But it is the most significant since Zegura has been suspended from the Browns radio broadcast for eight games because he yelled at an NFL official over a call during a loss to the Saints.
"Multiple sources say Zegura chirped at a ref about a call during the Saints game while working sideline and the league did not take kindly to that," Tweeted Vince Grzegorek, editor-in-chief of the Cleveland Scene. "Browns had no comment for now."
Now, Cleveland will have a new sideline reporter when the team plays the New York Jets on Thursday night and a new kicker, since the Browns signed rookie Greg Joseph this week to replace Zane Gonzalez, who missed multiple kicks against the Saints.
Zegura, the Browns senior media broadcaster, was told to move his sideline location in the Superdome during the Saints game after he yelled at one of the officials, reported Cleveland.com.
It was the second straight week that Cleveland, which hasn't won a single game since 2016, has let a win slip away. The Browns tied Pittsburgh 21-21 in week 1 in a game that slipped away and lost to New Orleans 21-18 after having a late lead in the game.
Who is Nathan Zegura?
Co-host of the Cleveland Browns Daily, a radio program that airs afternoons on Cleveland's ESPN 850 radio, Zegura is the sideline reporter for all Browns games. Due to the suspension, announced Wednesday, Zegura will be replaced by Dustin Fox of 92.3 The Fan in Cleveland. Zegura is scheduled to return to the sideline job on November 25.
The Browns felt they had the New Orleans game, just as they felt the had Pittsburgh the week before. It was more than the four kicks missed by Gonzalez on Sunday. There was also a defensive penalty that revived a New Orleans touchdown drive.
Against Pittsburgh in week one, the Browns set up for the winning field goal in the final seconds but it was blocked and the winless stream extending to 2016 continued.