Who Is The New Bachelor? Spoilers Confirm Identity As Pick Spotted Filming Season Promotions
The next Bachelor has yet to be announced, but ABC is wasting no time filming promotional footage, even in public. Peter Weber was spotted filming at Los Angeles International Airport (LAX) on Thursday. Spoilers have already claimed Weber will be handing out the roses come January, as originally reported by Reality Steve.
Photos from a passerby show Weber, who is a pilot, in full uniform. The footage will likely be used in Weber's Bachelor introduction, during the premiere episode. Each Bachelor, Bachelorette, or contestant shoots footage to introduce themselves at the start of the season.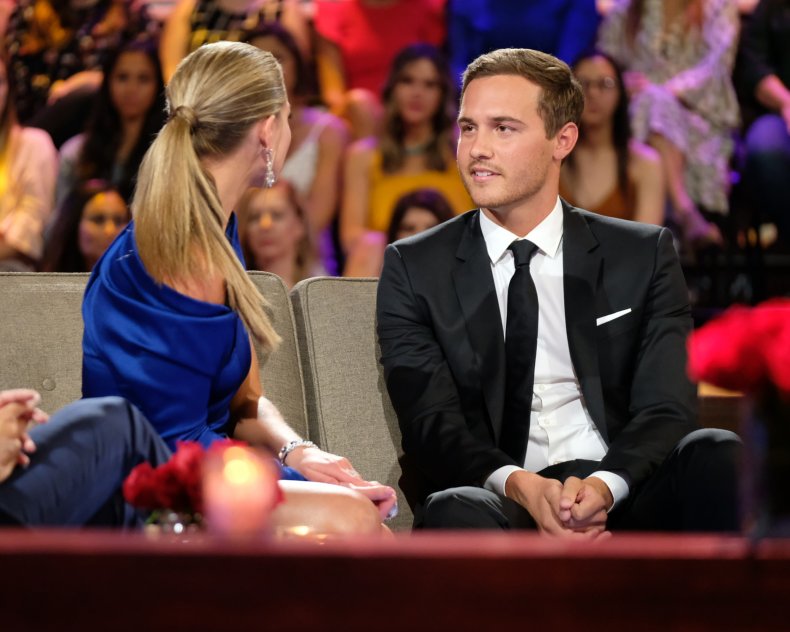 Spoilers claiming Weber would be the next Bachelor made waves on Twitter in late August. Many fans were upset by the claim. Some questioned why Mike Johnson wasn't chosen as the Bachelor. Johnson would have been the first black Bachelor ever. So far, there has only been one black Bachelorette.
Reality Steve revealed the pick on August 25 to significant negative reactions. Some wanted to see Johnson, while others named Tyler Cameron and Derek Peth as possible leads.
Peth was a fan favorite on Bachelor In Paradise Season 6, which aired this summer. He left the beach spinoff after pursuing two failed relationships. One was with Demi Burnett, who went on to be in the first Bachelor franchise same-sex couple. Fans applauded Peth for his open support of Burnett, even through heartbreak.
Cameron was a favorite, too. He was Brown's runner up, and went on a date with her after she broke her engagement. Shortly after, though, Cameron began seeing model Gigi Hadid. The pair are suspected to be in a close relationship, as they've been seen together often since.
Weber was not without controversy on Brown's season of The Bachelorette. A woman, Calee Lutes, claimed she was in a relationship with Weber shortly before he went on the show in a conversation with Entertainment Tonight. She said the pair dated for five months before they broke up in December 2018.
Her claims came just after those of Haley Stevens, who pointed fingers at her ex, Jed Wyatt. Wyatt was engaged to Brown on the series, but their relationship fell apart when Stevens told People magazine she'd been dating Wyatt until he left to film. Wyatt had been open about wanting to promote his music career. He told Brown on a one-on-one date, and she understood.
There is no set premiere date for The Bachelor, but it will likely premiere in January. Recent past seasons have aired shortly after the new year.