Who is the New Bachelorette? After Being Dumped by Bachelor Arie, Becca Kufrin Will Star in Season 14
There is a new Bachelorette in town and, as many fans suspected, it's Becca Kufrin.
Kufrin is the poor woman who won the affections of and then was brutally dumped by Bachelor Arie Luyendyk Jr. on the latest season of ABC's reality dating competition. The drama went down Monday night in the three-hour finale of The Bachelor Season 22. Luyendyk Jr. realized he still had feelings for runner-up Lauren Burnham and ended his engagement to Kufrin.
On Tuesday's After the Final Rose special, hosted by Chris Harrison, Luyendyk Jr. popped the question to Burnham—but even bigger news is that Kufrin will now be the handing out the roses in the 14th season of The Bachelorette.
Kufrin, a publicist from Minnesota, told Luyendyk Jr. on After the Final Rose that she forgives him for dumping her.
"I went through all the emotions. I was mad for a while, I was so sad and down for a while, I was pissed for a while. At this point, I want this chapter of Arie to be done and close it and put it on the shelf and put it away," Kufrin told People's latest issue.
"I'm still going to feel a sense of compassion for him because I did love him. But at this point, I want him to be happy, I want to be done and not have to worry about them anymore. They're going to be together and do their thing. I want to move on and have my person that I can focus on and live my life with."
Kufrin told the magazine she is slightly scared about putting her heart on the line again on The Bachelorette, but is ready to find love.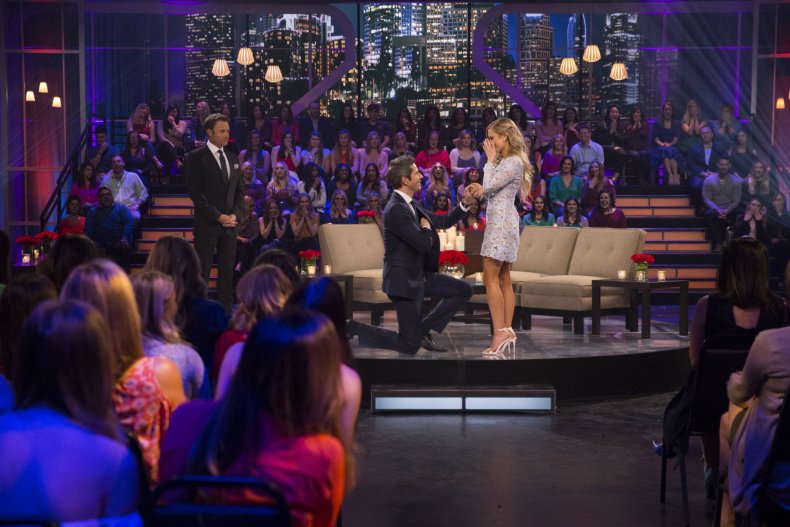 "I have so much love to give and I want just a partner in life. I'm not afraid to date these guys and find the one who is the best fit for me—I welcome that with open arms," she said.
The Bachelorette premieres May 28 on ABC.