Who is the Next 'Jeopardy!' Guest Host As Aaron Rodgers' Time Ends
Aaron Rodgers' stint as Jeopardy! guest host has come to an end with the NFL player hosting his last episode this week.
The Green Bay Packers quarterback earned $25,100 from Thursday's show for the North Valley Community Foundation to help small businesses impacted by COVID-19 in and around his hometown of Chico, California.
The show's roster of rotating hosts is providing a bridge between finding a permanent replacement for the late Alex Trebek.
Former champion contestant Ken Jennings kicked things off back in January, followed by executive producer Mike Richards, broadcaster Katie Couric and, more controversially, Dr. Mehmet Oz.
So who is up to the podium next? That would CNN's very own Anderson Cooper.
The Anderson Cooper 360° host is set to take charge of Jeopardy! from April 19 to 30 this month.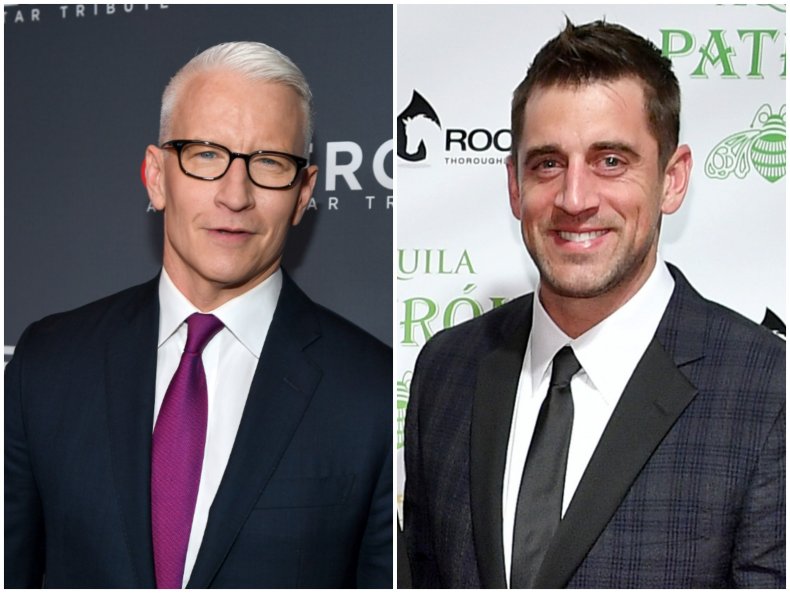 Having competed on the show a number of times during celebrity tournaments over the years, Cooper is a huge fan.
"I've been on four times, so I got to meet Alex, which was such a thrill because I'm such a Jeopardy! fan," said on The Ellen DeGeneres Show when his stint was announced back in February.
It's incredible. I'm really excited," Cooper told Ellen DeGeneres.
Reminiscing on his first time on Celebrity Jeopardy! Cooper said he "panicked" the night before despite eventually winning.
"I panicked the night before because I realized I need to know all this stuff. So I went online and did all this research, tried to like, cram, as though you can really cram for Jeopardy!—it doesn't really work," he recalled. "And I read all these blogs from former Jeopardy! champions about buzzer theory, and some sort of game theory."
Following his turn guest hosting, Rodgers has said he wants to keep the job permanently.
"I'm not shy at all about saying I want the job," 37-year-old Rodgers said in an interview with The Ringer.
I don't think I'd need to give up football to do it," he said. "They [Jeopardy!] film 46 days a year. I worked 187 this year in Green Bay. That gives me, eh—178 days to do Jeopardy! So I feel like I could fit 46 into that 178 and make it work."
Another celebrity vying for the job is Reading Rainbow's LeVar Burton, who told Newsweek he would do Trebeck's legacy proud were he to get the job.
"I think I could continue his legacy, I think I would do it proud," Burton said. "Yeah, I think I would bring myself and my skills and my life experience. I believe that I will be honoring Alex's legacy by standing on the podium."
Other guest hosts lined up after Cooper are Savannah Guthrie, Mayim Bialik, Bill Whitaker and Dr. Sanjay Gupta.