Nick Mullens delivered one of the greatest debut performances in NFL history as he torched the Oakland Raiders defense on Thursday night.
A 2017 undrafted free agent out of Southern Miss, Mullens threw for 262 yards and three touchdowns, completing 16 of 22 passes as the San Francisco 49ers thrashed the Raiders 34-3 at home.
The 23-year-old only got the nod because of an injury to back-up quarterback C.J. Beathard—who had replaced Jimmy Garoppolo when the latter tore his ACL earlier this season. Mullens was such an unknown quantity that his Twitter account was only granted the blue check mark that identifies verified accounts during the game.
Mullens posted a passer rating of 151.9 on Thursday night which, according to Pro-Football-Reference, was the highest recorded by a quarterback making his debut with at least 20 attempts since 1970. The passer rating was also the highest of any 49ers quarterback since Alex Smith had a rating of 157.1 in October 2012.
Mullens also became only the third player since 1950 to record more than 250 passing yards, three or more touchdowns and no interceptions after Fran Tarkenton and Jim Kelly achieved the feat in 1961 and 1986, respectively.
Joe Montana and Steve Young, two of the 49ers' greatest quarterbacks, had much more subdued debuts, recording 36 passing yards and no touchdowns and 80 passing yards and one touchdown, respectively. Figures from Elias Sports Bureau showed that in the history of the 49ers no other quarterback had thrown three touchdowns on his debut.
According to ESPN Stats & Info, Mullens is the only quarterback along with Marc Bulger, Ryan Fitzpatrick and Marcus Mariota to throw for three or more touchdowns on his debut over the last 25 years.
The Alabama native had the 49ers offense ticking from the start and the team scored on its first two drives for the first time since Week 4 of the 2016 season, when Colin Kaepernick was under center.
While he went undrafted in 2017, Mullens was a prolific quarterback during his college career, surpassing Brett Favre's records at Southern Miss. The former Packers legend tweeted Mullens on Thursday afternoon and then called him immediately after the game.
"It was pretty cool, definitely an honor," Mullens said on FOX Sports when asked about what it felt to receive support from one of the all-time greats.
"It's cool to see Southern Miss alumni stay in tune with the program and support each other. Definitely appreciative of that and definitely have the most respect for Brett. He just told me how proud of me he was."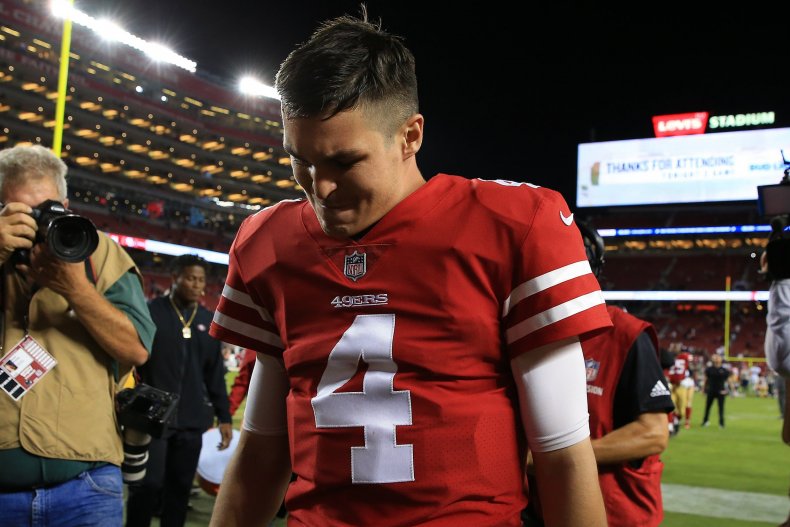 The only person who didn't look taken aback by Mullens' performance was 49ers head coach Kyle Shanahan.
"He didn't surprise us... the game's not too big for Nick," he told ESPN.
"He's very poised. He is always locked in. The guys, they respect him. He earned a lot of respect in the preseason, them watching him play.
"The way he handles himself in practice each week. He didn't really know for sure whether he was going to start today, until today, and just the way he handled the two days of long walkthroughs and stuff.
"He's a machine in there and I was happy for him."
Uncommon Knowledge
Newsweek is committed to challenging conventional wisdom and finding connections in the search for common ground.
Newsweek is committed to challenging conventional wisdom and finding connections in the search for common ground.
About the writer
Dan Cancian is currently a reporter for Newsweek based in London, England. Prior to joining Newsweek in January 2018, he was a news and business reporter at International Business Times UK. Dan has also written for The Guardian and The Observer.