Who Is Noah Green? 25-Year-Old Is Suspect in Capitol Attack That Killed Officer
Authorities have identified 25-year-old Indiana native Noah Green as the suspect killed after ramming a vehicle through a barricade at the U.S. Capitol on Friday, hitting two police officers.
Law enforcement identified Green as the suspect, the Associated Press said. An investigation is ongoing into Green's life and background to try and determine motive and if he had a history of mental health issues, the AP said.
The suspect died after being shot by officers during the episode, acting U.S. Capitol Police Chief Yogananda Pittman said during a news conference on Friday afternoon.
The scene unfolded at 1:02 p.m. Eastern Time when the suspect drove into a security checkpoint on Constitution Avenue in Washington D.C.
"The suspect rammed his car into two of our officers and then hit the north barricade barrier," Pittman said. "At such time the suspect exited the vehicle with a knife in hand. Our officers then engaged that suspect. He did not respond to verbal commands."
She continued, "The suspect did start lunging toward U.S. Capitol Police officers, at which time U.S. Capitol Police officers fired upon the suspect. At this time the suspect has been pronounced deceased."
The two officers were taken to two different hospitals with injuries and one died. The slain was identified as William "Billy" Evans, who was an 18-year U.S. Capitol Police veteran.
While the investigation is ongoing, Acting Chief of the Metropolitan Police Department Robert Contee said the attack near "does not appear to be terrorism-related."
Contee also said Friday police were investigating to determine the driver's motive. He said the suspect was not known to either D.C. Police or the U.S.Capitol Police and was not previously considered a threat to lawmakers.
Homeland Security Secretary Alejandro Mayorkas tweeted Friday that "there is still much to be determined about" the attack and offered the agency's support to the Capitol Police and D.C. Mayor Muriel Bowser.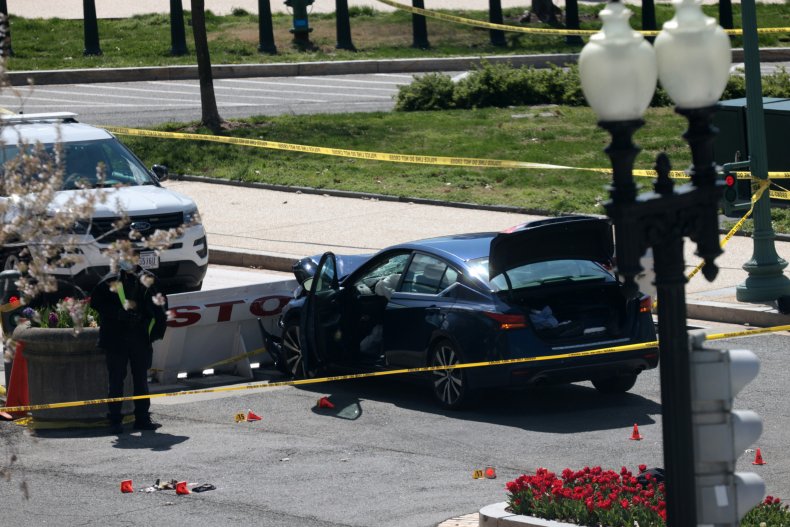 House Speaker Nancy Pelosi (D-Calif.) ordered Capitol flags to be flown at half staff in honor of the fallen officer. Senate Majority Leader Chuck Schumer (D-N.Y.) tweeted that he was "heartbroken for the officer killed today defending our Capitol and for his family. I'm praying for the officer injured and his family.
"We're in their debt," Schumer added. "We thank the Capitol Police, National Guard, & first responders for all they do to protect the Capitol and those inside."
Friday's deadly incident comes nearly three months after insurrectionists stormed the U.S. Capitol building on January 6 as Congress certified President Joe Biden's electoral victory. Five people died during the attack, including Capitol Police Officer Brian Sicknick. Two more officers died of suicide after the riot.
"This has been an extremely difficult time for U.S. Capitol Police after the events of January 6 and now the events that have occurred here today. So I ask that you keep our U.S. Capitol Police family in your thoughts and prayers," Pittman said on Friday.