Who Is Noah Lyles? Age, Girlfriend and Rapping Career of Olympic 200m Sprinter
American track and field athlete Noah Lyles is pegged to be one of the U.S team's leading stars and a gold-medal favorite in the 200-meter sprint.
It will be the 24-year-old's first Olympic Games and many believe the young sportsman could be the next big sprinter in athletics history.
As current world champion, many hope Lyles will break the world record at Tokyo this year.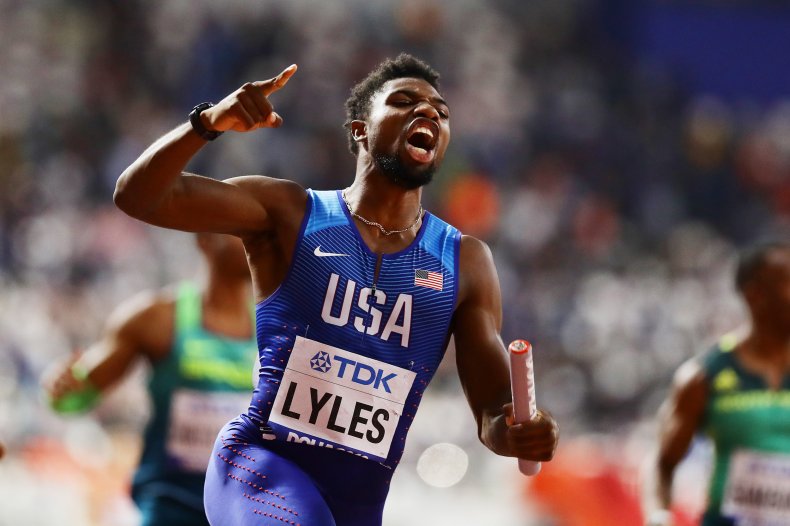 Who Is Noah Lyles? Age, Height & Early Life
Lyles was born in Gainesville, Florida on July 18, 1997, and was raised in Alexandria, Virginia.
The 24-year-old currently lives and trains in Clermont, Florida, with his younger brother Josephus who is also an elite sprinter, according to Lyles' Team USA profile.
Lyles is just shy of six foot tall and has a passion for music, art, video games, comics, anime and fashion.
He even ran the 2019 World Championships in Doha with silver hair, dyed in tribute to his favorite anime characters, he told the Washington Post at the time.
He has described himself as being close to his family and "hugely into creating."
He also spoke of overcoming severe asthma as a child, bouts of high school bullying and using suffering as motivation for his sport in an interview with the Olympic Channel.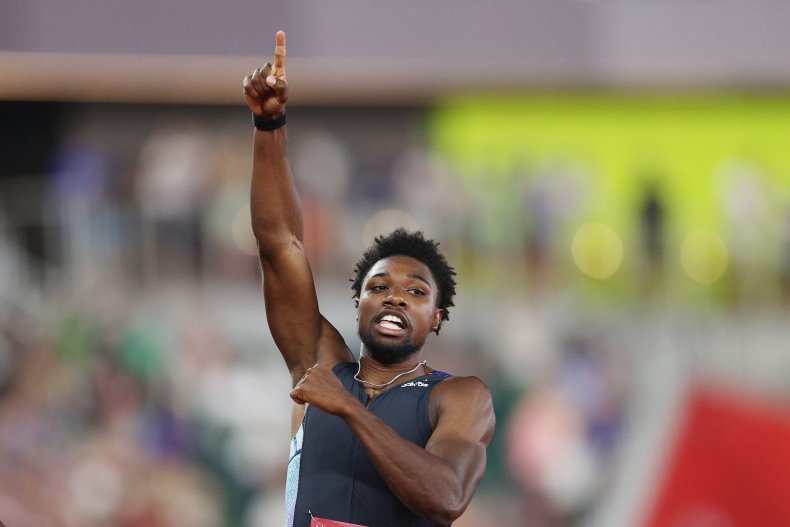 "I was bullied as a kid. I didn't think I was attractive. I didn't have a lot of confidence in myself," Lyles said. "But it was when I actually got onto the track and did sports where I knew that I was really good at something, that my confidence started building."
Describing his training routine, the athlete added: "I love that feeling of hurting after practice, because I know as soon as I'm hurting it means my muscles are going to build back up and I'm going to be stronger."
Describing his relationship with his mom, the sports star wrote a touching tribute for Spikes, the World Athletics site. "[It] really gives me the strength to know there is nobody tougher than my mom and I want to be like you one day," he said. "The way that you raised us, it blows my mind how I'm so lucky to have a mom like you."
Rapping & Music Career
The multi-talented athlete is also a budding rapper and has even released a song with Olympic silver medal-winning pole vaulter Sandi Morris.
Under the pseudonym, Nojo18, Lyles has released his own original music on Spotify and other streaming sites and says he has written "at least 25 songs."
Lyles released his first full-length album in April of 2020, called A Humans Journey.
Who Is Noah Lyles' Girlfriend?
Lyles is reportedly in a relationship with Trishelle Leacock, although the athlete has not publicly addressed his relationship status.
In an Instagram post, Leacock alluded to their relationship by posting a snap of the pair alongside the caption: "I know there is no one else in the world you'd rather have snoring beside you. One year with you and many more adventure filled ones to go."
Mental Health
Lyles has been open about the pressures his sport places on his mental health.
"After world champs—even before the World Championships last year—I was just in Europe for so long and I was getting really homesick," the athlete explained in an Instagram Live with the Olympic Channel. "And to be honest I thought about going home so many times because I was getting really depressed, and I was getting into that mindset of I barely want to even train anymore. My mum was like, 'I think it's time for you to go on antidepressants', and I was like, 'Yeah, I think you're right.'"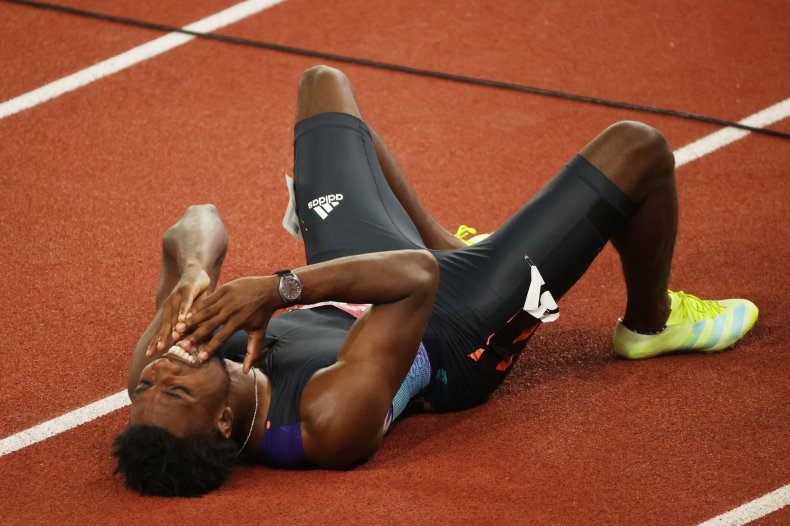 Sporting Career: 200 Meter Sprint
Lyles is the current world champion in the 200 meter sprint.
In 2019, Lyles ran the 200 meter dash in just 19.50 seconds, making him the second-fastest American and the fourth-fastest athlete to run the event.
He won two gold medals, in the 200 meter and the 4x100 meter relay, at the 2019 World Athletics Championships in Doha, Qatar.
He also won a gold medal in the 200 meter during the 2014 Youth Olympic Games in Nanjing, China.
He won another two gold medals in the 100 meter and the 4x100 meter relay during the 2016 World U20 Championships in Bydgoszcz, Poland.
Olympic Chances
This year, Lyles could have a chance at breaking the current 200 meter record held by Usain Bolt of 19.19 seconds.
"The goals are to win gold in both the 100 and 200," Lyles told NBC Sports in 2019 in reference to Tokyo 2020. "And to be honest, if we're talking about Usain Bolt, I am faster than him when he was my age... so let's see what happens."
He also spoken of his desire to be a "showman," telling the Olympics Channel: "I want people to be excited about what they're seeing."