Who Is Noel Francisco? Rod Rosenstein Exit Would Leave Solicitor General in Charge of Russia Investigation
Rod Rosenstein's future as deputy attorney general was thrown into further doubt Monday, increasing the prospect of a sudden vacancy at the head of the investigation into Russian interference in the 2016 election and possible collusion with the Trump campaign. There were varying reports on whether Rosenstein had offered to resign or was expecting to be fired.
White House press secretary Sarah Huckabee Sanders subsequently announced that Rosenstein and President Donald Trump would meet Thursday when the president returns to the White House from the United Nations in New York City.
"At the request of Deputy Attorney General Rod Rosenstein, he and President Trump had an extended conversation to discuss the recent news stories," Sanders said. "Because the President is at the United Nations General Assembly and has a full schedule with leaders from around the world, they will meet on Thursday when the President returns to Washington, D.C."
News of Rosenstein's expected exit came days after an explosive New York Times article that reported Rosenstein had discussed wearing a wire to secretly record Trump, and had proposed invoking the 25th Amendment to remove him from office.
Newsweek subscription offers >
If Rosenstein is out, Noel Francisco would be thrust into the position of overseeing special counsel Robert Mueller's Russia investigation. Justice Department rules state that its No. 3 official, the associate attorney general, would take the post. However, Rachel Brand left that role in February and has yet to be replaced. Thus, solicitor general Francisco would assume command.
Francisco served as associate counsel to President George W. Bush from 2001 to 2003 before serving as deputy assistant attorney general in the Office of Legal Counsel. In 2005, he moved into the private sector, joining the law firm Jones Day, where he worked with current White House Counsel Don McGhan. Francisco was then appointed deputy solicitor general by Trump in January 2017 and two months later was confirmed to the post of solicitor general by a vote of 50-47 in the Senate.
Given his position in charge of the Russia investigation, Francisco's views on presidential powers would likely be highly scrutinized. Notably, in 2007, Francisco rejected the idea of appointing a special counsel to oversee an investigation into Bush's decision to fire a slew of U.S. attorneys.
"I don't think it would be appropriate for the Department of Justice to appoint" a special counsel, he said in comments reported by Mother Jones. "My own personal belief is that when you hand these issues off to the career prosecutors in the public integrity sections in the U.S. attorneys' offices in the Department of Justice, those attorneys are generally better able to assess whether a case should be pursued."
Newsweek subscription offers >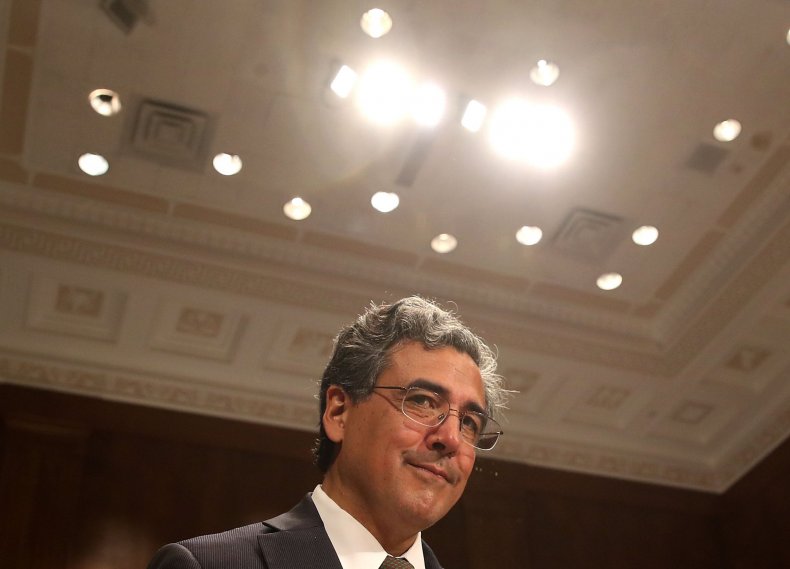 More recently, intervening in a Securities and Exchange Commission case as part of his current role in the Justice Department, Francisco said Trump had the constitutional right to fire any federal employee.
"The Constitution gives the president what the framers saw as the traditional means of ensuring accountability: the power to oversee executive officers through removal," Francisco said, according to the Los Angeles Times.
If Rosenstein's exit is confirmed, Francisco would have the power to dismiss Mueller, something that Trump has reportedly considered doing in the past.
Update: This story has been updated to include comments from Sarah Huckabee Sanders about a scheduled meeting between Rosenstein and Trump on Thursday.
Who Is Noel Francisco? Rod Rosenstein Exit Would Leave Solicitor General in Charge of Russia Investigation | U.S.