Who is North Korea Foreign Minister Ri Yong Ho, Speaking on Kim Jong Un's Behalf at the U.N.?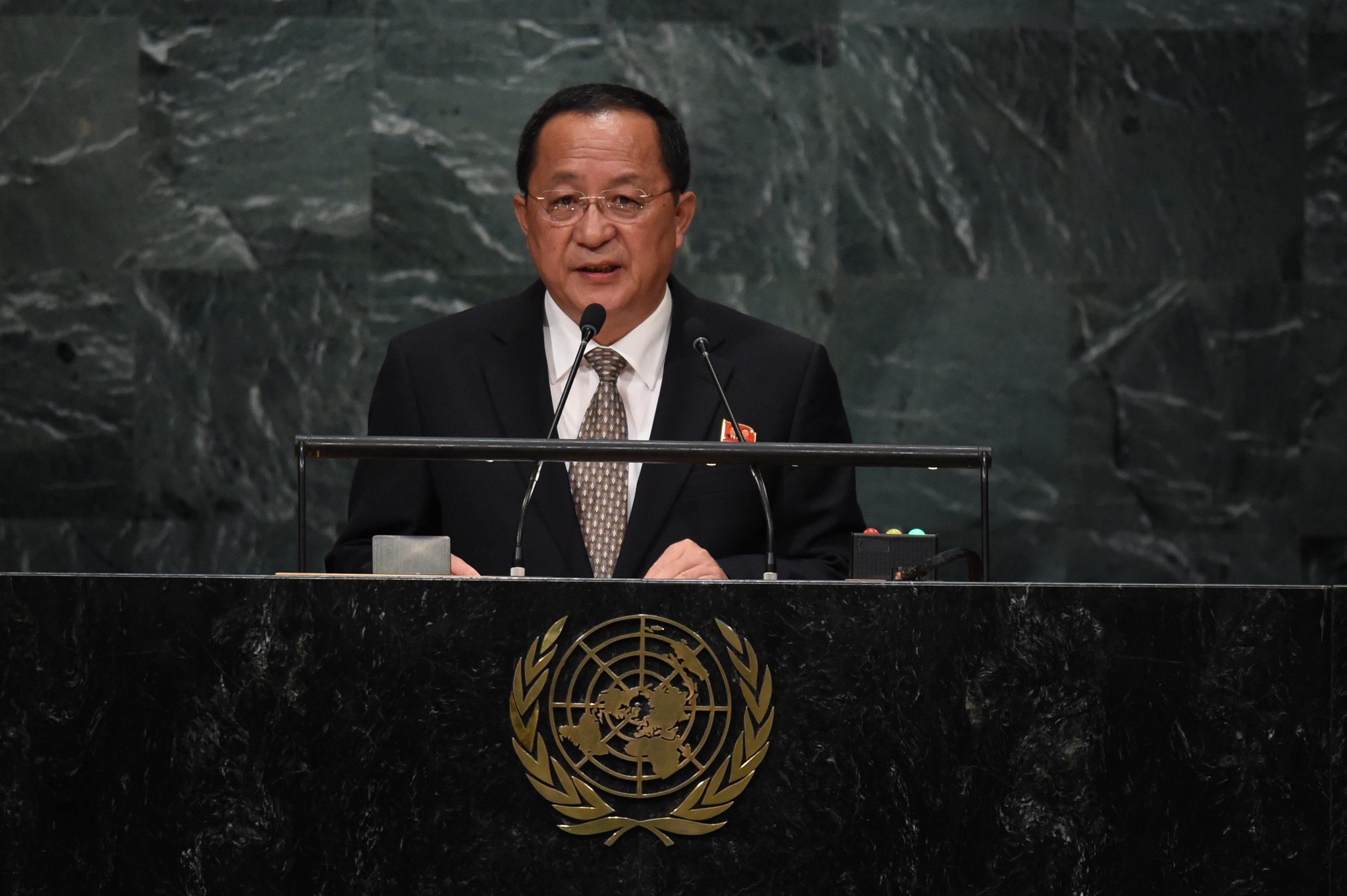 North Korea's latest turn on the world stage comes Saturday, when foreign minister Ri Yong Ho is scheduled to address the U.N. General Assembly, a year to the date of a defiant speech on September 23, 2016.
Ri—not to be confused with his namesake, a former top military official reportedly purged and executed in 2012—will fill in once again for the country's leader Kim Jong Un, who has not left the country in official capacity since he first took power in 2011.
At the time, he defended the country's nuclear development program against "constant nuclear threats of the U.S." and this year too the speech is expected to address ongoing tensions between North Korea and the international community, which has imposed a series of sanctions on the pariah state through the U.N. Security Council.
Ri's speech is likely to single out the U.S. and President Donald Trump. "My guess is that he will launch into a pretty intense assault on the United States and its 'hostile policies,' and that he will excoriate the allies of the United States and maybe even make oblique negative references to China and Russia," Evans Revere, a former State Department official who has previously met Ri, told the Washington Post.
Since arriving in New York on Wednesday to attend the meeting, Ri has already made headlines. Enjoying the attention of the world media who have been quick to snap up the rare opportunity of a meeting with a member of the North Korean ruling elite, Ri compared Trump's maiden speech on Tuesday to the sound of a "barking dog."
Ri's statement was echoed in Kim's unprecedented personal threat to Trump, which included a line saying: "a frightened dog barks louder" in reference to the president's speech.
As Kim said Pyongyang would consider the "highest level of hard-line countermeasure in history" against the U.S, Ri told waiting reporters on Friday that the North Korean leader is planning to test a hydrogen bomb over the Pacific.
It is unclear how serious the threat may be, but unlike Trump and Kim, Ri has decades of experience in foreign relations and diplomacy.
Even though he was only appointed to the position of top North Korean diplomat from the role of deputy foreign minister in May 2016, Ri's career at the ministry of foreign affairs began in 1978, six years before Kim Jong Un's birth.
He worked in North Korea's embassies in Zimbabwe, Sweden and the U.K. as well as serving as Pyongyang's top envoy to the stalled six-nation disarmament talks, even meeting President Bill Clinton as part of a North Korean delegation's historic visit to the U.S. in 2000.
The son of a former editor of the state-controlled KCNA news agency, Ri enjoys a close relationship with the North Korean leader and wears a lapel pin with the faces of Kim's predecessors Kim Il Sung and Kim Jong Il on his foreign trips.
Writing in the Atlantic, former Department of State official Joel S. Wit praised Ri's "impressive diplomatic skills."
"Smart, thoughtful, and articulate, he is a careful listener who often asks perceptive questions and chooses his responses with care. He can be both reasonable in trying to understand the other country's point of view and tough in defending North Korea's interests," Wit, who met Ri on a few occasions during his 15-year-long career at the State Department, said.
"A meeting with Foreign Minister Ri would be an important opportunity for the Trump administration to directly communicate its views to a North Korean official with ties to Kim Jong Un," he added.
While talks between Ri and the U.S. delegates are unlikely, the North Korean foreign minister is reportedly scheduled to meet U.N. Secretary General Antonio Guterres.
Ri previously met Russian, Chinese and even South Korean counterparts on the sidelines of the ASEAN Regional Forum in the Philippines in August, also attended by Secretary of State Rex Tillerson, who called on other countries to isolate North Korea.