The World Health Organization is so far unaware of what North Korean Supreme Leader Kim Jong Un described as a major mishap that has potentially compromised his nation's fight to keep COVID-19 outside its heavily guarded borders.
"WHO is not aware of any report regarding a grave incident on a lapse in anti-epidemic measures, other than those being shared by the media," a WHO spokesperson told Newsweek.
"Based on the latest COVID-19 update from the government to WHO (as of 24 June), there are still no COVID-19 cases reported in DPR Korea," the spokesperson added, using an acronym referring to North Korea's official name, the Democratic People's Republic of Korea.
North Korea is one of only five nations in the world that is still reporting zero COVID-19 cases, along with fellow Asian authoritarian Turkmenistan and the island nations of Nauru, Tonga and Tuvalu.
But concerns have been raised that this zero-case status may be in peril, as Kim lashed out at officials earlier Wednesday, local time, at the second enlarged meeting of the ruling Korean Workers' Party Eighth Central Committee Political Bureau.
The official Korean Central News Agency reported that he "mentioned that senior officials in charge of important state affairs neglected the implementation of the important decisions of the Party on taking organizational, institutional, material, scientific and technological measures as required by the prolonged state emergency epidemic prevention campaign associated with the worldwide health crisis, and thus caused a crucial case of creating a great crisis in ensuring the security of the state and safety of the people and entailed grave consequences."
Kim did not specify the nature or scope of the incident in question, but did identify what he saw as the factors that led to it.
He "analyzed in the strong terms that a major factor braking and hindering the implementation of the important tasks discussed and decided at the Party congress and plenary meetings of the Party is the lack of ability and irresponsibility of cadres, and called for conducting a more fierce Party-wide campaign against ideological faults and all sorts of negative elements being exposed among the cadres," the news agency reported.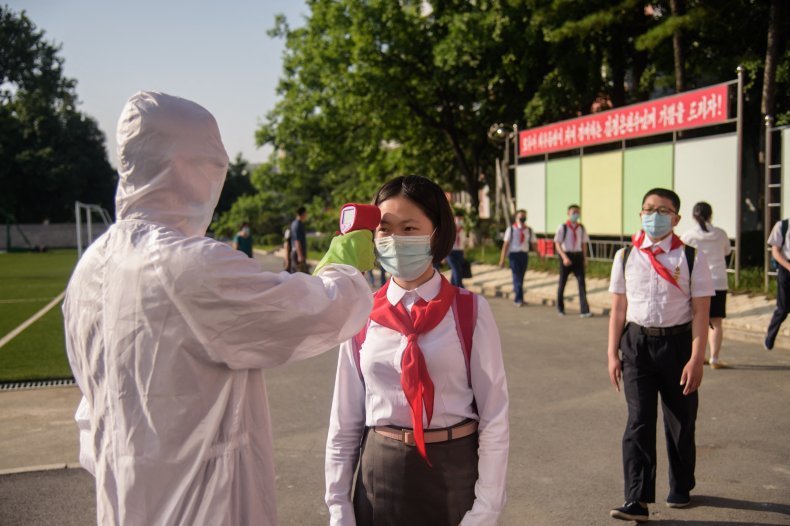 North Korea has had previous COVID-19 scares, and earlier reports citing anonymous sources have emerged from media in neighboring South Korea alleging that COVID-19 may have already entered North Korea some time ago.
However, the nation's tight control on the flow of information has made it difficult to discern the veracity of the claims. What is known is that strict lockdown and quarantine measures remain in place throughout North Korea.
The lingering effects of the pandemic in the DPRK have exacerbated an already difficult economic situation, one in which Kim's language has suggested the country may be in danger of famine.
In April, Kim referred to a "worst-ever" economic situation in his country, and told his population they should prepare for an "arduous march." This term has special meaning in North Korea, where it historically has been used almost exclusively to refer to a collapse in the food supply, previously triggered by floods, mismanagement, and the collapse of the allied Soviet Union as Kim's father, Kim Jong Il, took the reins from his own father, national founder Kim Il Sung, in 1994.
The crisis tests North Korea's fiercely self-reliant Juche doctrine, as the pandemic and the collapse of peace talks with the United States and South Korea in recent years led Pyongyang to once again turn its policies inward.
Since the Eighth Party Congress in January, Kim has emphasized the need to fortify and expand foreign relations, recently stressing the importance of shoring up ties with neighboring China and Russia.
Asked about Kim's mention of a "great crisis" during a press conference Wednesday, Chinese Foreign Ministry spokesperson Wang Wenbin praised the relationship between Beijing and Pyongyang.
"China and the DPRK are friendly neighbors linked by mountains and rivers," Wang said. "We respect the anti-epidemic measures the DPRK has put in place based on its national realities and wish it smooth progress in all its endeavors."
And he emphasized China's ongoing commitment to support North Korea.
"China and the DPRK have a long tradition of mutual assistance in times of need," Wang said. "China stands ready to positively consider providing help to the DPRK should there be such a need."
He declined to answer whether or not China has provided COVID-19 vaccines to North Korea.
As information coming from North Korea remains scarce as ever, a representative of the travel company Koryo Tours confirmed to Newsweek that the country's borders continue to be closed to foreigners, as they have since January 2020, when news of the novel coronavirus first emerged from China.