Who Is Nursultan Nazarbayev? Man Who Led Kazakhstan since the Fall of the USSR Abruptly Quits
The only president an independent Kazakhstan had ever known, Nursultan Nazarbayev shocked his country when he announced he would step down after nearly 30 years in power.
Nazarbayev, 78, has led the oil-and-gas-rich former Soviet republic since 1989, first as its Communist leader and then as president following the fall of the Soviet Union.
He said in a televised address: "I have taken a decision, which was not easy for me, to resign as president," Reuters reported.
He announced that the speaker of the Senate, Kassym-Jomart Tokayev, would take over as head of state until presidential elections could be held. He described Tokayev as "the very person that we can trust to rule Kazakhstan."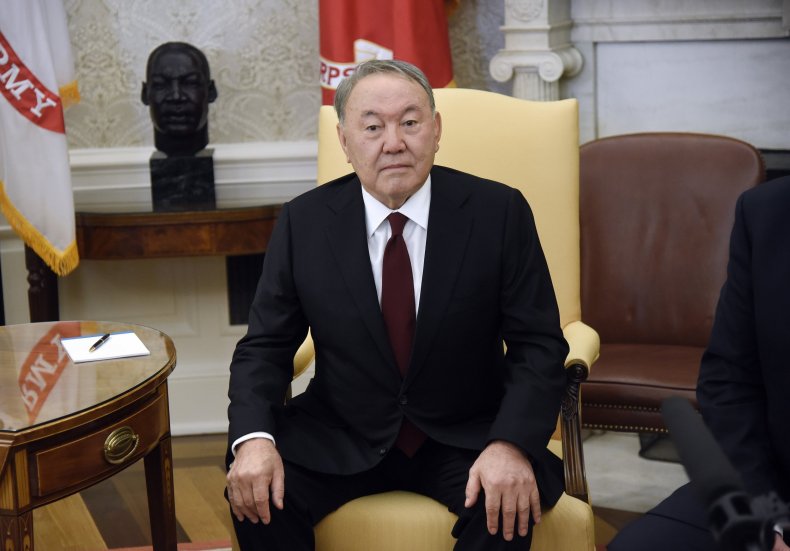 There had been speculation that Nazarbayev would step down, especially after he asked the country's Constitutional Council earlier in the year how he could relinquish his position and what powers would he keep if he did, Eurasianet reported.
Nazarbayev will not disappear from public life, as he will retain the title Leader of the Nation. He will also remain head of national security for life and continue as leader of the ruling Nur Otan party.
Joanna Lillis, author of the book Dark Shadows: Inside the Secret World of Kazakhstan, told Newsweek that it was not known exactly why Nazarbayev stepped down, but he wanted to make sure no successor undermined his legacy.
"Nazarbayev must have taken some lessons from neighboring Uzbekistan, where the long-ruling president, his contemporary Islam Karimov, died in office in 2016. The man who succeeded him, Shavkat Mirziyoyev, pays lip service to Karimov's legacy—but in practice is pretty much dismantling it with large-scale political and economic reforms.
"Nazarbayev most likely wants to manage this transition and make sure that he and family emerge from it with good standing, and with their assets intact too, no doubt.
"But the real question is whether this will usher in a better future for Kazakhstan. The answer is uncertain, of course. Nazarbayev made it clear in his resignation speech that he expects his successor to continue his policies and build on them—so it seems we can most likely expect more of the same," Lillis said.
Since he took power, Nazarbayev has been consistently re-elected. The next election would take place in 2020, although it is now expected to occur sooner.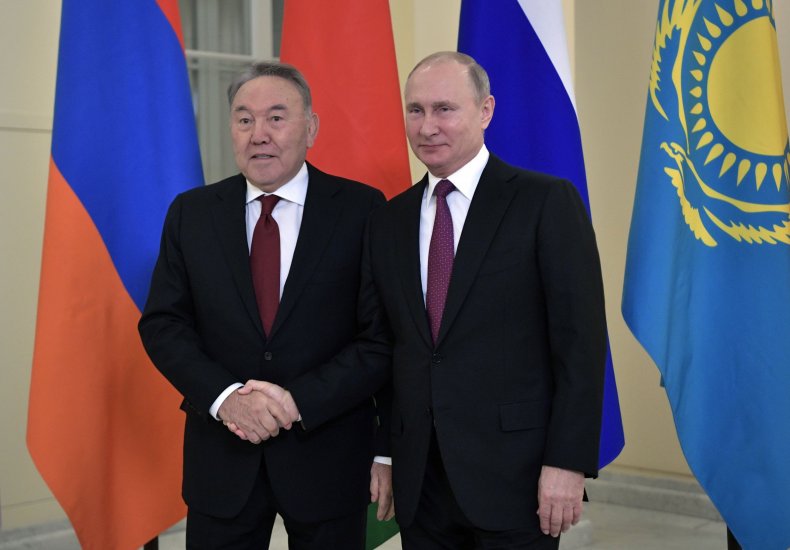 Arkady Dubnov, a Russian expert on Central Asia, told BBC Russian Service: "His powers will be higher than the powers of the president. He will become like Deng Xiaoping, the supreme referee."
Nazarbayev helped attract tens of billions of dollars from foreign energy companies, and had close ties with Russian President Vladimir Putin.
But he was criticized by rights groups for his methods in maintaining an iron grip on power, accused of suppressing dissent, using undemocratic votes and referendums and jailing political opponents, Radio Free Europe reported.
Born in 1940, he came to power as first secretary of the Communist Party of Kazakhstan when it was a Soviet republic.
Since independence, he has won re-election five times, running against largely token opponents in 1999, 2005, 2011 and 2015 in balloting that foreign observers criticized. The last election was seen as a move to consolidate his grip on power.
Only weeks ago, he sacked the country's government, complaining that it had "positive changes have not been achieved" in the economy, the BBC reported.
There were a number of countrywide protests in recent months as people demanded better living conditions, fueled in part by an outpouring of anger after five children died in a house fire in the capital of Astana.