Who is Onision? YouTuber Banned from Patreon After Doxxing
YouTuber Greg "Onision" Jackson has been banned from Patreon after allegedly doxxing a woman online. On Sunday night, Jackson posted text messages and the phone number of said accuser, who claimed that she had been harassed and groomed while living with Jackson and his husband Kai.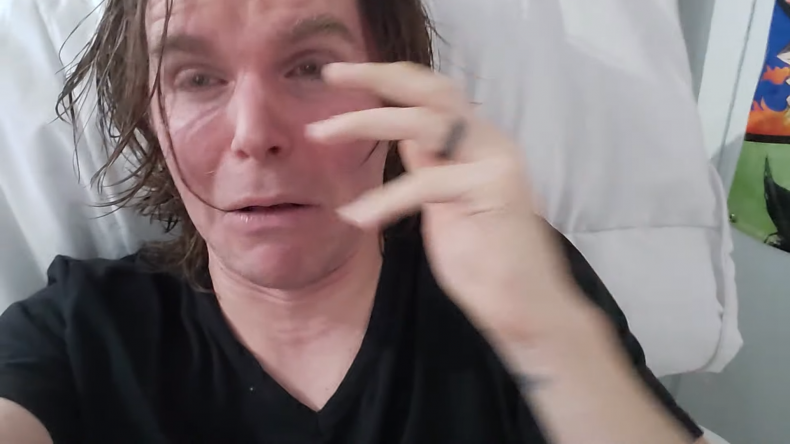 The Verge confirms that those messages broke the Patreon terms of service, violating the Bullying and Harassment section of the Community Guidelines. Before his ban, Jackson had 560 Patreon supporters, donating at least five dollars a month to get access to his private Instagram and the use of forums for Onision fans.
The news of the ban seems to have been rough on Jackson, who has been posting videos on his YouTube channel. In the video titled "wow" Jackson pours a bottle of Kombucha over his head while screaming. "What am I going to do now," he says as he contorts his body and face on the floor. Eleven hours later he posted the video "sory" where he claims that he hasn't slept in 20 hours and the news of his Patreon ban has caused him distress.
Jackson has created a new website where supporters can donate money to him, similar to his now-defunct Patreon, offering the same rewards. The site claims that "this product was selected to give you guys the best experience possible, far more organized and efficient than before," but it currently has no active forum.
Over the course of 2019, six women have come forward with their own stories about Jackson and Kai. Starting off as fans of the Onision channel, they claim that Kai and Jackson pressured them into online or physical sexual encounters. Chris Hansen of To Catch a Predator fame has been interviewing the alleged victims on YouTube about their experiences with the pair.
Who is Onision?
Jackson started uploading to YouTube in 2007 before creating the viral "Banana Song" in 2009. He was one of the first successful YouTubers, being featured on Tosh.0, with multiple books to his name and more than two million subscribers. Jackson's next decade was wrought with controversies, from a messy divorce from his first wife to an IRS audit of his finances. His content also shifted to judging the looks and appearances of his overwhelmingly young fan base while posting sometimes incoherent vlogs. Kai and Jackson have two kids together, which some worry may be caught in the middle of the controversy.
Many YouTubers have chronicled the many controversies of Onision over the years, coordinating a collection of content creations. Some, like Blaire White and Repzion, have shared their thoughts on the Patreon ban.
Newsweek has reached out to Jackson for comment and will update this story.