Who is Oscar Pistorius? The "Blade Runner" Olympian's Prison Time for Murder Just Doubled
It was the worst kind of birthday gift Oscar Pistorius could have received. On Friday, two days after turning 31, the former South African Paralympic sprint runner had his prison sentence for murder more than doubled.
Last year, Pistorius was convicted of murdering his girlfriend Reeva Steenkamp in 2013 and was sentenced to six years in prison. Prosecutors appealed that decision, arguing Pistorius should spend more time behind bars. A South African appeals court agreed. It called the original six-year sentence "shockingly lenient to a point where it has the effect of trivializing this serious offense" and increased Pistorius' sentence to 13 years and five months.
"This is an emotional thing for them," Tania Koen, spokesperson for Steenkamp's family, told Reuters. "They just feel that their trust in the justice system has been confirmed this morning." In an interview with the Associated Press, Koen added, "They feel there has been justice for Reeva. She can now rest in peace."
Before the murder trial, Pistorius had one of the best stories—and nicknames—in sports. He was born without fibula bones, which led to both legs being amputated when we 11 months old. His parents divorced when he was 6, and his mother died nine years later. But with the aid of blade-like prosthetics, Pistorius found a way out of his personal tragedies. He began running and became a dominant sprinter, dubbed "the fastest man on no legs" and earning the nickname Blade Runner.
Pistorius competed in three Paralympic Games, winning six golds and a total of eight medals. But he became an international phenomenon in 2012 when he competed in the 2012 Summer Olympics against able-bodied runners. Pistorius was eliminated from competition after finishing last in the 400m semi-final, but he left London a superstar.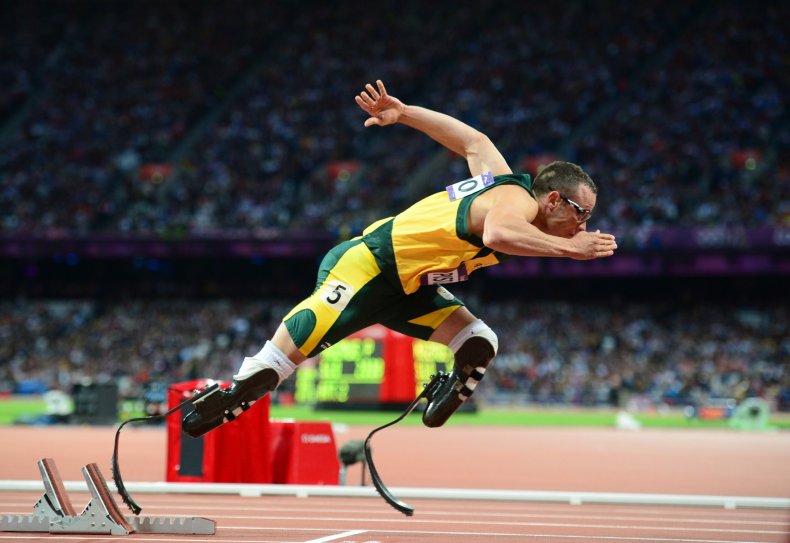 "It's just an unbelievable experience. I found myself smiling on the starting blocks which is very rare," Pistorius said in 2012. "My grandmother, she's 89, she was here with the South African flag. It was just an amazing experience."
Everything changed on Valentine's Day 2013. Pistorius shot his girlfriend, 29-year-old Reeva Steenkamp, four times through the bathroom door, killing her. Pistorius claimed he thought she was a burglar, but detectives didn't buy that explanation and prosecutors sought a conviction for premeditated murder. After a trial in 2014, the courts convicted Pistorius of manslaughter. And sentenced him to five years in jail.
But in 2015, South Africa's Supreme Court overturned the ruling and sentenced Pistorius to six years in jail for murder—a lenient judgment considering the minimum sentence for a murder conviction is 15 years. The court justified its decision by "citing mitigating circumstances such as rehabilitation and remorse," according to the BBC.
"I am of the view that a long-term imprisonment will not serve justice," Judge Thokozile Matilda Masipa said in 2015. "He's a fallen hero who has lost his career and is ruined financially." Masipa was also the judge who handed down the original manslaughter sentence.
Now, that decision has been overturned, too. Pistorius will face more than 13 years in prison, and with few appeals options left his marathon through South Africa's legal system might have finally reached the finish line.