Who Owns Goya Foods? Calls for #BoycottGoya Mount After CEO Praises Trump
The Unanue family, from New York City, owns Goya Foods. They were worth an estimated $1.1 billion in 2014, according to Forbes.
Family members include Goya CEO Robert 'Bob' Unanue, Joseph A. Unanue and Andy Unanue. Goya is the largest Hispanic/Latino-owned food business in the U.S.
The Goya brand has recently focused on attracting a non-Hispanic consumer. Bob Unanue has previously said of the company: "We like to say we don't market to Latinos, we market as Latinos."
Goya Foods is currently trending on Twitter, under the hashtags #Goyaway and #BoycottGoya and users are calling for a boycott of the brand after the CEO made pro-Trump comments during a visit to the White House yesterday. During a Rose Garden speech, prior to President Donald Trump signing an Executive Order on the White House Hispanic Prosperity Initiative, Bob gave gushing praise to the president.
"We're all truly blessed at the same time to have a leader like President Trump, who is a builder," he said.
"We have an incredible builder. And we pray. We pray for our leadership, our president, and we pray for our country—that we will continue to prosper and to grow."
Politicians and members of the public have reacted strongly to the CEO's statements. Democratic Party politician Julián Castro said on Twitter: "Bob Unanue is praising a president who villainizes and maliciously attacks Latinos for political gain. Americans should think twice before buying their products".
"And just like that, my household is never buying Goya again," said political activist Santiago Mayer.
"#BoycottGoya we do not forget our children in cages," said another Twitter user, referring to the conditions of detention centers in the U.S. for many Latino illegal immigrants. "Trump's labeling Mexicans as drug traffickers and rapists. A Despicable man who uses his presidency to bully and humiliate our people. Shame on you Goya!" continued the tweet.
In June 2015, Trump said: "When Mexico sends its people, they're not sending their best... They're sending people that have a lot of problems, and they're bringing those problems with us. They're bringing drugs. They're bringing crime. They're rapists. And some, I assume, are good people."
Despite controversial comments about immigrants, President Trump is predicted to get between 25 and 30 percent of the American Latino vote in the 2020 election, according to a recent Noticias Telemundo poll. According to 2016 exit polls President Trump received around 28 percent of the Latino vote.
The new White House Hispanic Prosperity Initiative was launched to "improve access by Hispanic Americans to educational and economic opportunities".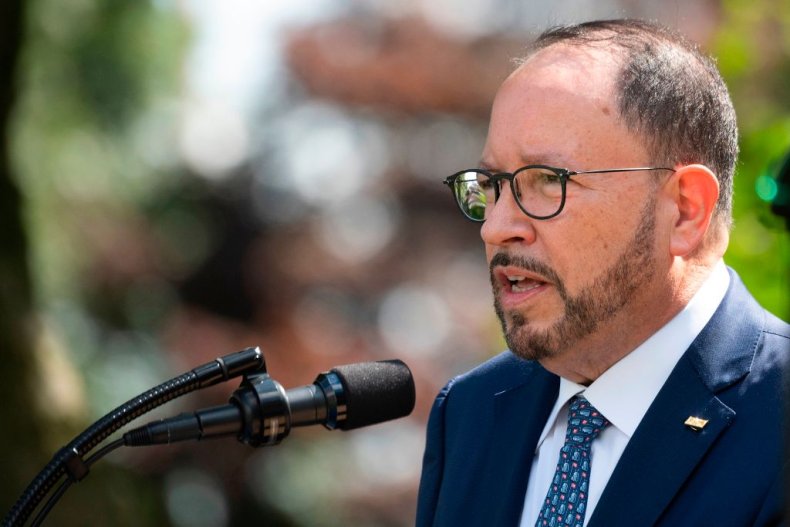 Goya Foods was launched by Prudencio Unanue Ortiz in 1936, who bought the name 'Goya' from a Moroccan sardine importer for $1. Three generations later, the company is still run by the family and has a revenue of around $1.5 billion.
The company was ranked number 377 on a rich list of American companies, conducted by Forbes in 2008. The company has offices and facilities in Puerto Rico, Spain, the Dominican Republic and various parts of the U.S. Its foods have an emphasis on Spanish and Latin American flavors. This year, Goya donated food and face masks to help during the coronavirus pandemic.