Rich People and Weird Art: This Company Made Steve Bannon's Napoleon Portrait, And You Can Buy One Too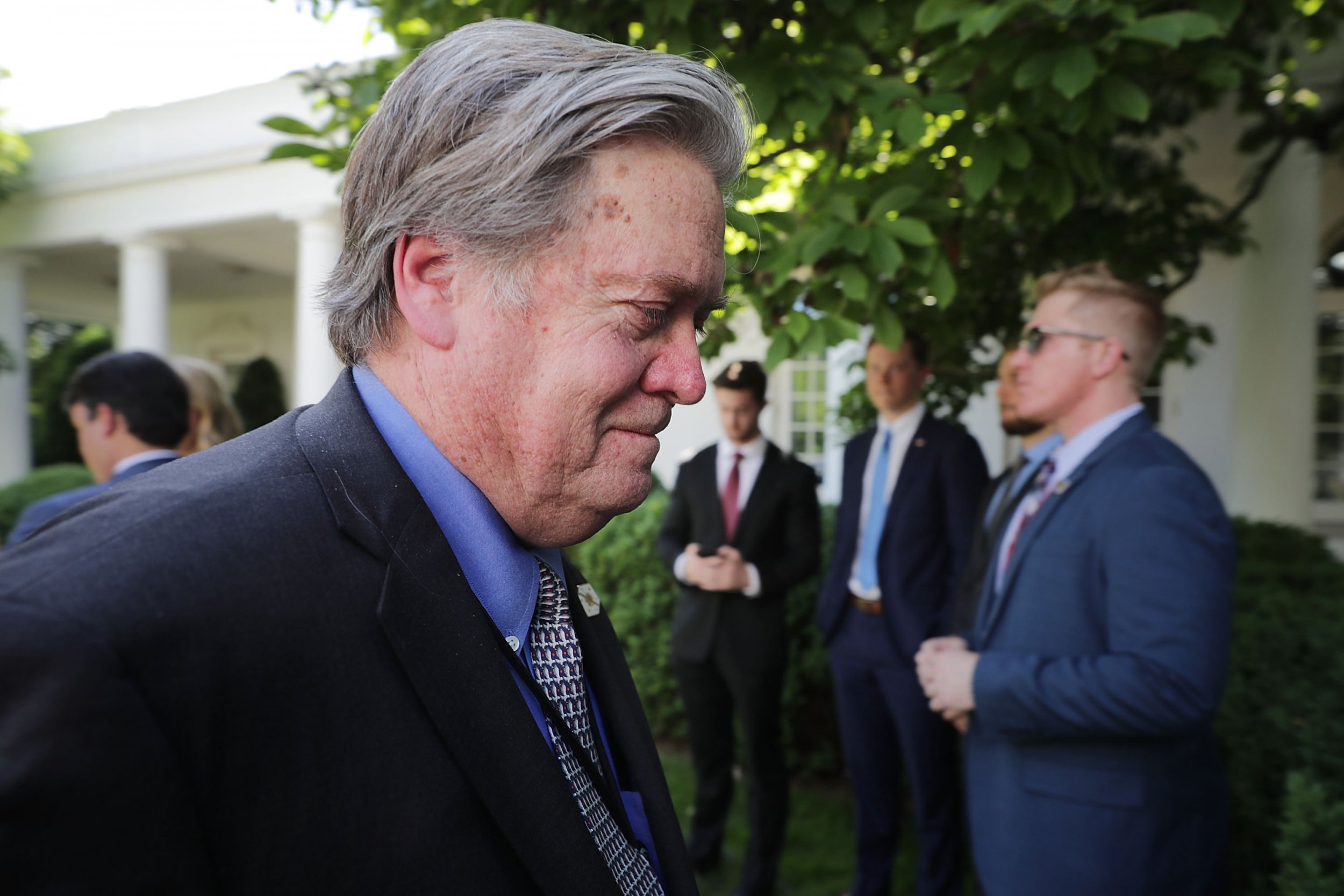 For years, the company Nobilified has put about a dozen artists to work taking people's selfies and other photographs and creating oil paintings that incorporate their faces into famous works of art. Customers often order the paintings as wedding gifts or going-away presents for co-workers. Sometimes right-wing politicians buy them for each other, as Britain's Nigel Farage reportedly did for Steve Bannon, chief strategist to President Donald Trump.
Bannon had the painting hanging on his office wall, according to journalist Joshua Green, who reports the detail in his upcoming book Devil's Bargain: Steve Bannon, Donald Trump and the Storming of the Presidency, an excerpt of which New York magazine published on Sunday. The painting depicts Bannon in the style of The Emperor Napoleon in His Study at the Tuileries, an 1812 work by Jacques-Louis David that hangs at the National Gallery of Art in Washington, D.C.
Related: Bannon kept a painting of himself dressed as Napoleon
Green's excerpt did not mention where Farage ordered the painting, but Newsweek has learned that Nobilified handled the order. The company would neither confirm nor deny its involvement to Newsweek, and a spokesperson for Farage did not respond to a request for comment.
When Nobilified first started making paintings four years ago, founder Christoffer Cormier-Jensen tells Newsweek, "our initial client was someone who had a big ego, someone who wanted to be painted like Napoleon." Lately, more customers are ordering gifts for friends. Those clients have included Maureen Dowd, the columnist for The New York Times, who Cormier-Jensen says ordered a Game of Thrones–style painting for a co-worker, and the tour manager for Bruno Mars, who bought a painting for the pop star inspired by a 1786 painting by Joseph Wright of Derby. Talk show host Ellen DeGeneres has received at least two. The company has also painted for governors and professional athletes, Cormier-Jensen says.
Napoleon, the famous French leader, is the most popular source of inspiration for customers, according to Cormier-Jensen. The version people most request is Napoleon Crossing the Alps, also by David. The one it does of Napoleon in his study costs between $140 and $400 and goes up to 4 feet by 4 and a half feet.
David, who was once on the radical left, became the court portraitist for Napoleon, who had crowned himself emperor of France. "He did military portraits that showed [Napoleon] in the battlefield, equestrian portraits," says Brian Lukacher, an art history professor at Vassar College who teaches about David. The portrait of the French leader in his study was meant to show the emperor's thoughtful side, according to Lukacher. "Napoleon requested that David do this portrait of him showing him not as a war hero, but as a kind of intellectual statesman working late at night in his study," he says.
The trend of people owning Napoleonic portraits goes far beyond Bannon. Roger Stone, a Republican lobbyist with ties to Trump, has one of himself hanging in his home. The sister of Motown Records founder Berry Gordy reportedly once commissioned one of him, which is in the collection at the Smithsonian's National Portait Gallery. The Russian hacker Roman Seleznev owned a portrait he had received, according to court records. And in fiction, on The Sopranos, Paulie Gualtieri altered a painting of Tony Soprano to make him look like a general. "It's not a real general from history," Paulie tells Tony in one episode, but the blue coat and yellow pants match those of Napoleon in the Alps painting.
There are also Napoleonic depictions that never make it to their subjects. In 1970, the painter Salvador Dali created an etching of Pablo Picasso as Napoleon. A 2014 art exhibition in San Francisco featured one of the actor Bill Murray. The contemporary artist Kehinde Wiley, who depicts people of color in the style of famous works of art, has a take on Napoleon Crossing the Alps in the collection at the Brooklyn Museum.
"It's an iconic form of appropriation," says Lukacher, the Vassar professor. "It's a way in which someone in the present historical moment can reclaim the identity and the trappings of power that belonged to an earlier epoch." Those paintings convey "a sense of grandeur and heroic individuality," he adds, "which seems lost somehow to the present moment." He notes that Napoleon and David did the same thing in their time, when they emulated classical Roman and Greek figures.
Business is growing at Nobilified, Cormier-Jensen says. During the holiday season, the workforce swells to 30 painters. The founder attributes the growing interest to the rise of digital photography."People want to have something that's not just going to be one of the thousands of photos on their phone," he says.
There are plenty of depictions online of Trump as Napoleon—which is fitting, since some of his supporters refer to him as "God Emperor Trump." No one has requested portraits of Trump dressed as Napoleon, Cormier-Jensen says, "but we've had people commission portraits of their friends as Trump."