Who Is Patrick Vallance? UK Chief Scientific Adviser's Error Goes Viral
The U.K. government's chief medical adviser, Sir Patrick Vallance, issued a correction after providing an erroneous COVID-19 hospitalization figure at a press conference hosted by British Prime Minister Boris Johnson on Monday.
In a tweet posted July 19 on his official Twitter account, Vallance wrote: "Correcting a statistic I gave at the press conference today, 19 July. About 60 percent of hospitalisations from covid are not from double vaccinated people, rather 60 percent of hospitalisations from covid are currently from unvaccinated people."
A clip showing Vallance stating the wrong statistic at the press briefing tweeted by Dr. David Samadi, a medical doctor and author based in New York City, went viral. It received over 200,000 views since it was first posted Monday.
"The original statistic spread quickly via social media," Samadi wrote alongside the clip.
At the press conference on Monday, Vallance stated: "In terms of the number of people in hospital who have been double-vaccinated, we know it's around 60 percent of the people being admitted to hospital with COVID have been double-vaccinated. And that's not surprising because the vaccines are not 100 percent effective.
"They're very, very effective, but not 100 percent, and as a higher proportion of the population is double-vaccinated, it's inevitable that those 10 percent of that very large number remain at risk, and therefore will be amongst the people who both catch the infection and end up in hospital," Vallance explained.
Who is Patrick Vallance?
Vallance is the U.K.'s "Government Chief Scientific Adviser (GCSA) and Head of the Government Science and Engineering (GSE) Profession," according to the U.K. government website.
He was previously the president of R&D (research and development) at the pharmaceutical company GlaxoSmithKline (GSK) from 2012 to 2017.
Vallance first joined GSK in 2006 as head of drug discovery before leaving in March 2018 to begin his role as GCSA for the U.K. government, according to a GSK statement in 2017.
The government website says: "During his period as head of R&D over 14 new medicines were approved for use worldwide, for diseases ranging from cancer to asthma and HIV."
Before joining GSK, he was a professor of medicine, leading the division of medicine at University College London in the U.K. With more than 20 years of experience in "basic and clinical research," he was a consultant physician in the National Health Service (NHS) in the U.K.
"His research spanned from work on medicinal chemistry and structural biology, through to cellular work, studies in humans and use of large electronic health record databases," the government website says.
Vallance previously faced backlash from other scientific advisers following his reference to "herd immunity" at the start of the COVID-19 pandemic. Herd immunity refers to the idea that once a significant portion of the population had been exposed to the virus, people would then develop a natural immunity to it.
In September 2020, the BBC reported an email from March 2020 (which were among several emails obtained by the BBC via a Freedom of Information Act request) showed Vallance asking for help to "calm our academic friends down" as they were outraged by his references to herd immunity and delays in announcing a lockdown.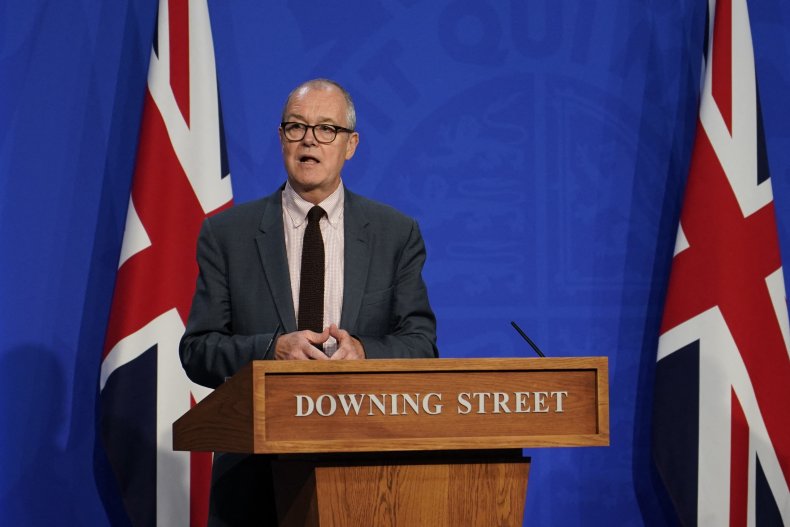 Latest Error Sparks Criticism on Social Media
Vallance's error on Monday caused a wave of criticism, confusion and skepticism on Twitter.
Candance Owens, the writer and political commentator who previously served as the communications director for the conservative group Turning Point USA, tweeted: "His press conference goes viral and just like that... he comes out and says he made a mistake. He even specifically explained why the 60 percent was so high, but...it was a mistake people."
User @Jon_Chalk1 tweeted: "An absolutely bizarre 'error' considering that you went on to explain exactly why the 60 percent figure was so high. This is all very odd and suspicious." The post received over 6,800 likes at time of writing.
At the press briefing on Monday, Vallance explained: "Whilst vaccines are very effective at reducing severe disease, they're also effective at reducing the chance of catching it and reducing the chance of passing it on. But they're slightly less effective at doing that than they are at preventing severe disease."
The chief adviser said that if everyone over the age of 18 had taken up the vaccine, "of course anybody who caught it would be double-vaccinated."
He added: "We should expect to see a higher proportion of people in hospital and catching the infection who are double vaccinated. That is inevitable, that we will see that because of the less-than-100 percent efficacy of the vaccines overall."
In a reply to Vallance's tweet making the correction, user @northman19840 tweeted: "It's taken you over 2 hours to publish this vital information about your misinformation. Come on. Give us facts. What is it. Why should we now believe you?" The post received over 1,500 likes at time of writing.
Owen Jones, a columnist for The Guardian and author, tweeted: "Is it possible for someone to clarify that the 40 percent are people aren't double vaccinated, but presumably people who have had one or two jabs, or maybe their status in unclear? Because this correction is itself causing confusion." The post received over 700 likes since it was shared.
Author of This Is Why I Resist and activist Shola Mos-Shogbamimu tweeted: "I'm sorry but HOW do you as UK Science Chief get such important figures wrong and discredit the double vaccinated in the process? Doesn't add up and very suspect. Were you mistaken then or LYING now?"
Newsweek has contacted the U.K. Government Office for Science and the GSE Profession for comment from Vallance.
The Wider Picture
Coronavirus has infected more than 190.9 million people since it was first reported in Wuhan, China, including over 34.1 million in the U.S. More than 4 million people have died and over 3.6 billion COVID-19 vaccine doses have been administered worldwide, as of Tuesday, according to Johns Hopkins University.
The graphic below, produced by Statista, shows countries that have imposed mandatory COVID-19 vaccinations.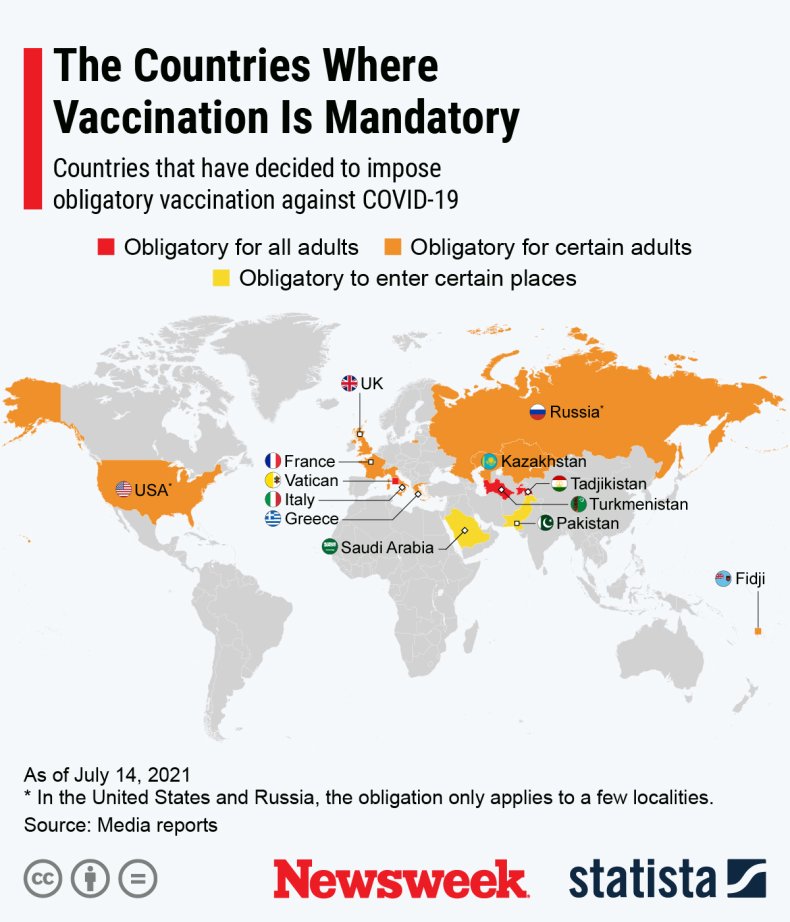 The graphic below, also produced by Statista, shows a report on COVID-19 vaccinations saving lives in the U.S.