Who Is Pedro Sanchez? Socialist and 'Handsome One' Is Spain's New Prime Minister
Spanish Prime Minister Mariano Rajoy has been ousted by a parliamentary vote of no confidence, leaving socialist leader Pedro Sanchez to take over as the country's leader.
Rajoy is the first Spanish prime minister in modern history to be defeated by a no-confidence motion, ending his six-year tenure, the BBC reported.
The vote was called over a corruption scandal involving Rajoy's conservative People's Party (PP). Last week, former party treasurer Luis Bárcenas was given a 33-year jail sentence for receiving bribes, money laundering and tax crimes. Rajoy's opponents say he must take responsibility for his party's involvement in the crimes.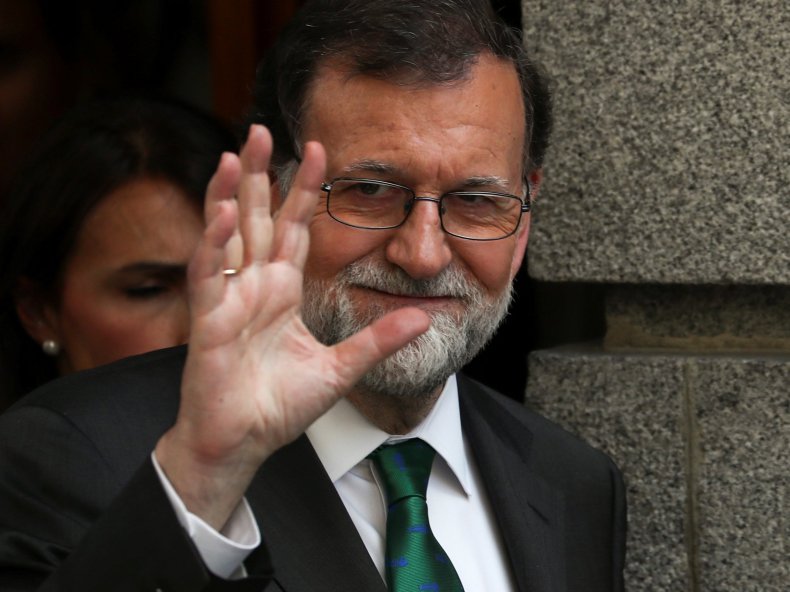 Sanchez's Socialist Party (PSOE) secured enough cross-party parliamentary support, including from Basque and Catalan nationalist parties, to push through the no-confidence motion. The vote was carried by 180 ministers against 169 who voted against, with one abstention.
Rajoy accepted his fate ahead of the vote, telling ministers it had been "an honor to leave a better Spain than I found." He told parliament that Sanchez "will be the head of the government and let me be the first to congratulate him." The new prime minister said the vote represented "a new page in the history of democracy in our country."
The 46-year-old former basketball player, also known as the "Handsome One," became socialist leader in 2014, before which he was largely unknown. He may not have had much political pedigree, but Sanchez had an impressive CV behind him.
Originally from Madrid, Sanchez holds a master's degree in politics and economics from the University of Brussels and earned his Ph.D. in economics and business at the Camilo José Cela University in Madrid. He had previously served as an aide to the head of a United Nations high representative during the war in Kosovo.
Upon selection as leader, the economist promised to unite the party and lead it back into power. He was already facing a tough task, as voters abandoned the center-left PSOE in favor of the left-wing populist Podemos party.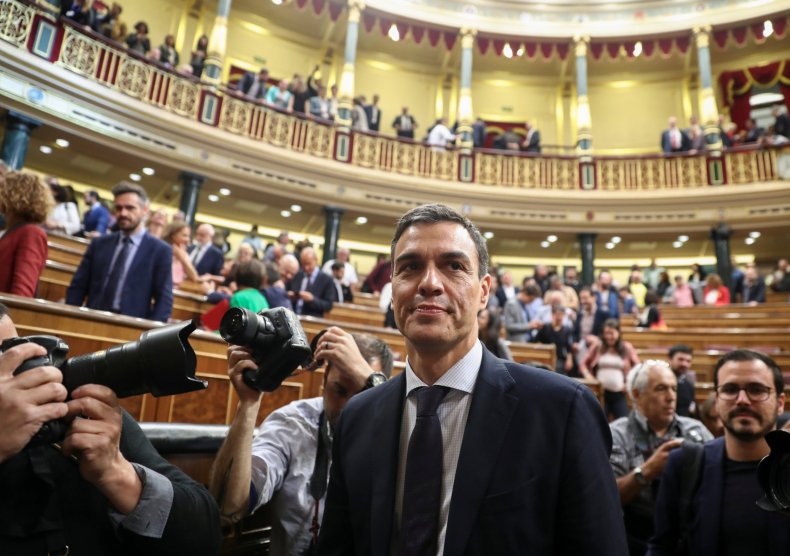 Two election defeats in 2015 and 2016 set Sanchez further back. He was forced to resign from his position over an investiture dispute with Rajoy, leaving Spain stuck in a political stalemate. Despite these failures, he was re-elected as party leader in 2017.
The PSOE only holds 84 of 350 seats in the Spanish parliament, meaning it is not clear if the party will be able to govern effectively. On Thursday, Sanchez said he would attempt to govern until the end of the current parliamentary term in 2020. Though he was able to build a broad coalition to take down Rajoy, it is unclear if support will hold for day-to-day governance, and new elections could come before the end of the year.
The new leader has committed to a budget passed by Rajoy, and it will be difficult to repeal reforms including new labor laws and healthcare and education budget cuts, Reuters said. Sanchez told ministers he will focus on social policies to address unemployment and poverty.
The prime minister will be sworn in to his new office on Monday, after which he will appoint a cabinet. He faces a daunting challenge of building support across a fragmented parliament and battling continued calls for Catalonian independence. Sanchez has said he will open talks with independence leaders, but will not allow a referendum.