Who Is Peter Brimelow? White Nationalist Publisher Attended Trump Adviser Larry Kudlow Birthday Party
Larry Kudlow, one of President Donald Trump's top economic advisers, hosted a white nationalist publisher at his birthday event.
Last weekend, Peter Brimelow—who founded white-identity politics website Vdare.com—was a guest at Kudlow's birthday. Brimelow, a former National Review writer, is reportedly a long-time friend of Kudlow.
Despite outright denying claims he is a "white nationalist," Brimelow admitted to the Harvard Crimson in 2016 that his website publishes content produced by people he would "regard as white nationalists in that they stand up for whites just as Zionists, black nationalists do for Jews, blacks, etc."
Earlier this week, a speechwriter for Donald Trump's presidential campaign was fired for appearing alongside Brimelow. Darren Beattie was asked to step down for speaking on a panel at H.L. Mencken Club conference with Brimelow in 2016. The H.L Mencken Club describes itself as an "organization for independent-minded intellectuals and academics of the Right."
Despite reports Beattie had attended Kudlow's party still angry about his dismissal, he exited the White House with kind words for Trump. "It was the honor of my life to serve in the Trump Administration. I love President Trump, who is a fearless American hero, and continue to support him one hundred percent. I have no further comment."
Speaking to The Washington Post, Kudlow revealed his regret at inviting Brimelow, saying the two had been friends for decades. "If I had known [of his political positions], we would never have invited him," Kudlow said. "I'm disappointed and saddened to hear about it. Mostly, he was a writer I knew for Forbes and other financial publications."
Kudlow said he would explain the situation to Trump in the same manner, "hiding nothing." He has been an open supporter of immigration, in contrast to Brimelow.
Brimelow issued a statement to The Washington Post in response saying the pair "agreed to disagree on immigration long ago." "I've known Larry for nearly 40 years," Brimelow said. "I regard him as a personal friend. They knew my first wife, who died, and were most kind to Lydia when I remarried."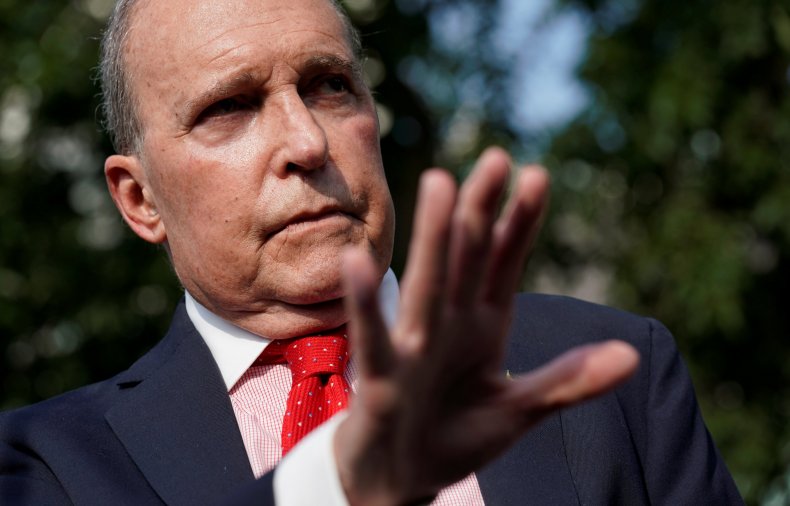 In response to the article, Brimelow tweeted: "Apparently we're not supposed to have personal friends anymore. Who knew." He followed up a short while later saying he once attended a dinner with Donald Trump.
According to The Southern Poverty Law Center, Brimelow's Vdare website is an "immigrant-bashing hate site that regularly publishes works by white supremacists, anti-Semites, and others on the radical right." Brimelow immigrated to the United States from England.
When asked if he expects his friendship with Kudlow to continue, Brimelow told Newsweek: "Sure, I expect to resume seeing Larry in 2025. unless he takes a post with the [Kris] Kobach administration."