Who is Peter Manfredonia? Manhunt Across Three States For Student Suspected of Double Homicide
Police in Connecticut, New Jersey and Pennsylvania are searching for a potentially armed 23-year-old University of Connecticut student named Peter Manfredonia, wanted in relation to two murders.
Peter Manfredonia has been on the run since early Friday morning, when he was seen leaving a homicide scene in Willington, Connecticut, around 9 a.m. Connecticut State Police have posted the most current photos of the suspect on their Twitter account.
"PA law enforcement agencies are actively looking for the suspect. Do NOT approach," said the Tweet. "He is ARMED AND DANGEROUS, call 911 immediately."
Police say Manfredonia is suspected of attacking two men in Willington with "an edged weapon," The Connecticut Post reported. One of the victims, 62-year-old Willington resident Theodore DeMers, died from his injuries.
The two men allegedly offered Manfredonia a lift back to his motorcycle after spotting him walking along a road. "It could have been anybody who offered him a ride," said DeMers' wife, Cynthia DeMers, speaking to The Hartford Courant. "It could have been any of my neighbors' husbands. It just happened to be mine."
Manfredonia is also suspected of holding a man up at his home on Turnpike Road in Willington, and stealing his firearms, plus some food and a truck. The stolen vehicle was later spotted at Osbornedale State Park in Derby on Sunday morning prompting a large-scale police search of the park, resulting in no arrests.
"Meanwhile we learned than the suspect had an acquaintance that lived on Roosevelt drive," said Connecticut state police trooper Christine Jeltema in a statement. This information brought officials to Roosevelt drive, where they found the body of of 23-year-old Nicholas Eisele.
Manfredonia is also believed to have abducted another individual and stolen a second car, a Volkswagen Jetta, later found in New Jersey on the Pennsylvania border.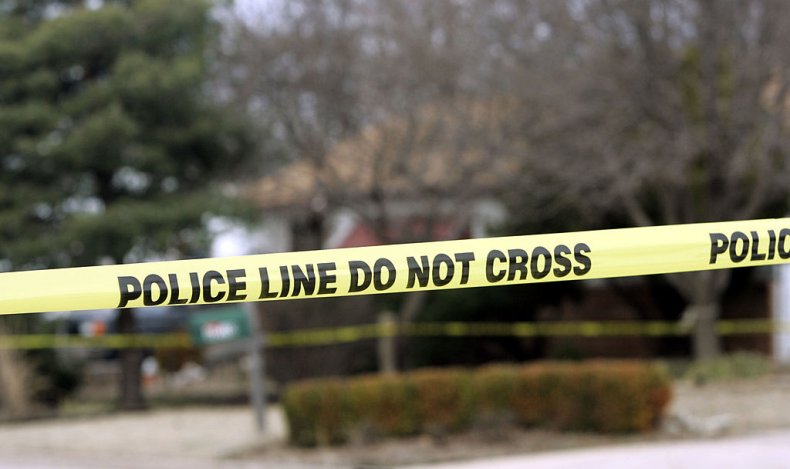 State police have described Manfredonia as a 6'3 white male, weighing 240 pounds, with black "disheveled hair,". He graduated from Newtown High School, in 2015, and is currently studying finance and mechanical engineering at the University of Connecticut. Spokesperson for the University of Connecticut, Stephanie Reitz, told The Connecticut Post the suspect "had not been living on the UConn campus either at the time of the incident in Willington or during recent semesters."
Newsweek has contacted Connecticut State Department of Emergency Services for comment and further updates on the search.