Who Is The 'Pink Shorts Boom Guy' From Star Wars?
Ken Nightingall, a boom operator who worked on the 1977 sci-fi blockbuster Star Wars: A New Hope and later became known as the legendary "Pink Shorts Boom Guy," reportedly passed away on Tuesday, May 19 at his U.K. home. He was 92 years old.
A viral image of Nightingall emerged in 2015 working on the Star Wars: A New Hope set wearing nothing but a pair of pink shorts and brown boots. The image showed Nightingall holding the microphone over the characters of Luke Skywalker (played by Mark Hamill) and the droids C-3PO (Anthony Daniels) and R2-D2 (Kenny Baker) in the scene.
Nightingall was christened "pink shorts boom guy," and the outfit became a popular costume at comic conventions.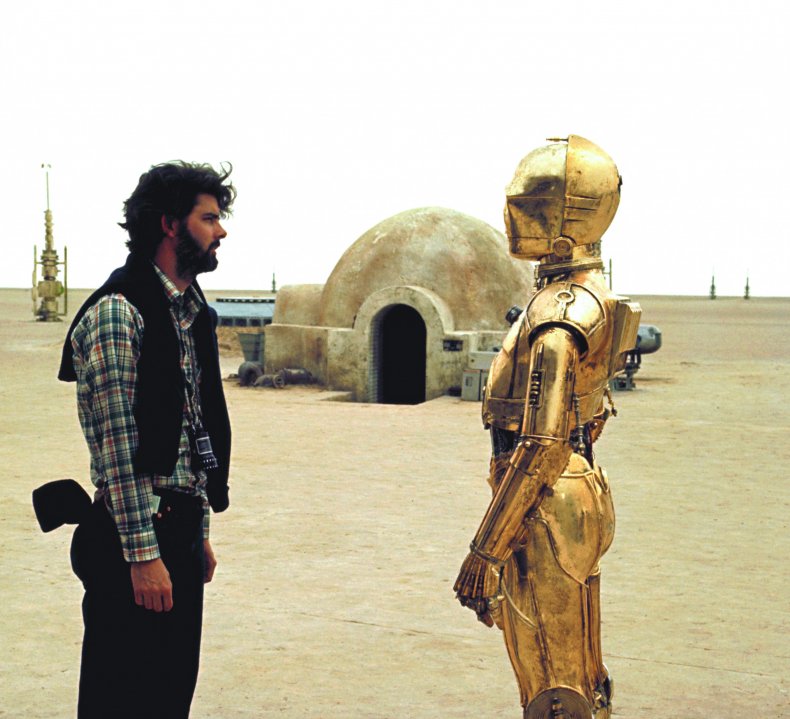 Working as a boom operator since the 1960s, Nightingall spoke to ABC last year about his outfit choice that led to the viral moment. "It was very, very hot," he admitted about that film shoot in Tunisia. "I was just doing my job."
The boom operator did appreciate the cosplay tributes that became popular at conventions. He called them "very nice," adding that "they seem to like it, good for them."
Star Wars: A New Hope won an Academy Award for sound, although Nightingall was not mentioned on the citation. Nightingall's son Terence, however, said to ABC that the Star Wars crew was not impressed during production. "Most of them working on the movie thought it was the biggest load of crap they'd ever worked on."
Chris Munro, the Academy Award-winning sound mixer for Gravity and Black Hawk Down, paid tribute to Nightingall. "I first met Ken when I entered the industry over 50 years ago. He was immensely supportive of me as I carved my early career as a young sound mixer. 'Legend' is the word that springs to mind when I try to describe him," he wrote.
"He will be sadly missed by our film community but his is a life and career that should be celebrated. Our thoughts are with his family at this sad time," Munro added.
Along with Star Wars: A New Hope, Nightingall performed boom operating duties on Alfie, Supergirl, Funeral in Berlin and The Boys From Brazil. He also worked on the James Bond films For Your Eyes Only, Octopussy, A View To A Kill and The Living Daylights.