Pirates of the Caliphate: Who is the Somali Kingpin Accused of Aiding Al Shabab?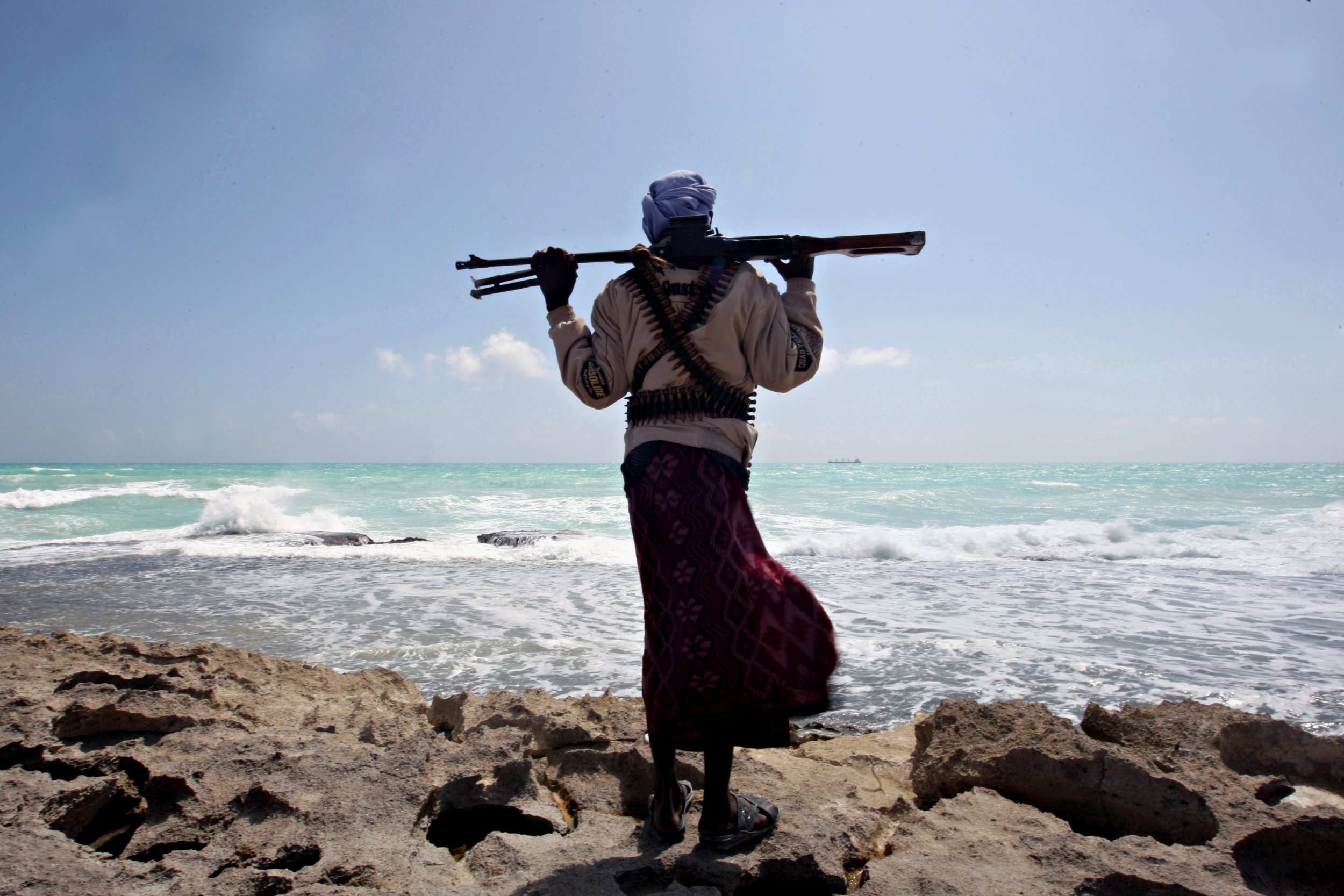 A feared Somali pirate kingpin is being investigated by the United Nations over claims that he has aided fighters from the Al-Qaeda-aligned militant group Al-Shabab.
A top United Nations official confirmed to Newsweek that Mohamed Garfanji Ali Dulai has provided logistical support to the Islamist fighters, who have been waging a bloody insurgency against the Somali state since 2006.
"We believe he has been involved in the moving and provision of boats and logistical support to move Al-Shabab fighters into the Galgala mountains," said Alan Cole, head of the U.N.'s Maritime Crime Programme.
A former senior U.N. official, speaking on condition of anonymity as they were not authorized to speak about the investigation, was more specific, telling Newsweek that the probe into Garfanji centers on "Djiboutian allegations that he received arms from Eritrea and channeled them" to Al-Shabab.
CNN, citing U.S. officials, was the first to report the existence of the investigation, which it said focused on two ringleaders, Garfanji and the other unidentified. The investigation also focuses on their alleged support for the affiliate of the Islamic State militant group (ISIS) in Somalia.
The U.S. Department of Justice said in an email statement to Newsweek : "As a general policy, the department will neither confirm nor deny the existence of an ongoing investigation."
Somali pirates have taken dozens of hostages and plundered millions of dollars from companies and private individuals over the past decade, as lawlessness in Somalia has enabled vast criminal enterprises to operate with relative impunity in the seas off the Somali coast. News of the U.N. investigation now uncovers a potential nexus between piracy and extremist activity in Africa.
So who is this pirate kingpin and why is he now suspected of working with extremist groups responsible for some of the worst massacres in modern East African history?
Major Investor
As well as his alleged ties to Al Shabab, a U.N official said that Garfanji had links to Mohamed "Big Mouth" Abdi Hassan—known as Afweyne—a key player in the Hobyo-Haradhere Piracy Network, based out of the Somali fishing village of Haradhere.
Afweyne was lured to Belgium on the promise of appearing in a documentary in 2013 and then was immediately arrested by Belgian police for his role in the hijacking of Belgian vessel the MV Pompei in 2009.
American-German journalist Michael Scott Moore—whose case Garfanji is suspected of playing an integral role—said that Garfanji and Afweyne were on a similar level in the Somali pirate hierarchy.
Moore was kidnapped in Somalia in 2012 as he researched a book, now titled 'The Desert & The Sea,' due to be released in 2018. He spent two-and-a-half years in captivity.
"Garfanji's a kingpin among pirates in central Somalia, a boss on the level of Afweyne, so he belongs in jail. In my case he seems to have been a major investor, not an operational boss, not in charge of holding or even capturing me," says Moore.
The capture of the pirate chief would be "significant," Cole admits, if he could be taken abroad for arrest. "But unless the Somali authorities can extend their reach to where he is, it's going to rely on him traveling overseas and getting picked up, which I don't think he does."
But it has not only been the weakness of the Somali authorities that has enabled Garfanji to evade capture: other Somali pirate figures have taken on his name in order to confuse both his potential captors and hostages.
Three hostages who spoke to Newsweek appeared to believe that they were describing Garfanji when it appears they were giving the account of their experiences with a lower-level boss named Ali Duulaay, more brutal and present in day-to-day operations with hostages.
A Filipino hostage and two Bangladeshi hostages recounted a man who threatened crews with death at gunpoint in exchange for them retrieving money from their shipowners.
But while they described Garfanji has "tall and muscly," Moore describes him as a heavy set man that looked little like Duulaay, who he believes may have been killed in a shootout over his ransom.
"Poverty is Slavery"
As for Garfanji's motive for moving from hostage-taking to aiding terrorist groups, it is likely to be financial, says the U.N.'s Cole: "there's no particular reason why that means that he's sympathetic with them but he must know who they are."
That would fit with the profile of top pirates that hostage negotiators have had to barter with. A hostage negotiator who has worked on more than a dozen piracy cases tells Newsweek that the characteristics of Somali pirates like Garfanji include being "brilliant entrepreneurs" and "pragmatic" in terms of "religious observation and getting a deal done."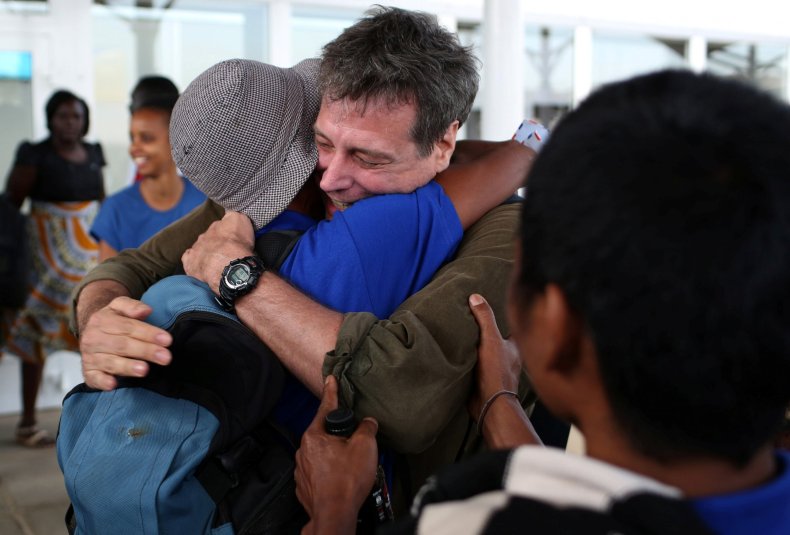 Moore agrees that Garfanji fits this profile. "Pirate bosses are businessmen, so they keep a portfolio of investments, normally in businesses that require armed men or help them launder money," he says, adding that Garfanji has stakes in real estate. "He also maintains a private militia of armed men who can be hired out as security for a town, or bent towards other activities, like piracy or smuggling."
The bandits' stream of income from kidnaps and ransoms, some that fetched millions of dollars at the height of piracy, has dried up, with no commercials vessel attacked for five years until April, when the International Maritime Bureau reported four incidents involving pirate skiffs approaching ships.
Increased security and naval patrols have led to a reduction in attacks, forcing pirates to find other forms of income on land, another reason that may explain Garfanji fraternizing with extremists who have slaughtered hundreds of civilians in mass-casualty assaults such as the 2013 Westgate Mall attack in Nairobi, and the 2015 Garissa University College massacre.
"The criminal networks that have been running Somali piracy are still intact, those ashore who are behind and funding the criminals and organized crime to do it largely have not been arrested or changed sides, they are still there," says John Thompson, senior advisor and founder of Ambrey Risk, a London-based maritime security consultancy.
"They are still organized crime syndicates, but they are just doing slightly different things. They are finding it harder to make money out of piracy, so they are doing more smuggling [of] people, smuggling [of] weapons, smuggling [of] drugs."
A Somali proverb states that "poverty is slavery." It appears that pirate figures like Garfanji will now go to even more extreme lengths to get out of it.