Season 47 of Saturday Night Live began on NBC this weekend with plenty of talking points and an incredibly impressive performance from one of the new cast members.
Viewers and celebrities who watched the SNL premiere voiced their approval of the newcomer who played many characters including President Joe Biden in the cold open.
Owen Wilson was the celebrity guest host while Kacey Musgraves performed as the musical guest. Kim Kardashian West is hosting next week's hotly anticipated episode.
Who Played Joe Biden on 'SNL'?
Playing the sitting president is considered to be one of the highest honors a comedian can have on Saturday Night Live. Former presidential impersonators include Jay Pharoah, Fred Armisen, Will Ferrell, Dana Carvey and Chevy Chase.
New cast member James Austin Johnson played current president Joe Biden on Episode 1 of Season 47 of SNL. In the cold open sketch, he hosted a press conference where he united Democratic politicians to prove how much they have in common, but quickly realized they're more divided than ever.
The sketch also featured Cecily Strong as Sen. Kyrsten Sinema, Aidy Bryant as Sen. Joe Manchin, Melissa Villaseñor as Rep. Alexandria Ocasio-Cortez and Pete Davidson as former New York Governor Andrew Cuomo.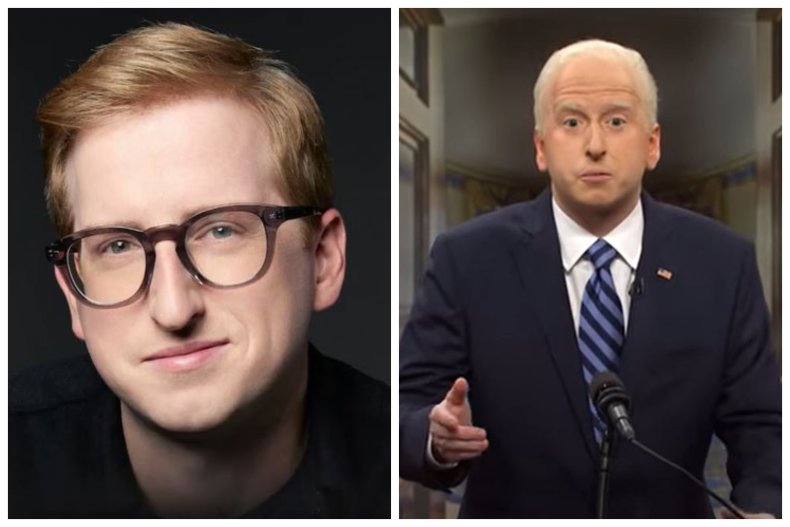 Who Else Did James Austin Johnson Play on 'SNL'?
Johnson had an eventful debut episode as a new cast member on SNL, showcasing his characters and impressions.
During a sketch where Owen Wilson was recording voiceovers for the fictional Cars 4, Johnson came out to play his co-star Larry the Cable Guy.
He also played a sports commentator on Fox NFL who's forced to summarize a confusing new show coming to Fox, and an irate contributor at a school board meeting who wants to talk about "Barack Hussein Obama."
Social Media Reaction to James Austin Johnson's debut
Twitter was full of praise for Johnson's debut episode in the Season 47 opener.
Actress and original Saturday Night Live cast member Laraine Newman voiced her approval for Johnson online. She wrote: "I've never seen such an impressive debut of a new SNL cast member like James Austin Johnson's. He's superb, confident and damn funny. Wow!"
Entertainment Weekly's Jillian Sederholm joked that Johnson is now the first SNL cast member to be promoted from featured player to repertory before his first episode was over. She also tweeted that he could be former cast member Darrell Hammond's son.
Before his appearance on SNL, comedian and actor Bob Odenkirk sang Johnson's praises, saying how much of a "Big FAN" he was of his.
Deadline's Dominic Patten wrote that "newbie James Austin Johnson at least knows it's about leaning in (figuratively & literally)" during the season premiere.
Episode 2 of Season 47 of Saturday Night Live will feature Kim Kardashian West as host with Halsey as musical guest. It will air on NBC at 11:30pm ET on October 9, 2021.