Public Enemy officially fired founding member, Flavor Fav, after the hip-hop icon sent a cease-and-desist letter to Senator Bernie Sanders, ahead of their benefit concert. Chuck D, leader of Public Enemy, argued that his former bandmate would only be interested in endorsing the presidential candidate if money was made from their free concert.
On Friday, February 28, 2020, Flavor Flav's lawyer, Matthew Friedman, delivered a cease-and-desist letter to the Senator from Vermont, according to Rolling Stone. The 2013 Rock and Roll Hall of Famer, who has not officially endorsed any political candidate in the upcoming November election, accused the Sanders campaign of applying the hip-hop icon's "unauthorized likeness, image and trademarked clock" to promote the campaign's Sunday rally at the Los Angeles Convention Center. In the poster for the Sunday rally, Sanders was drawn in black and white, under the caption, "Fight the Power," a reference to Public Enemy's 1989 hit single. At the bottom of the cease-and-desist letter, Flav wrote by hand, "Hey Bernie, don't do this."
On Sunday, Chuck D and Public Enemy Radio, which included DJ Lord, Jahi and the S1Ws, still performed at the live streamed event as scheduled. After performing such tracks, "Fight the Power," and "Bring the Noise," Chuck D emphasized the right to vote, "Voting is as important as washing your ass in the morning;" per Pitchfork.
In their released statement, Public Enemy and Public Enemy Radio mentioned they have officially parted ways with the Flavor of Love reality star, "Public Enemy and Public Enemy Radio will be moving forward without Flavor Flav. We thank him for his years of service and wish him well."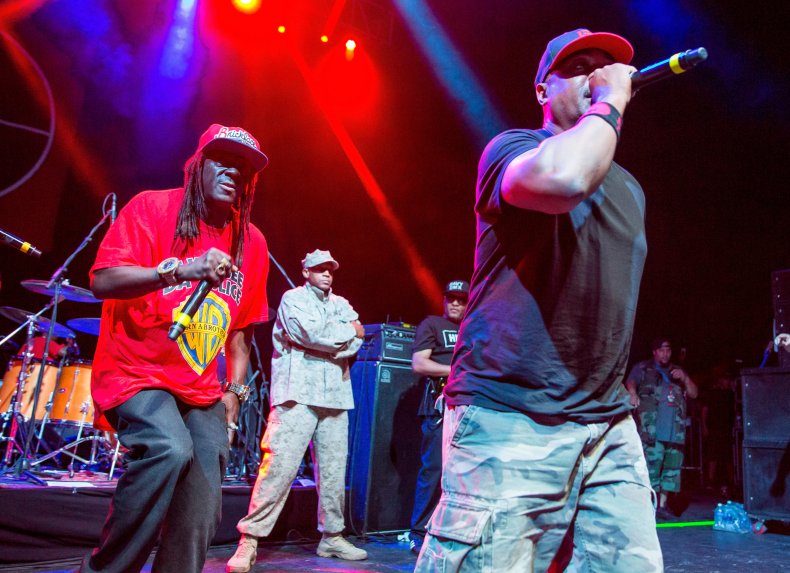 Chuck D's lawyer stated that his client has more rights over the song, "Fight the Power" than Flavor Flav, "From a legal standpoint, Chuck could perform as Public Enemy if he ever wanted to; he is the sole owner of the Public Enemy trademark. He originally drew the logo himself in the mid-80s, is also the creative visionary and the group's primary songwriter, having written Flavor's most memorable lines."
On his recent feed Twitter, Chuck D argued that The Surreal Life cast alum would have supported the free concert if money had been involved, "Flav would've been there front & center. He will not do free benefit shows. Sued me in court the first time. I let him back in. His ambulance lawyer sued me again on Friday and so now, he stays home, and better find rehab."