Who Is Rafael Caro Quintero? FBI Offers $20 Million Reward for Most Wanted Mexican Drug Lord
Mexican drug lord Rafael Caro-Quintero was added to the FBI's "Ten most wanted fugitive" list on Thursday.
The man, who is thought to be in his sixties, is wanted for his suspected involvement in the 1985 kidnapping and murder of Drug Enforcement Agency agent Enrique "Kike" Camarena in Guadalajara.
In the 1970s, Caro Quintero allegedly founded one of Mexico's first drug-trafficking criminal organizations, the Guadalajara cartel — the subject of Netflix's "Narcos" TV show's upcoming fourth season — along with Miguel Ángel Félix Gallardo and Ernesto Fonseca Carrillo.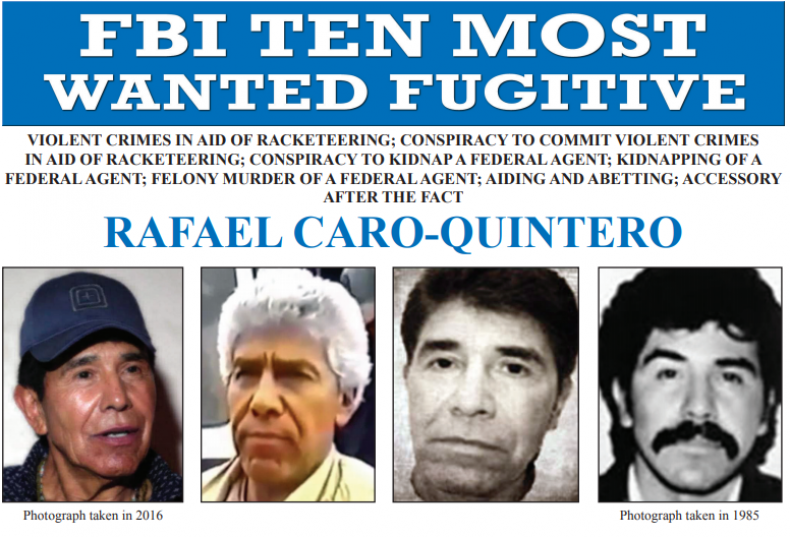 After Camarena's murder, Caro Quintero fled to Costa Rica to avoid capture, but was arrested and extradited to Mexico, where he was convicted for the murder and sentenced to 40 years in prison.
But in 2013, a Mexican court threw out the sentence over a technicality. Caro Quintero faced trial in a federal court whereas his crime should have been treated as a state offense, the court ruled, ordering his release after 28 years in prison.
By then, the Guadalajara cartel had split, with Caro Quintero's faction forming the Sinaloa cartel under the leadership of the now-infamous Joaquin "El Chapo" Guzman and Ismael "El Mayo" Zambada.
The other half of the defunct Guadalajara cartel formed the rival Juarez group. Their infighting for the control of drug trafficking, particularly cocaine, was a major contributor to Mexico's ongoing deadly gang war.
Caro Quintero is also wanted in Mexico, after a court reconsidered the 2013 ruling two years later, as the Associated Press reported, although his whereabouts remained unclear.
The once-powerful Caro Quintero was recently described as a paranoid man afraid of surveillance drones. "He doesn't want to have anything to do with the drug trade anymore; he just wants to be left alone," the adult son of a poppy-farming family in the Sierra hamlet of Tameapa told Newsweek in October. "The old man is really scared of drones."