Who Will Replace Boris Johnson as U.K. Prime Minister? Latest Odds
A number of senior Conservative members of parliament may be considering running to become the next British prime minister after embattled incumbent Boris Johnson said on Thursday he would be resigning from his post.
Johnson has been beset by a series of scandals during his premiership, including over parties that took place in Downing Street during strict COVID lockdowns that saw him subsequently fined by police.
Newsweek reached out to several bookmakers to ask who is most likely to become the next Conservative Party leader and prime minister. Penny Mordaunt, the Brexit-aligned former trade minister who previously ran for leadership of the party, seems to be the clear favorite at the moment.
William Hill puts Mordaunt and former Chancellor of the Exchequer Rishi Sunak at 4-1. Defence Secretary Ben Wallace, Foreign Secretary Liz Truss, former Education Secretary Nadhim Zahawi and ex-Health Secretary Sajid Javid are all close behind at 7-1. Former chairman of the Foreign Affairs Committee Tom Tugendhat is at 8-1.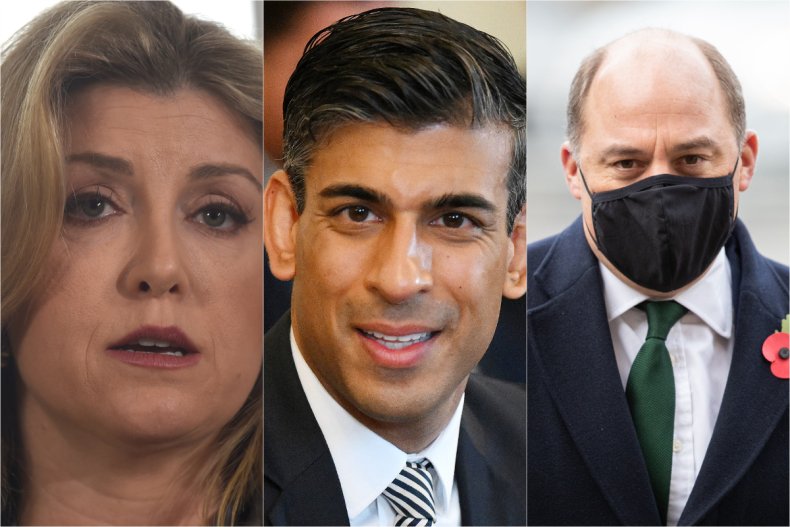 Betway also sees Mordant as favorite, with 9-2 odds. Sunak follows at 11-2, while Wallace, Truss and Javid are tied at 7-1.
Jeremy Hunt, who came runner up to Johnson in the last Tory leadership face, follows with 10-1 odds. Tugendhat is also rated 10-1.
Chad Yeomans, Betway's head of communications and PR, told Newsweek: "The starting pistol has been fired on what looks to be a wide open race to succeed Boris Johnson as Conservative leader and, thus, prime minister. Members' favourite Penny Mordaunt, and ex-Chancellor Rishi Sunak are disputing favouritism, but at 5-1 each this leaves plenty of scope for outsiders.
"From Boris loyalist Nadhim Zahawi at 10-1 to 50-1 shot Steve Baker running on an anti-green platform, we are expecting bets on dozens of candidates until the field is narrowed to two for the membership."
Betfair has Mordaunt as favorite, ahead of Sunak, with 5-1 and 6-1 odds, respectively.
Ben Wallace's odds shortened to 13-2 from 9-1 overnight, while Liz Truss at 8-1, Sajid Javid at 9-1 and Nadhim Zahawi at 10-1 remain the other key contenders.
Jeremy Hunt has 13-1 odds and Tom Tugendhat is 15-1 odds, while Michael Gove is at 21-1.
Ladbrokes has Mordaunt as favorite, with 9-2 odds. Wallace and Sunak are 6-1 apiece, while Liz Truss and Sajid Javid are 7-1 and 8-1 shots, respectively. Javid has 8-1 odds, while Zahawi is at 10-1. Hunt and Tugendhat have 12-1 odds.
Alex Apati, public relations manager at Ladbrokes said: "This might be the most wide-open leadership race in history, with no less than eight names priced at 12-1 or shorter to replace Johnson as things stand."
Betfred spokesman Peter Spencer said: "Mr Wallace is an ex ski instructor before going to Sandhurst and the money indicates he's slaloming full pelt to the finishing line! He's the biggest mover coming in from 8/1 to 9/4 favourite for the top job after £5,000 staked on him within an hour after Downing Street announced the PM was to fall on his sword."
Betfred has Sunak at 4-1, Mordaunt at 6-1, Truss at 7-1 and Javid at 10-1.
A poll by YouGov released on Thursday following reports that Johnson was going to resign showed Wallace as the clear favorite. The defense minister beat all other competitors by wide margins.