Who Is Reverend Michael Pfleger? Chicago Priest Accused of Sexual Abuse
Reverend Michael Pfleger made headlines earlier this year when he was removed from his Chicago ministry over allegations of child sexual abuse said to have gone back decades.
The influential Roman Catholic priest, 71, stepped down from his parish in the South Side of the city on January 5, as authorities launched an investigation into claims that Pfleger abused a pre-teen boy in the 1970s. Now, another man has also come forward.
Pfleger vehemently denies the allegations.
Born in May of 1949, Pfleger was ordained as a priest for the Roman Catholic Archdiocese of Chicago on May 14, 1975.
Six years later at the age of 31, he became the youngest full pastor in the diocese when he was appointed pastor of the predominantly African-American parish of Saint Sabina, according to a biography on the church's website.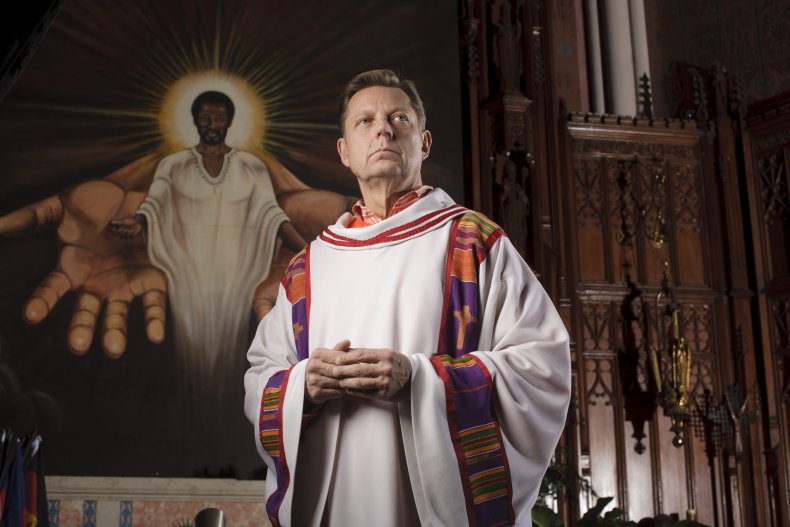 In the same year, Pfleger adopted an eight-year-old boy. He would go on to adopt a second boy, in 1992 and foster another boy from 1997.
The first adopted boy died in 2012. He had been coping with an illness for several years, a death notice on ABC7 Chicago's website said.
The second adopted boy was tragically killed by stray gunfire in 1998.
Activism
Over his 45-year career in the ministry, Pfleger has been involved in various political and social causes, speaking out against racism, poverty and inequality.
The senior pastor has headed a slew of anti-drug, alcohol and gun campaigns including those targeting music that "glorifies violence and degrades women" and support for gun control in a bid to reduce "the violence that is snatching the lives of children across the country", according to his church's biography.
He has also helped launch several employment and social services programs for youth, the elderly and the homeless.
Controversy
However, Pfleger has been no stranger to controversy.
In 2008, the pastor was briefly placed on leave after he hosted a sermon mocking Hillary Clinton at President Barack Obama's former church of Trinity United Church of Christ.
In 2019, Archbishop of Chicago, Cardinal Blase J. Cupich, denounced Pfleger for hosting a speech by Louis Farrakhan, saying the church should not have provided a platform for the Nation of Islam leader to "smear" the Jewish people.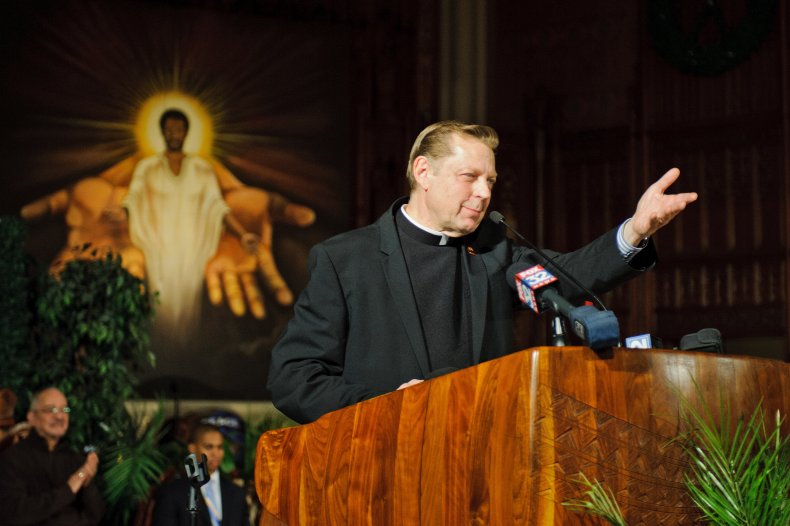 More recently, Pfleger has again come under public scrutiny after the Archdiocese of Chicago's Office for Child Abuse Investigations and Review received an allegation of child sex abuse.
The allegations stem from claims made by two brothers who detailed sexual abuse they say they suffered at the hands of Pfleger more than four decades ago, as first reported by CBS2 Chicago
The brothers, who are now aged in their 60s and so far remain unidentified in the public domain, said Pfleger molested them dozens of times in the 1970s when the pair were choir boys at Chicago's West Side Precious Blood Church.
The men say the abuse started when they were boys aged 12 and 13 and continued for years.
The younger brother first filed a complaint to the Roman Catholic Archdiocese of Chicago on January 4. His older brother followed suit just days later. Neither brother ever told anyone about the abuse, including each other, until this month they said.
Sex Abuse Allegations
The news of Pfleger's suspension was revealed in a letter written by Cardinal Cupich and released by the Archdiocese of Chicago on January 5.
"In keeping with our child protection policies, I have asked Father Pfleger to step aside from ministry following receipt by the Archdiocese of Chicago's Office for Child Abuse Investigations and Review of an allegation of sexual abuse of a minor more than 40 years ago," the letter reads. "Allegations are claims that have not been proven as true or false. Therefore, guilt or innocence should not be assumed."
The Saint Sabina Church released a statement the same day in support of Father Pfleger and maintained his innocence.
"We, the Cabinet of the Faith Community of St. Sabina, believe that these accusations are unfounded and we boldly stand behind the integrity, passion, work and ministry of our Sr. Pastor, Rev. Michael Fledger," the statement reads.
Kimberly Lymore, Saint Sabina associate minister, said she believed Pfleger would be exonerated.
"Pastor Pfleger's 45 years of ministry speaks for itself. We hope that the investigation will be swift and impartial, and we know he will fully be exonerated," she told reporters outside the church.
Pfleger himself responded to the news in a public Facebook post shared on January 6, describing his life as "more than a 40 year old accusation" and asking for those to keep him and his accuser in their prayers.
"I am devastated, hurt and yes angry, but I am first, a person of Faith, I Trust God," he wrote. "Please keep me in prayer and the Faith Community of St. Sabina ... Pray also for the person, my life is more than a 40 year old accusation."
His legal team has also vehemently denied the allegations.
"Father Pfleger has never abused them or anybody else. These allegations are false and are simply being made for money. This is a shakedown," a letter Pfleger's legal team read, as seen by CB2.
Newsweek has contacted the Archdiocese of Chicago, the Illinois Department of Children and Family Services and the Chicago Police Department for comment.