Who Is Richard Pinedo, Who Pleaded Guilty in Mueller's Trump-Russia Probe?
Updated | A California man has pleaded guilty to identity fraud as part of special counsel Robert Mueller's probe into Russian interference in U.S. elections.
Richard Pinedo, of Santa Paula, ran an online service called Auction Essistance, through which he bought and sold bank account numbers that would help users circumvent security measures of digital payment companies. Pinedo transferred, possessed and used the identities of other people in connection with unlawful activity, according to a statement of the offense. He pleaded guilty on February 12, according to court documents.
Pinedo faces up to 15 years in prison and a $250,000 fine, according to the plea agreement. It said he has no criminal history and that he agrees to cooperate with Mueller's office.
Related: Russian Troll Farm Meddled in Election, Mueller Team Alleges
The Auction Essistance website said it was down for regularly scheduled maintenance on Friday afternoon. But a cached version of the site said it helps "people who have found out that eBay has suspended their accounts or have sided with buyers for ridiculous claims that these buyers have filed."
The website said it offers "services that will enable you to get back onto eBay or Amazon ranging from pre-made eBay & Paypal accounts or verification tools." It said it guarantees the accounts "are legitimate and not hacked or stolen like most other sellers offer."
No one answered a phone number listed for Auction Essistance.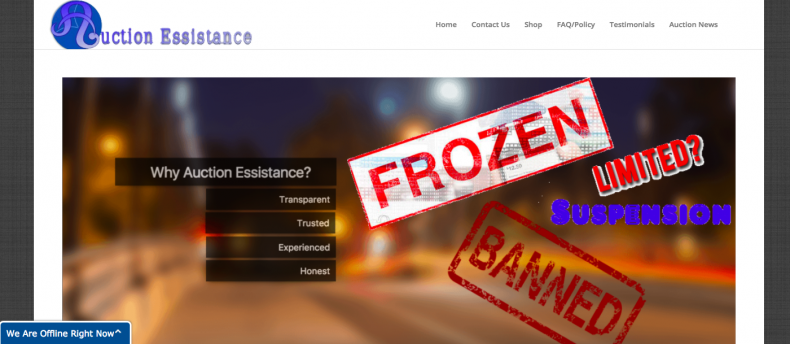 A LinkedIn page that appears to belong to Pinedo said he worked for Auction Essistance between November 2012 and February 2014 as a customer marketing manager. (Court documents state he worked for Auction Essistance from 2014 at least through December 2017.) According to the LinkedIn page, he most recently worked for a digital marketing company called SEO Distortion, which lists the same phone number as Auction Essistance. Under a section labeled "Who We Are," the website for SEO Distortion lists Pinedo as the only employee, with the title of CEO.
The SEO Distortion website appears to contain testimonials from people who do not exist. The site features a photo of a woman it names as Georgina Nichollas and says is an executive director at Rogerson Law Firm. But no such law firm appears to exist, and the image matches one on the LinkedIn page for a woman in the Netherlands with a different name. Another testimonial says it is from David Brandford, apparently an admissions director at West Virginia Tech. But a representative for the school said it had never hired anyone with the last name Brandford. A third testimonial says it is by Lisa Reynolds of "Quality Dallas Realty Service." But no one by that name has a real estate license in Texas, and the image matches a sample picture on a website for a Dallas company that does headshots.
One of the testimonial images matches the first result for the Google search "dummy image for testimonial."
Pinedo, 28, also said he got an associate's degree in computer science from Ventura College in 2009. But Patti Blair, a school spokesperson, said Pinedo was not listed as a graduate or a certificate recipient there.
The LinkedIn page indicates he worked various jobs between 2009 and 2012, including as a sales associate for LA Fitness, a gym.
Earlier on Friday, Mueller's office announced an indictment against 13 Russian nationals and three Russian entities affiliated with the Internet Research Agency, a troll farm. The indictment alleged that the defendants meddled in the 2016 election.
That indictment alleges that the defendants used social security numbers and dates of birth belonging to real U.S. citizens without those people knowing, to open accounts on PayPal, an online payments system. The public court documents against the Russians and Pinedo do not reference each other, but the website for Pinedo's Auction Essistance said it helps people open PayPal accounts.
This article has been updated to include information about testimonials on the SEO Distortion website and information about Auction Essistance's PayPal service. It was also updated to include information from a Ventura College spokesperson.