Amazon CEO Jeff Bezos is considered the richest person in the world, and his wife, MacKenzie Bezos, could become the richest woman in the world given the couple's pending divorce. Bezos could leave the relationship with around $75 billion, which would make her the wealthiest woman on the planet by a long shot.
The current richest woman in the world, as of 2018, is Alice Walton, daughter of Sam Walton, who founded Walmart. Her net worth is $46 billion, according to Money Inc. Her fortune is inherited from the Walmart shares her father left her and her brothers. She also opened her own investment bank, Llama Company, in 1988.
Second on the list is Maria Franca Fissolo, who inherited her $32.3 billion fortune when her husband, Michele Ferrero, died in 2015. Ferrero was the founder of Ferrero SpA, the parent company behind sweet treats like Tic Tacs, Nutella, Kinder Chocolate and Ferrero Rocher.
Fissolo is followed by Jacqueline Mars, who has a $28.2 billion net worth after inheriting the shares to the Mars candy company from her grandfather and father. After Mars comes Susanne Klatten, with a $24.4 billion pharmaceutical inheritance and Huiyan Yang, worth $22.3 billion, the richest woman in Asia and youngest woman in China to ever become a billionaire.
It's unclear if MacKenzie Bezos and her husband have a prenup agreement, though rumors have surfaced that they might not. The two were married in 1993. Amazon, which created the couple's current fortune, did not launch until 1994. It became a global sensation many years later. As of 2018, Amazon is worth $1 trillion. Jeff Bezos's personal net worth, based on the growth of Amazon, is $137 billion, according to Time.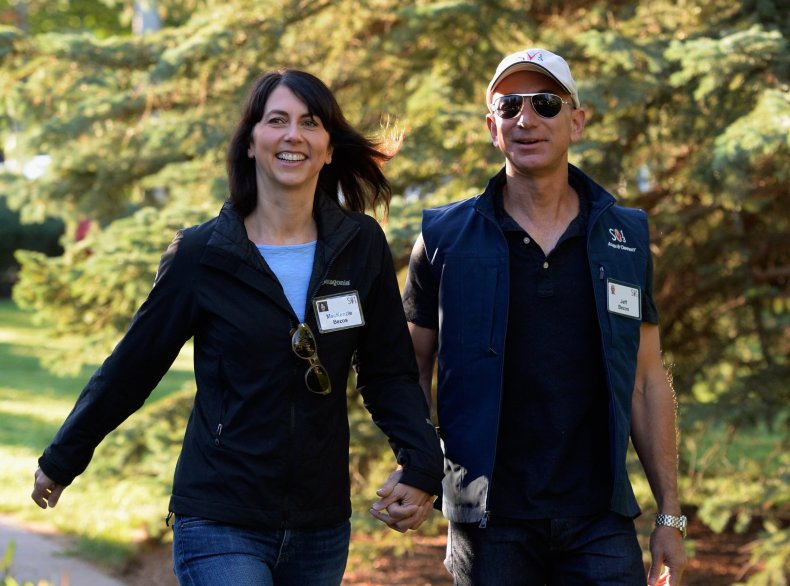 Washington, where the Bezos's live, has a communal property law that states any money acquired during a marriage must be split equally upon divorce. With the law in place, MacKenzie Bezos is slated to take half of her husband's Amazon earnings.
The couple announced their split on Wednesday in a joint statement posted on Twitter. They aim to remain friends. "We feel incredibly lucky to have found each other and deeply grateful for every one of the years we have been married to each other," the statement, posted on Jeff Bezos's Twitter account, read. "If we had known we would separate after 25 years, we would do it all again.Though the labels might be different, we remain a family, and we remain cherished friends."