Who Is Rick Butler? Youth Volleyball Coach Accused of Raping Teenage Girls Hundreds of Times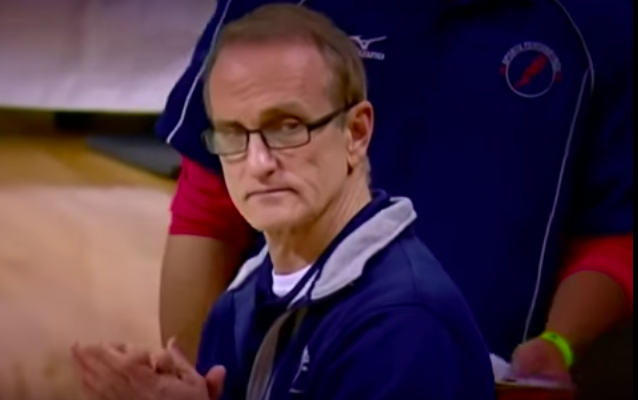 A prominent Chicago youth volleyball coach has been accused of raping at least six girls on hundreds of different occasions in the 1980s.
According to a 72-page suit filed to the U.S. District Court of Chicago on Tuesday, Rick Butler used his influence and power to rape young players. The class-action suit, filed by Laura Mullen, whose daughters had been coached by Butler, is seeking $5 million in damages from Butler; his wife, Cheryl; and Sports Performance Volleyball Club in Aurora, the club they own together.
The plaintiff said the rapes occurred in his car, his apartment, his gym, on a train and in many other locations. One young woman claimed Butler impregnated her and forced her to have an abortion after many years of repeated sexual abuse and rape.
In the lawsuit, which names a few of the alleged victims, Christine Tuzi, said she was just 16 when the abuse began. She claims Butler forced her to have "hundreds of unprotected sexual encounters" over the next few years, until she fell pregnant at the age of 19. Butler then allegedly brought her to an abortion clinic and made her masturbate him immediately after her procedure in a hotel room.
Sarah Powers-Barnhard, another alleged victim, said Butler made her watch porn to "learn" when she was 16-years-old.
"Butler used his position of power as an influential and nationally known volleyball coach to gain leverage over the girls and their parents," the lawsuit read.
It added: "[Butler] used abusive emotional, psychological, and physical tactics and intimidation to prevent the girls from stopping the sexual abuse or revealing the abuse to others."
The suit also claims that Butler's wife, Cheryl, helped to conceal his "abuse for years by pressuring his victims—often by threatening to end their futures in the game—to remain silent." The plaintiff also said the couple persistently attempted to discredit victims who were "brave enough to come forward by exerting emotional and psychological control over them."
According to a Chicago Sun-Times feature last November, some of the allegations against Butler, who was described as "one of the most dominant youth volleyball coaches in the country," had been reported in 1995; however, somehow he managed to overcome the scandal and continued to teach youth.
Butler, who has trained over 20,000 girls, has an impressive record of coaching four Olympic medalists and almost 100 national championships, reported the Sun-Times.
In an email sent to the Sun-Times, Butler's attorney denied all allegations of rape made against him.