Who Is Rick Gates? Meet The Trump Adviser Indicted With Paul Manafort In Mueller Investigation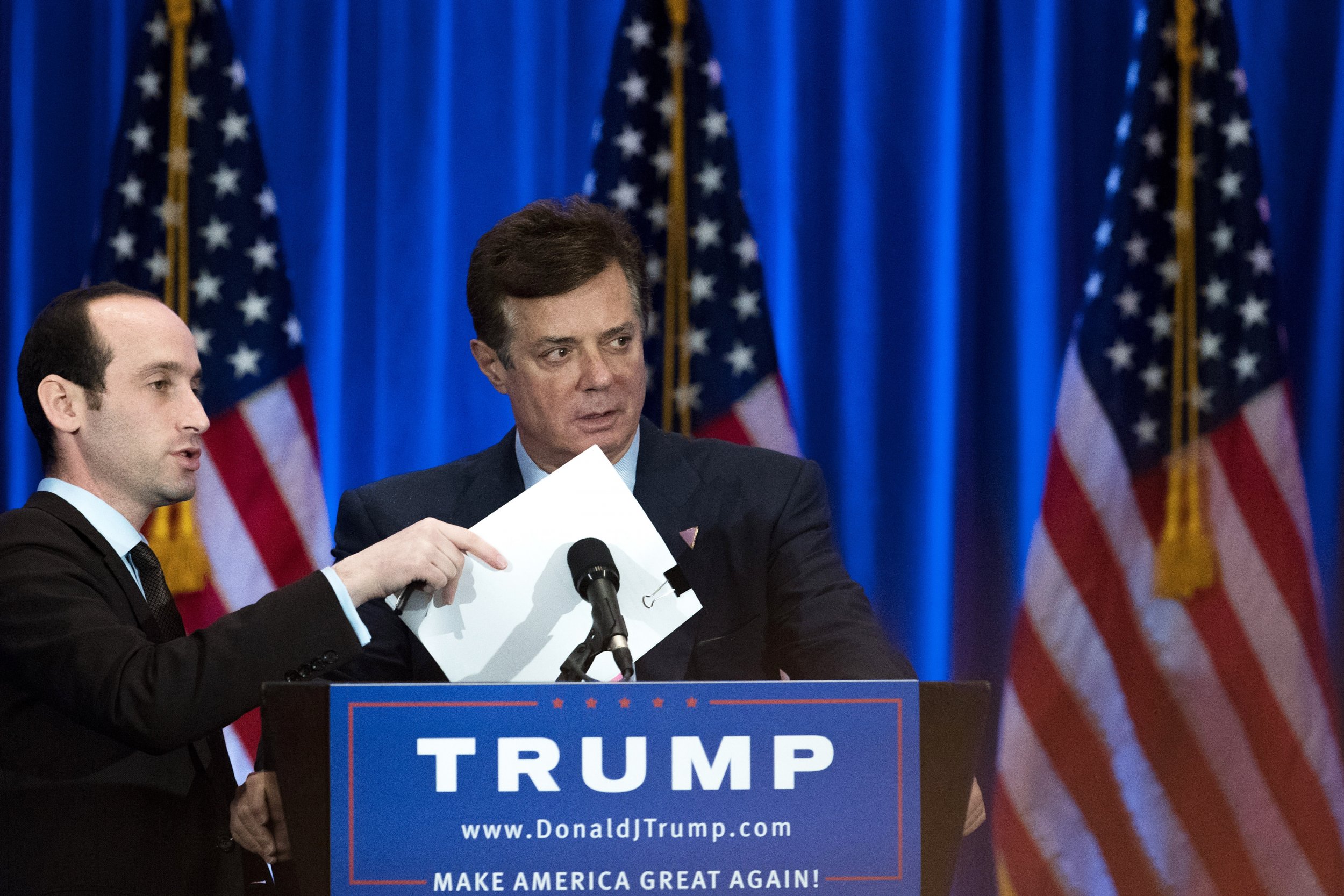 Updated | Special counsel Robert Mueller's first Russia probe indictment on Monday slapped charges on former Trump campaign manager Paul Manafort but also on a lesser-known adviser: Rick Gates.
Gates and Manafort pleaded not guilty to charges of conspiracy against the U.S., conspiracy to launder money, failure to file reports of foreign bank and financial accounts, being unregistered agents of a foreign principal and making false statements, according to the federal indictment. Gates' spokesman, Glenn Selig, put out a statement saying his client welcomed the opportunity to explain himself.
"He would appreciate you respecting his and his family's privacy as they weather this unexpected and hasty proceeding designed to accomodate prhaps political and press considerations rather than his right to have counsel of his choice by his side during this most troubling and challenging day for him and his loved ones," Selig said. "This fight is just beginning."
Manafort's name and expected legal troubles have been making headlines since last year, but Gates has remained under the radar until now. Here's what you need to know about him:
The indictment accuses Manafort and Gates of acting "as unregistered agents of the government of Ukraine" and also outlines an alleged web of suspicious offshore money transfers totaling more than $75 million.
Court papers say Manafort and Gates made tens of millions of dollars but hid the payments from American authorities by laundering the money through companies and accounts in countries like Cyprus and the Seychelles. Gates transferred more than $3 million from the accounts to other accounts he controlled, the indictment says.
Gates is a colleague of Manafort's who joined the Trump team in spring 2016, according to Politico. In an old news release, Gates' bio bragged that he had "over 15 years of international political, finance and business development experience working for multinational firms" and had "worked on several U.S. presidential campaigns" as well as "many international political campaigns in Europe and Africa." As part of the Trump campaign, he traveled with the real estate tycoon and helped manage day-to-day operations.
He then jumped from job to job in Trump's orbit.
When Trump fired Manafort last August, Gates shifted to become the campaign's liaison with the Republican National Committee. After Trump's victory, Gates helped the president-elect get set up for inauguration. This past January, Gates headed to America First Policies, a nonprofit started by Trump advisers to support the White House's agenda. He stepped down from that job in March after the Associated Press reported Manafort had collaborated with Russian billionaire Oleg Deripaska to improve Russian President Vladimir Putin's status in the U.S. and Europe—even though Gates said he wasn't aware of what Manafort was doing for Deripaska.
Fast-forward to this summer, when the Daily Beast reported that Gates was frequently stopping by the White House as part of a new gig working for Trump fundraiser Tom Barrack.
As recently as June, Gates told The New York Times federal investigators hadn't reached out to him.
"Everything was done legally and with the approval of our lawyers," Gates added. "Nothing to my knowledge was ever done inappropriately."
News broke Saturday that Mueller was ready to start indicting people as part of his investigation into whether the Trump campaign partnered with the Kremlin to sway the 2016 U.S. election. Manafort turned himself in Monday morning, but Gates's status was not immediately clear.
This story has been updated to reflect that Gates pleaded not guilty and his spokesman released a statement.