Who Is Robert Jeffress? 'Bigot' Pastor From Texas Due to Speak at U.S. Jerusalem Embassy Move
A pastor who has been labeled a "bigot" for saying Jews will all go to hell and describing Islam as a religion that promotes pedophilia is set to speak at a ceremony acknowledging the relocation of the U.S. embassy to Jerusalem.
Southern Baptist pastor Robert Jeffress has described gay people as taking part in "the most detestable acts you can imagine," and also slammed Mormonism as "a cult" in 2012, suggesting people should not vote for then Republican candidate Mitt Romney—a practicing Mormon—Haaretz reported.
And Romney is among the most high-profile voices criticizing the decision to allow Jeffress to speak at the embassy event, tweeting that the pastor was a "religious bigot" who should not be given a platform at the ceremony.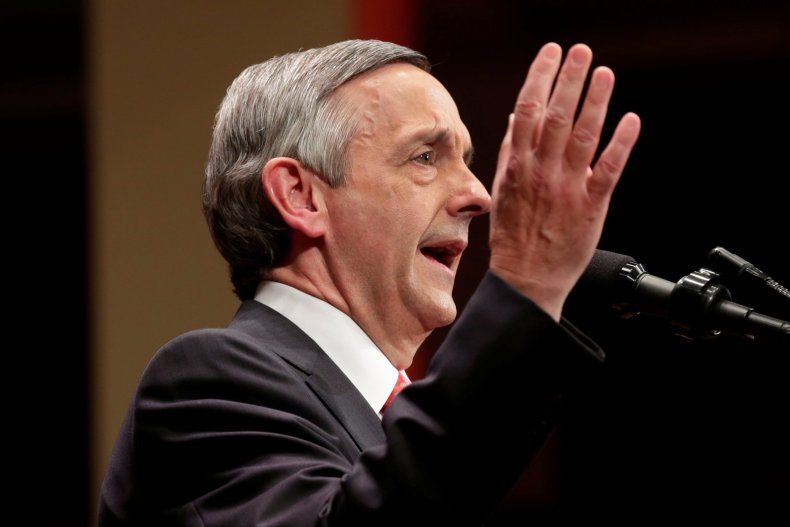 "Robert Jeffress says "you can't be saved by being a Jew," and "Mormonism is a heresy from the pit of hell." He's said the same about Islam. Such a religious bigot should not be giving the prayer that opens the United States Embassy in Jerusalem," Romney wrote in a tweet on Sunday evening.
Jeffress, who is a member of Trump's Evangelical Advisor Board, has previously praised the president's decision to move the U.S. embassy from Tel Aviv to Jerusalem, CNN reported. The move is widely seen as controversial and has been rejected by Palestinians, who want East Jerusalem as the capital of a future Palestinian state.
In Pictures: U.S. Embassy Move to Jerusalem Sparks Violent Clashes Between Israeli Troops and Palestinian Protesters
The pastor is set to lead a prayer at the ceremony, during which he told Fox News Radio would recount "God's history of faithfulness to his people, the Israelites."
"I'm going to be thanking God for the strong leadership of Benjamin Netanyahu, who is absolutely determined to protect Israel. And I'm also going to be thanking God for our President Donald Trump, who had the courage to do what no other US President has done, and that is to officially recognize Jerusalem and to move the embassy. This is another example of promise made, promise kept," he added.