Who Is Robert Telles? Nevada Official Arrested for Murder of Vegas Reporter
A Nevada politician was arrested in connection with the death of a Las Vegas journalist who had recently targeted the county official in his stories, according to his newspaper.
Las Vegas Metropolitan Police Department (LVMPD) officials said on Wednesday that a suspect had been arrested over the fatal stabbing of Jeff German. He was a journalist who wrote for the Las Vegas Journal-Review and was found dead outside his home on Saturday, September 3.
Police said that 69-year-old German appeared to have been in an altercation with another person that had led to his stabbing and death.
"We believe the altercation took place outside of the home," Capt. Dori Koren, a spokesperson for LVMPD, said at a news conference. "We do have some leads. We are pursuing a suspect but the suspect is outstanding."
Footage of the suspect shared by LVMPD on Twitter shows a person wearing a large hat, an orange safety jacket and dark trousers.
LVMPD police hasn't publicly identified Clark County Public Administrator Robert "Rob" Telles as the suspect in German's death, but it did confirm that a search warrant had been issued on Wednesday for Telles's home.
Clark County Sheriff Joe Lombardo confirmed Telles's arrest to the Las Vegas Review-Journal, and Clark County Detention Center records show Telles is being held on suspicion of murder and has a court appearance scheduled for Thursday afternoon.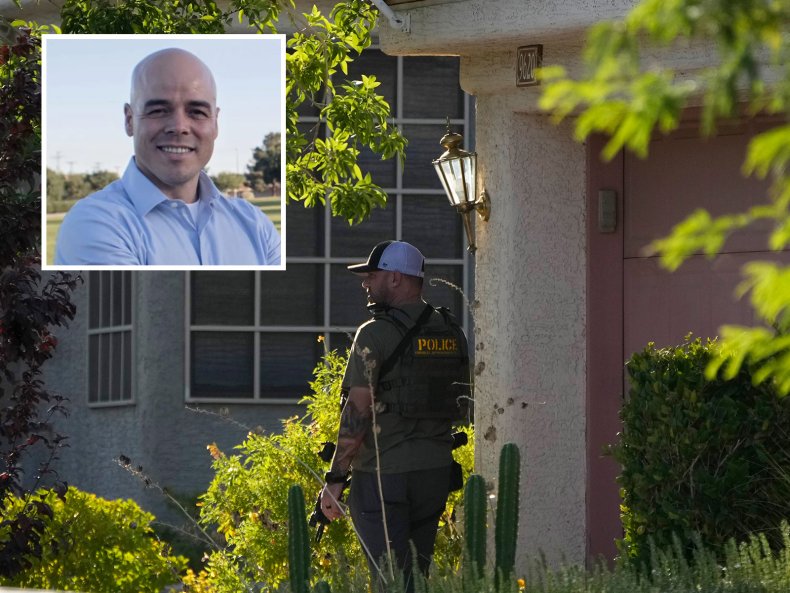 German, who had joined the Las Vegas Journal-Review in 2010 after working for over two decades at the Las Vegas Sun, was known for his stories about government malfeasance and political scandals. Recently, German had written stories about Telles, exposing the county official's purported wrongdoing.
According to his newspaper, the journalist was pursuing a potential follow-up story about Telles in the same week he was stabbed to death.
Telles, a 45-year-old Democrat, took office as Clark County Public Administrator in Nevada in 2019. The state Clark County's page says that, prior to his election, Telles "was the principal and founder of a Las Vegas law firm that focused primarily on estate planning and probate matters."
Telles, a husband and father of three, holds a degree from UNLV's Boyd School of Law and has lived in Clark County for over 20 years, according to the Clark County's official page.
As his current term ends on January 2, 2023, Telles ran for re-election but lost the primary on June 14. German's work in exposing the county official's wrongdoing contributed to his loss at the primary to Rita Reid, according to reports.
In his stories, German accused Telles of creating a hostile environment in his office, writing that the Clark County Public Administrator's office had been "mired in turmoil and internal dissension over the past two years, with allegations of emotional stress, bullying and favoritism leading to secret videotaping of the boss and a co-worker outside the office."
He also accused Telles of carrying on an inappropriate relationship with a staffer and favoring her status. Telles denied any wrongdoing, according to the Las Vegas Review-Journal.
Newsweek contacted Telles's office for comment.
"The arrest of Robert Telles is at once an enormous relief and an outrage for the Review-Journal newsroom," the newspaper's executive editor Glenn Cook said in a statement on Wednesday.
"We are relieved Telles is in custody and outraged that a colleague appears to have been killed for reporting on an elected official. Journalists can't do the important work our communities require if they are afraid a presentation of facts could lead to violent retribution," he added.
"We thank Las Vegas police for their urgency and hard work and for immediately recognizing the terrible significance of Jeff's killing. Now, hopefully, the Review-Journal, the German family and Jeff's many friends can begin the process of mourning and honoring a great man and a brave reporter. Godspeed, Jeff."