Who Is the Route 91 Bandit? FBI Offers $10K for Help Catching Bank Robber
The FBI Boston Division has offered $10,000 to anyone with information that leads to the identification, arrest and conviction of the so-called Route 91 Bandit, who is believed to have committed a string of bank robberies in the New England area.
"We need to put a stop to this man's crime spree before someone gets hurt," said Special Agent Joseph R. Bonavolonta, who is in charge of the FBI's Boston Division.
The bandit, a white male between 5-foot-6 and 5-foot-8, is a suspect in 11 robberies in four states between September and January. Each town where he has struck has been along Interstate 91, giving the robber his nickname. According to the FBI's website, he is considered "armed and dangerous" because of threatened use of a firearm in the crimes.
He also attempted to enter bank vaults in six of the 11 robberies, the FBI added.
The suspect has blue eyes and light-colored hair, though he usually wears a hat or hood over it. In a surveillance video, he is wearing white sneakers and a hooded sweatshirt that appears to say "Post University" on the front and "No Hall Like OHall 2016-2017" on the back. Post University is in Waterbury, Connecticut.
In a statement to Newsweek, Post University said it has "no indication" the suspect is or was a student at the school.
"In November, we responded to an inquiry from local authorities due to the Post sweatshirt," it said. "At that time, we provided information that we didn't recognize the individual."
The FBI also has asked for the public to be on the lookout for a newer model gray Nissan sedan, which the bandit is believed to be operating.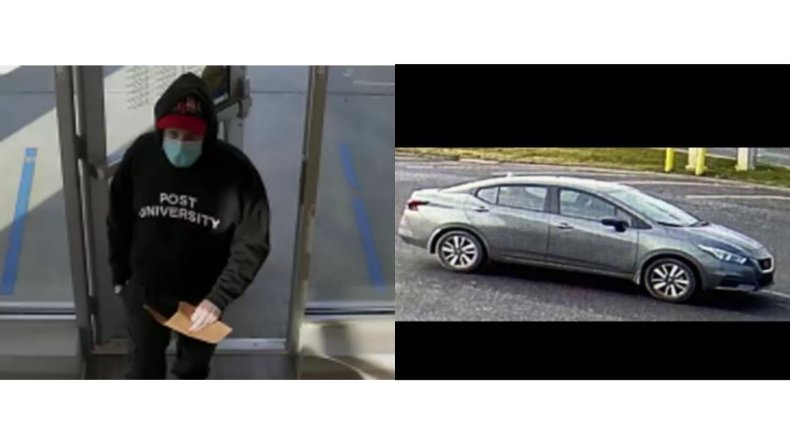 He is believed to be responsible for robberies in Connecticut, Massachusetts, New Hampshire and Vermont.
Bonavolonta said in a February 10 statement that the bureau is urging anyone with information to contact them immediately "in the interest of public safety."
Police Chief Christopher Williams said his department was having a "really hard time" making progress in the investigation of the bandit's December 16 robbery at Greenfield Cooperative Bank in Montague, Massachusetts, because security cameras in the area were out of service, the Daily Hampshire Gazette reported.
The FBI asked that anyone with information call 1-857-386-2000 or go to tips.fbi.gov. Tips are allowed to be anonymous if the person chooses.
According to NBC News, of more than 20 other unidentified bank robbers listed on the FBI's website, only one has allegedly committed more robberies than the Route 91 Bandit. The Midday Bandit, believed to have committed 12 robberies in Chicago and other parts of Illinois six to eight years ago, sits ahead of him on the list.
Update 2/14/22, 4:32 p.m. ET: This story was updated with a statement from Post University.