Roy Oliver, the white former Texas police officer who shot dead a black teenager, has been jailed for 15 years following a rare murder conviction for an on-duty officer.
Oliver, 38, was found guilty of murdering unarmed 15-year-old Jordan Edwards by firing into a car filled with teenagers who were drinking while underage in a Dallas suburb in May 2017.
Oliver claimed he fired at the vehicle several times with his rifle in order to save his partner's life after the care started reversing "aggressively" toward him.
"This car is about to hit my partner. There are threats inside the car, and when lethal force is being presented toward us," he told the court, "I had no other option but to use lethal force."
Bodycam footage later revealed that the car was driving away from Oliver when he opened fire. His partner, officer Tyler Gross, testified in court that he never felt in danger when approaching the teenagers and did not feel any need to withdraw his weapon.
Edwards and the other teenagers left the party after hearing gunshots coming from elsewhere.
Following the guilty verdict—which drew gasps and crying from those inside the courtroom—Oliver was sentenced to 15 years in prison for killing the teenager.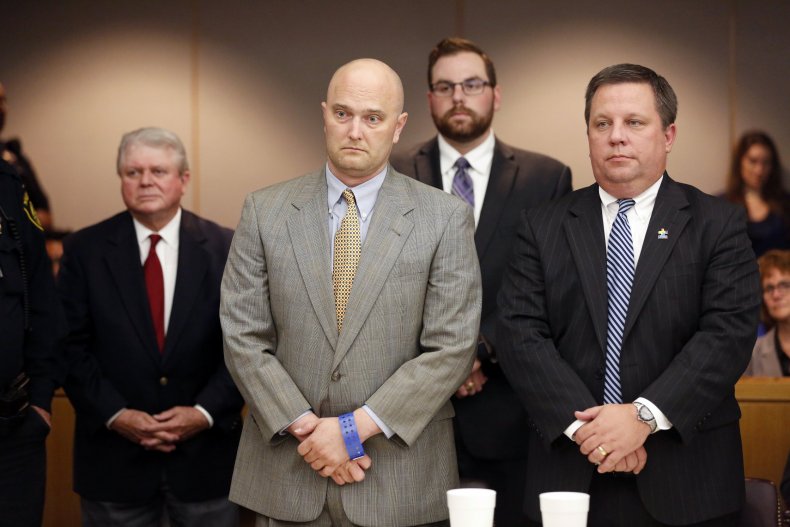 The family argued that Oliver should have been handed a more severe sentence. He faced up to 99 years in prison for the murder, with prosecutors calling for a minimum of 60.
"He can actually see life again after 15 years, and that's not enough because Jordan can't see life again," said Edwards's stepmother, Charmaine Edwards, according to the Associated Press.
Daryl Washington, representing the Edwards family, agreed that the sentence was too lenient but said the officer's conviction is a step in the right direction following recent high-profile acquittals.
"We know that there are parents all over this country who would love to see the person who took the life of their kid spend the next 15 years in prison," Washington said, according to news station WFAA.
"This is the beginning, and we hope soon that it will be the end to all the violence that we have. Little kids, adults should be able to look at police officers as individuals who have taken the oath to protect and serve," he said.
"This case just isn't about Jordan, it's Tamir Rice, Walter Scott, Alton Sterling, for every African-American who didn't get justice," Washington added, according to CBS DFW.
Oliver is believed to be the first police officer in Dallas County to be convicted of murder in more than 40 years. Only six non-federal police officers have been convicted of murder in the U.S. since 2005. Four of those convictions were later overturned, according to data compiled by criminologist and Bowling Green State University professor Phil Stinson.
Oliver was fired from the Balch Springs Police Department days after the shooting for violating several department policies.
His wife, Ingrid Llerena, urged the jury for leniency ahead of sentencing because she was worried about the future for their 3-year-old son, who is autistic. His mother, Linda Oliver, described her 38-year-old son as a good man and devoted father, according to the Associated Press.