Who Is Rudy Ray Moore? In 'Dolemite Is My Name' Eddie Murphy Plays Kung Fu Comedian
In the upcoming Netflix movie Dolemite Is My Name, Eddie Murphy plays Rudy Ray Moore, an underground comedian whose 1975 movie Dolemite has become a blaxploitation classic.
A comedian who honed his talents as a singer and dancer across the Midwest before finding underground fame in Los Angeles, Moore began releasing comedy albums in 1959, but didn't create his most enduring character until 1970. While working at a Hollywood record shop, Moore heard obscene stories about an apocryphal "Dolemite," and soon adopted the persona on a trio of comedy albums, telling sexually explicit stories, typically in rhyme, while in character as Dolemite, a mellifluous pimp and night club owner.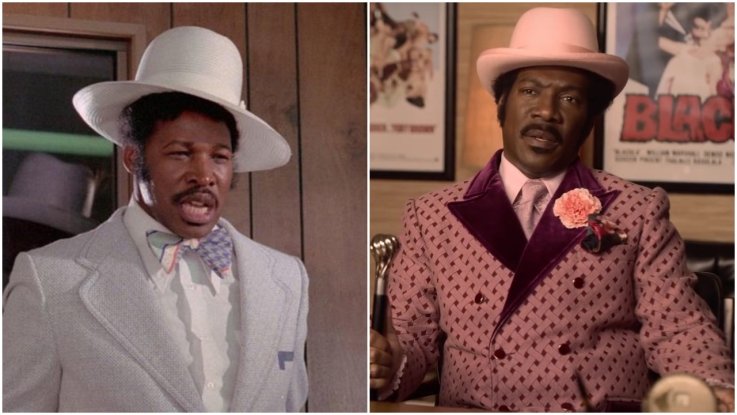 The combination of Moore's rhyming patter with the albums' jazz and R&B musical backing, plus the over-the-top Dolemite persona, became a major influence on rappers, including Snoop Dogg, Dr. Dre and Big Daddy Kane, earning Moore the nickname "The Godfather of Rap."
The success of his comedy albums featuring Dolemite provided Moore enough funds to finance a low-budget movie, enlisting actor D'Urville Martin (Guess Who's Coming To Dinner, Black Caesar) to direct and lend a little star power to a cast of friends and Los Angeles comedians. In Dolemite, released in 1975, Dolemite gets out of prison after a frame-up and teams with local madam Queen Bee (Lady Reed) to get control of his club, "The Total Experience," back from Willie Green, whose treachery had put Dolemite behind bars. In 2002, The New York Times called Dolemite "the Citizen Kane of kung fu pimping movies."
"I've got an all-girl army who knows what to do. They're foxy as hell and practice kung fu. I'll put my finger in the ground and turn the whole world around," Moore says in the Dolemite trailer, as he kicks, punches, and shoots his way across Los Angeles. "From the first to the last, I give 'em the blast so fast that their life is past before their ass has even hit the grass. See me: uptown, downtown, crowned and renowned!"
Moore returned as Dolemite in the sequel, 1976's The Human Tornado, before branching out to other characters, like "the Devil's Son-In-Law," Petey Wheatstraw. He reprised the role of Dolemite in several other movies, including Insane Clown Posse's Big Money Hustlas.
"As much as Rudy Ray Moore comes off as this wonderfully strong character, his story is really an underdog story, and I've always been drawn to movies of people who don't have much but do a hell of a lot with it," director Craig Brewer told Entertainment Weekly. "I think the great lesson is one can look at a budget that has no money, or perhaps a script that doesn't make any real plausible sense in places, and sometimes those movies need to happen, because sometimes what doesn't work becomes classic material."
Dolemite Is My Name hews close to reality, even returning to many of the original Dolemite filming locations. The movie was a passion project for Murphy, who recruited screenwriters Larry Karaszewski and Scott Alexander.
Murphy is joined by Titus Burgess, Craig Robinson, Mike Epps, Da'Vine Joy Randolph, Keegan-Michael Key, Snoop Dogg and Wesley Snipes in Dolemite Is My Name, which will have a limited theatrical release and a Netflix streaming release date this fall.
Who Is Rudy Ray Moore? In 'Dolemite Is My Name' Eddie Murphy Plays Kung Fu Comedian | Culture