What to Know About Russian Ambassador Kislyak and Moscow's Response to Michael Flynn's Resignation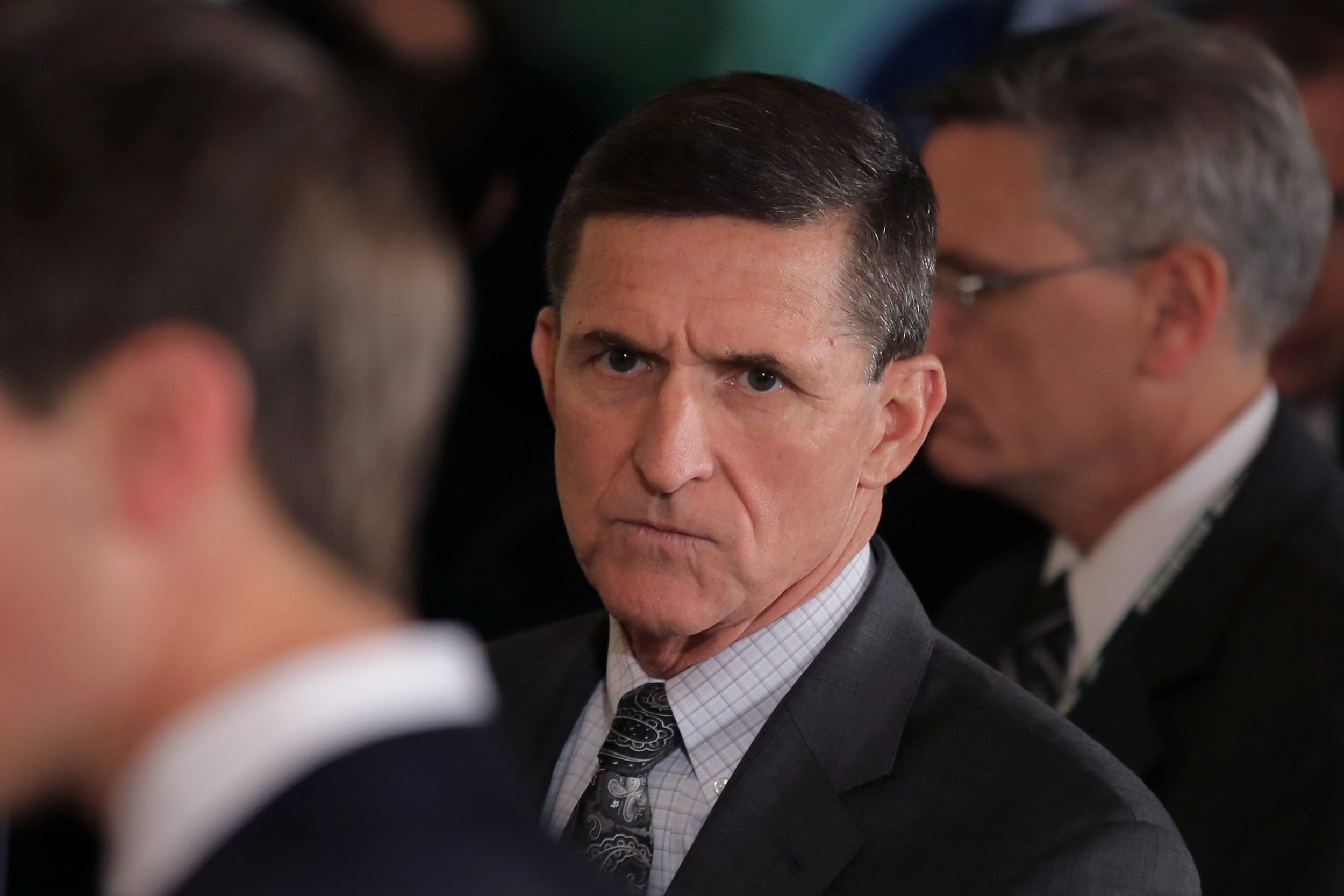 After less than a month in his post, U.S. National Security Advisor Michael Flynn resigned on Monday night. In his resignation letter he said he had given President Donald Trump and Vice President Mike Pence "incomplete information" about his contact with Russian Ambassador Sergey Kislyak.
This contact was as many as five phone calls between the pair on one day in December, Reuters reports —on the same day that the outgoing Obama administration announced new sanctions on Moscow over alleged Russian influence on the U.S. presidential election.
Here is what we know about their conversations and the wider implications on the administration's policy towards Russia.
Who did Flynn speak to?
Ambassador Kislyak is a senior figure in the Russian Ministry of Foreign Affairs. He spent the five years until 2008 as deputy head of the ministry and another five as Moscow's envoy to NATO. His diplomatic career spans back decades; he worked for the Soviet Foreign Ministry from 1977. His early work was tied to the U.S., serving in the Soviet mission to the U.N. and the Soviet embassy in the U.S. in the 1980s.
He has been the ambassador to the U.S for almost a decade, but his long tenure does not mean he has taken a soft line toward Washington, dismissing in 2015 the notion of American exceptionalism. "We understand that the U.S. is not merely a country among others and it is exceptional in its own way, but in the same way Russia too is exceptional and so are many other countries," he told American students, according to Russian state media. "The difference is that we do not impose our vision of exceptionalism on others. But in the U.S. there is a tendency to believe that they have the right to lead others behind them."
He has not commented specifically on the phone calls he held with Flynn, although he has suggested on Russian state television that the U.S. political system is deliberately conspiring against Russia and Trump. Days before Flynn's resignation, Kislyak gave an interview to Russian state TV, claiming that U.S. lawmakers' attempts to take the power to lift sanctions from the president and place responsibility with Congress was "aimed against Russia and…against the president of the U.S."
What did Flynn and Kislyak discuss?
The Kremlin has not confirmed what the pair talked about. Russian President Vladimir Putin's spokesman, Dmitry Peskov, was cagey on the issue on Friday, initially denying any truth in media reports about the content of the conversation, saying that "as far as I am aware" Flynn and Kislyak did speak. Peskov appeared aloof, saying that the Ministry of Foreign Affairs would have more information about the topics of discussion.
Three days later, when Flynn's job appeared in jeopardy over the contact with Kislyak, Peskov said that "of course" ambassadors reported all information about their activity to Moscow, but that he would refuse to comment on Flynn's situation as it was an internal U.S. matter. On Tuesday morning the response from Peskov to Russian media was the same — "We do not want to comment on this in any way."
Russian officials including the Kremlin, the Foreign Ministry press office and Kislyak himself have played down the perception that they are urgently seeking a lifting of sanctions.
Citing nine anonymous officials active in relevant positions within the U.S. government during Flynn's contact with Kislyak, the Washington Post reported Thursday that the pair had explicitly discussed sanctions. On Friday, NBC reported that a U.S. intelligence official, also speaking on the condition of anonymity, briefed on the matter said the same.
Read more: Michael Flynn resigns as Trump's National Security Advisor amid Russia controversy
Trump's spokesman Sean Spicer confirmed on Monday that Flynn and Kislyak had at least two exchanges in December, but sanctions were not the subject of either. According to Spicer, the pair spoke on the phone on December 25, as Flynn sought to wish Kislyak a Merry Christmas —regardless of the fact that Russians celebrate the holiday in early January. The other exchange happened three days later, according to Spicer, in which Flynn texted and called Kislyak to discuss organising a phone call between Trump and Putin after January's inauguration.
U.S. Vice President Mike Pence initially stood by Flynn, and on Tuesday Flynn's letter of resignation appeared to absolve Pence of knowledge of the conversations, saying Flynn had misled Pence in his briefing.
The White House has not yet clarified whether Flynn discussed sanctions with Russia's ambassador in December. If he did, critics have argued this was in violation of the Logan Act, which prohibits private citizens negotiating on behalf of the U.S. government.
What is Russia's response?
Although Putin's official spokesman and the Ministry of Foreign Affairs' spokeswoman Maria Zakharova have not directly commented on Flynn's dismissal, the wider response in the Russian establishment on Tuesday was one of outrage.
Members of Putin's ruling United Russia party in both houses of parliament, who often voice hardline views, saw Flynn's resignation as a swipe at Russia.
Alexey Pushkov, senator and former head of the lower house's International Affairs Committee wrote on Twitter that the "target" of Flynn's dismissal is not the man himself, "it is directed at Russia."
"The shunning of Flynn was only the first act," he added. "The next target is Trump himself."
Konstantin Kosachev, head of the foreign affairs committee in the senate condemned the U.S. administration in a Facebook post. "Either Trump did not receive the independence he wanted and they have, not without success, chased him into a corner, or the Russophobia has struck even the new administration from top to bottom."
Leonid Slutsky, head of the lower house's International Affairs Committee and member of the nationalist LDPR party, claimed that Flynn's dismissal had a provocational streak against Russia.
"This in and of itself is a negative signal for the tensing of Russian-American dialogue," Slutsky said, adding that he felt it was clear Flynn had written his resignation under "pressure."
How will this affect U.S.-Russia ties?
While the more influential Kremlin ideologues are touting Flynn's departure as the first sign of a change in Trump's initially friendly approach toward Russia, it is unclear what will actually happen next.
The opposition Democratic Party has called for the House of Representatives' Oversight Committee Chairman Jason Chaffetz to launch a probe into Flynn's ties to Russia. Former U.S. Ambassador to Russia Michael McFaul urged the U.S. to "investigate" foreign involvement in the U.S. election, noting that Flynn's resignation raised more questions, given that Obama's December sanctions were regarding Russian interference in the run up to the vote.
Read more: New revelations on Mike Flynn's Russia dealings prove he's a security risk
Jeremy Shapiro, a U.S. political analyst at European Council for Foreign Relations, thinks the scandal does not indicate a shift in Trump's Russia policy. Rather it is a show of the administration's own temperament.
"This dismissal [of Flynn] has very little to do with the Russia scandal," he says. "This is not to say that Flynn's ties to Russia are not troubling and worth questioning but Trump has ignored worse."
"I think that the Trump administration's hallmarks will be chaos and incompetence, with bouts of malevolence," Shapiro says. "Because of this it is likely there will be a lot of personnel movement when Trump gets upset with the problems in his administration."
According to Shapiro, Russia's response during the scandal follows a "pattern" that Moscow has followed during previous flurries of questions about Russian involvement with the Trump administration. "They have had this pattern of keeping their heads down and act as though the Trump administration is a normal administration that they want to engage with but are cautious of," Shapiro says.
But the scandal puts the issue of U.S.-Russia ties under Trump once again in the spotlight. Trump has frequently claimed he "respects" Putin's leadership skills, and has refused to strongly condemn Putin's actions in Ukraine and Syria. Trump has also given little support to the U.S. intelligence community's strong suspicion that the Kremlin targeted Trump's opposition with cyber attacks. During the confirmation hearings of Trump's cabinet, however, several candidates did not share his views.
Notably U.N. envoy Nikki Haley, Defence Secretary James Mattis, CIA Director Mike Pompeo and Secretary of State Rex Tillerson have all broadly agreed in condemning Russian actions in either Ukraine and Syria, if not both. Haley and Tillerson, both agreed that sanctions on Russia over Ukraine must remain.
However, Trump has twice openly discussed lifting sanctions as part of a deal not involving Ukraine. Flynn's departure is likely to only create further confusion over the new administration's policy toward Russia.