Who Is Ruthie Ann Miles? Katie Holmes, Amy Schumer and More Raise $380,000 for Broadway Star Whose 4-year-old Daughter Was Killed in New York Car Accident
Celebrities including Katie Holmes, Amy Schumer and Lin-Manuel Miranda have raised nearly $400,000 to support Broadway star Ruthie Ann Miles, whose four-year-old daughter was killed in a car accident in New York Monday.
Miles, who is pregnant, was also injured in the tragic accident but is in stable condition, reports People. Her unborn child is unharmed.
According to New York's Pix11 News, Miles, her four-year-old daughter Abigail, Lauren Lew, Lew's one-year-old son Joshua, and a fifth individual were struck by a 2016 Volvo S60 Sedan around 12.40 p.m. Monday in the Park Slope area. Both Abigail and Lew's toddler son died.
A GoFundMe page set up for Miles and her family has reached over $380,000 so far. Katie Holmes is believed to have donated $10,000, as did Oscar-winning "Let It Go" songwriter Kristen Anderson-Lopez.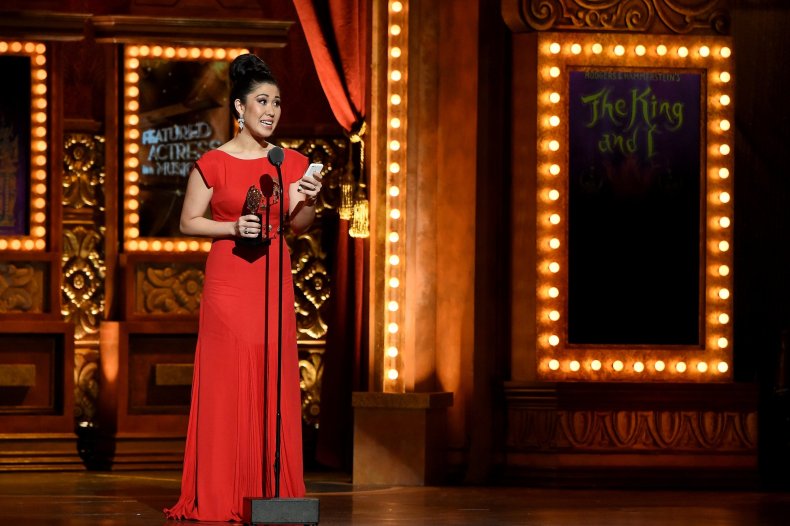 The Americans star Keri Russell donated $3,000 and comedian Schumer gave $2,5000.
Many celebrities donated $1,000 to the campaign to support Miles, including Hamilton creator Miranda, Audra McDonald, Jonathan Groff, Rosie O'Donnell and Daniel Dae Kim.
A similar GoFundMe page has also been set up for Lauren Lew and her family.
Miles—real name Ruthie Ann Blumenstein—won the Tony award for best featured actress in a musical for her portrayal of Lady Thiang in a 2015 production of The King and I. She has also starred in off-Broadway and national tour musicals including Avenue Q, Sweeney Todd and Annie. On television, she guested in The Americans.
Kristin Chenoweth, Miranda and more have also paid social media tributes to Miles and her daughter Abigail.
"This is heart shattering. Please help if you can and if you can't please send love and hope and prayers their way. Ruthie, I am sending you all the love and light in my heart today sweet lady," wrote McDonald, a six-time Tony winner.