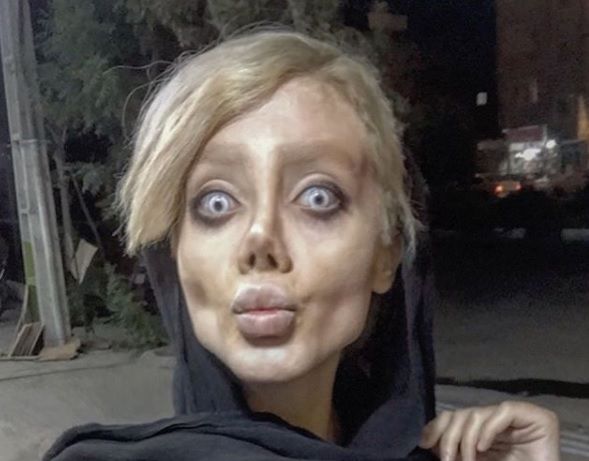 Iranian social media star Sahar Tabar reportedly had more than 50 surgeries to look like Maleficent actress Angelina Jolie. But the procedures could cost Tabar her life. The 22-year-old supposedly lost 88 pounds in a few months to achieve her skeletal appearance—and it's potentially deadly.
Tabar's appearance shocked thousands when her account went viral on Thursday. Her 270,000 Instagram followers spiked to 553,000 in 24 hours. Aside from being underweight, Tabar went to extreme lengths to alter her nose and lips. She also wears bright blue eye contacts, which add to her jarring appearance. The social media star likely had multiple nose jobs to achieve her look.
Newsweek reached out to Tabar, but she did not immediately respond to a request for comment. To get more insight into what might be happening with the Iranian social media star, Newsweek reached out to Dr. Michael Salzhauer, a celebrity plastic surgeon.
"The nose is obviously distorted from having at least one too many rhinoplasties," Salzhauer, who has not treated Tabar, told Newsweek on Friday. "There is probably a silicone implant to give tip and bridge support."
While lip injections are common in Hollywood and elsewhere, Tabar might have done more than that to emulate her idol Jolie. "The lips look overfilled with filler and she has also likely had a 'lip lift' procedure to turn her lip up and show more vermillion, [which is] the red part of the lip," Salzhauer, who is the chief surgeon at Bal Harbour Plastic Surgery in Miami, said.
The doctor described Tabar's look as distorted, saying malnutrition likely contributed to her surprising appearance. "Most of the other distortion is from anorexia," he said. "She is clearly protein deficient, which causes the hallowing out of the temporal areas and cheeks—which gives a 'skeleton' look."
He wasn't fond of her contacts either, saying they were "too pale."
Overall, Salzhauer was concerned for her health and said she should get help as soon as possible. "This women needs hospitalization, a feeding tube to increase protein intake and major intensive psychiatric therapy or she may die of starvation," he said.
Her story originally appeared on the Belgian website SudInfo.be on Thursday and quickly went viral, getting picked up by British publications like The Sun and the Daily Mail.
Since doubling her Instagram following, Tabar increased the number of pictures she shared on social media. In images where she's not wearing her blue contacts, her nose appears more natural, which could mean she uses a prosthetic attachment for some posts.
Though she apparently wants to resemble Jolie, Tabar has taken some creative licenses with her look that differ from the celebrity. Tabar, for example, has two cheek piercings and short lavender hair. Jolie, on the other hand, has a natural appearance and long dark hair. Tabar is also without Jolie's signature tattoos.