Who Is Salt Bae? Nusret Gökçe Became an Internet Sensation for His Flamboyant Meat Seasoning
Salt Bae is back. The man behind arguably the best meme to come out of 2017 resurfaced in the social media world this weekend, this time in a TikTok taken at his Boston restaurant.
Born Nusret Gökçe, the Turkish chef, butcher and restauranteur became an internet sensation in January 2017 by flamboyantly seasoning a piece of steak. Yes, that's literally it.
In a clip shared by the Nusr-Et Dubai restaurant's Instagram account, he carefully cut an Ottoman steak and finished it off, sprinkling salt onto a steak at such an angle it danced down his elbow and onto the dish.
The video of the mustachioed man in circular shades, flexing his muscles and culinary skills went viral instantly. He became known as Salt Bae for his signature move of extravagant seasoning, and Gökçe's Instagram following grew by the millions.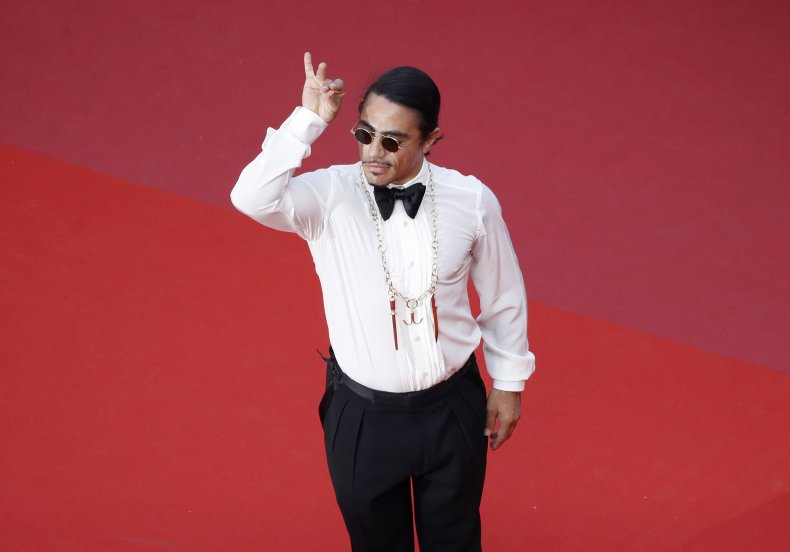 "I'm the happiest man in the world," Gökçe told NBC News from Dubai about his overnight fame at the time. "So far, we've been the conversation." His dramatic seasoning skills caught the attention of many celebrities, including Leonardo DiCaprio.
Salt Bae designed a personalized menu for the actor, which left him "impressed with Mr. Nusret," Noyan Ersolmaz, Gökçe's manager revealed to NBC News.
"The shape of the meat and the taste of it starting from the top down is a part of me," Gökçe explained of his technique. "All of my feelings are coming from inside of the meat down to when I put the salt onto the meat."
He revealed that since he was 14 years old, he worked 13 hours each day as a kitchen runner for a butcher. "My life hasn't changed now. I still keep going to work from the morning until midnight," he added.
In an interview with Hürriyet Daily News, Gökçe further explained that his famous meat seasoning techniques wasn't meant "to show off." He was simply "blessing the meat."
"Actually that move at the end [salting] came automatically. I did not do that to show off. It is just my signature," he clarified. "You can think of it a kind of final touch for a painting. It was a final touch to the meat; I was blessing the meat," he added.
At the time of the interview, Gökçe also said he didn't know any foreign languages, so his best bet was to "communicate with people through meat."
There are several Nusr-et restaurant locations abroad and in the United States.